Let's face it: Beer can be polarizing. But whether you drink Bud Light or nerd out over craft brews, you'll need a place to store all those cans and bottles.
There are hundreds of beverage centers and mini fridges out there to choose from. Some of them are surprisingly large, while others are impractically small. Still others require built-in installation. For this guide, we chose to focus on some of the most popular models at manageable sizes and affordable price points, to help you find the most practical option.
After testing them for both capacity and temperature control, we used our years of fridge testing experience to figure out just which one you should buy. That's why we recommend the Wine Enthusiast Evolution Series Beverage Center (available at Amazon)as the beer fridge to buy.
Updated March 06, 2018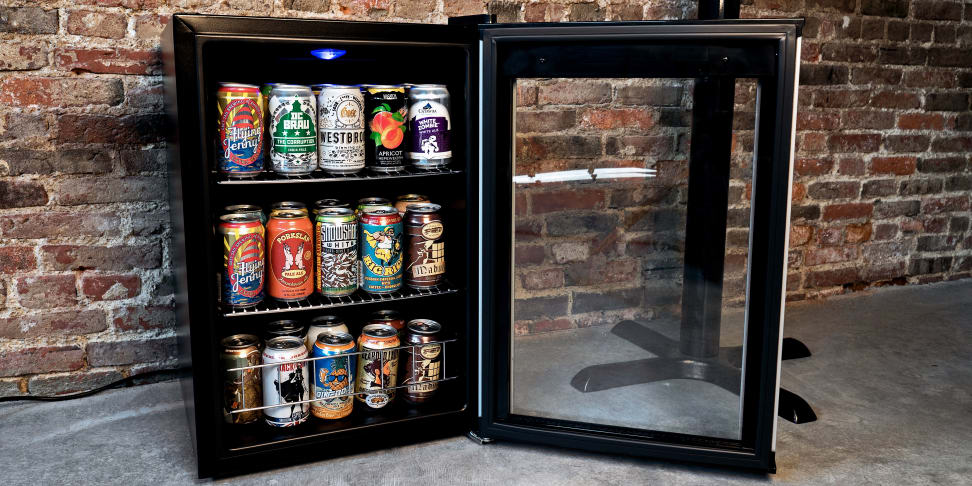 Wine Enthusiast Evolution Series Beverage Center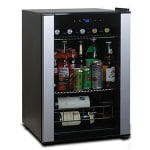 Wine Enthusiast Evolution Series Beverage Center
Best Overall
The Wine Enthusiast Evolution Series is, without question, the best beer fridge you can buy. It's a beverage center, which means it's designed specifically to hold cans and bottles. With an advertised 2.2-cu.-ft. capacity—almost half the size of some other models on our list—this is the smallest unit we tested. But don't let that fool you: Its clever layout means it can hold as much beer as many larger fridges—up to 86 cans.
On the down side, we estimate it will use about $18 of electricity a year. That's far more than most mini fridges, which use between $2 and $5, but it's worth the small added expense. Stable temperatures from top to bottom mean you can trust the fridge to take care of even the most sensitive brews.
The best price we could find was $248, which makes it one of the costlier units on this list. But with its sleek glass door design, easy-to-use controls, and adjustable shelving, we definitely think it's money well spent.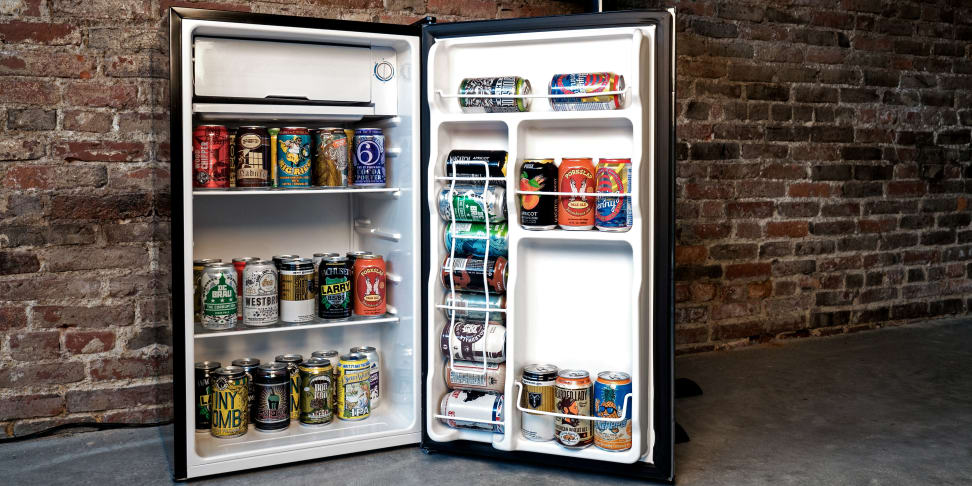 Igloo 3.2-Cu.-Ft. Platinum Fridge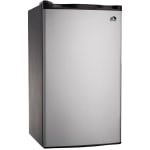 Igloo 3.2-Cu.-Ft. Platinum Fridge
Best Value
If you're just looking for a cool place to store your suds, but hate having to dig past the mayo to fish out a cold one, then the Igloo FR322 3.2-cu.-ft. Platinum Fridge is your best choice. It fits an impressive 100 cans, so you can even use some of that space for salsa and onion dip.
The Igloo is a conventional mini fridge—the kind you'd find in a college dorm—complete with a can dispenser on the door and a small freezer up top. That means temperatures up top are going to be colder than at the bottom, so be careful when positioning your beer—cans may start to freeze if they're on the top row for too long.
There's an option for every style and budget: The silvery platinum door is the most expensive at about $158 on Amazon, or you can get a bright orange version for just $119 with free Prime shipping. If that doesn't float your boat, there are also white, black, blue, purple, red, and even lime options to choose from.
Danby Contemporary Classic Chrome Line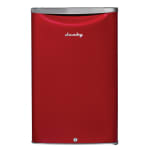 Danby Contemporary Classic Chrome Line
If your taste runs retro and price is no concern, consider the Danby Contemporary Classic Chrome Line Special Edition mini fridge in scarlett metallic red. This 4.4-cu.-ft. beauty turns the looks up to 11, with chrome trim on the door, black interior lining, glass shelves, and white LED lights. Mini fridges just don't get any more stylish.
And it's more than a pretty face, too: This Danby was one of the best performing products we tested, offering up style and substance.
There's one major drawback: it's expensive. Depending on where you look, this fridge runs between $300 and $350—almost twice as much as some competitors (though none of them look this good). It's hard to find, too: This special edition is a recent release and it can't yet be bought at any major retailer. If you like the look and can afford the price, though, we think it's worth the effort to track it down in-store, or try your luck with a third-party online reseller.
Danby Budweiser Stars & Stripes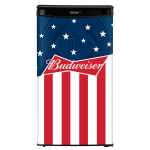 Danby Budweiser Stars & Stripes
On the opposite side of the spectrum is the new Danby Budweiser mini fridge. This model's chip-resistant stars-and-stripes finish is a great conversation starter, if not exactly classy, and the 3.3-cu.-ft. interior is pretty straightforward.
You might think it's a novelty fridge with no substance, but it's actually a decent performer, too. In our testing, temps were more stable than in our pick for best budget fridge, but it holds about 15 fewer cans than the Igloo when packed full. The kind (and amount) of beer you drink will probably decide whether the quantity of cans or the quality of the cooling is more important for you.
Amazon has dropped the price on the Bud-branded version to a tempting $150, but if you want a conventional black or white finish, you'll actually have to shell out more.
Haier 3.2-Cu.-Ft. Mini Fridge
Haier 3.2-Cu.-Ft. Mini Fridge
The Haier HC32SA42SB 3.2-cu.-ft. mini fridge did fine in our tests, and actually got colder than the Igloo overall. While beer snobs will tell you that may not be ideal, we did also measure steadier temperatures throughout.
However, it also had the smallest capacity of all the models we tested. Even when we got creative with our arrangement, it only fit 83 cans—not too good, compared to the Igloo's whopping 100. At about $180 on sale, there's just not really any factor that makes it stand out.
Danby 3.3-Cu.-Ft. Beverage Center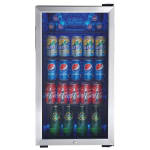 Danby 3.3-Cu.-Ft. Beverage Center
Not only does Danby make a killer mini fridge, it also makes an impressive beverage center. The glass-front DBC120BLS served up fantastically consistent temperatures from top to bottom. On the down side, it only fit 85 cans; our top pick is over a full cubic foot smaller, but managed to fit one more than this Danby.
Most importantly, though, it's really easy to find: More retailers are selling this fridge than any other on our list, and at a consistently low price. At about $195, this Danby is the cheapest beverage center we tested.
EdgeStar 3.2-Cu.-Ft. Beverage Center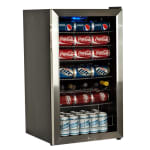 EdgeStar 3.2-Cu.-Ft. Beverage Center
The EdgeStar BWC120SSLT is probably the most straightforward beverage center we tested, and proved to be perfectly adequate. On the outside, we like the silver trim all around the glass door, as well as the LED internal lighting. The door lock is also a nice touch, and it was the only fridge we tested with a bottle rack.
Considering its middling performance and a high $289 price, however, it doesn't seem to offer any tangible advantage over the Wine Enthusiast model, especially if you're a fan of cans.
Avanti 3.2-Cu.-Ft. Mini Fridge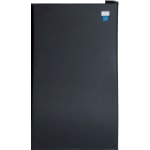 Avanti 3.2-Cu.-Ft. Mini Fridge
The Avanti AR321BB is another basic mini fridge that didn't make much of an impression on us. Temperature output was fine and can capacity was average, but the bland design and lack of a door-mounted can dispenser left something to be desired.
Still, it's a perfectly adequate fridge, especially if you can find it on sale. But with prices hovering around the $210 mark, it just can't compete with the other products on this list.
NewAir 126-Can Beverage Center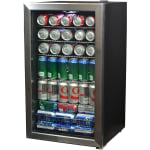 NewAir 126-Can Beverage Center
The NewAir AB-1200 126-can cooler is the quintessential beverage center. With its glass door, silver trim, blue LED lighting, and adjustable shelves, it looks—and feels—great.
However, the top shelf was a good five degrees warmer than the bottom. If the upper shelf is the right temperature, the lower cans could be too warm; if the bottom is just right, the top shelf might start to freeze. It's just not great whichever way you slice it.
The lowest price we could find was $283 on Amazon, which is just too much money for a fridge that can't compete with other options like the Wine Enthusiast. Plus, we could only get 118 cans to fit at once—not quite the advertised 126.
EdgeStar 3.6-Cu.-Ft. Beverage Center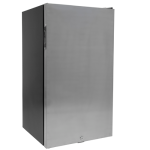 EdgeStar 3.6-Cu.-Ft. Beverage Center
Avoid
Of all the beverage centers we tested, the EdgeStar BWC120SLD was the only one that featured an opaque stainless door. It's one you should probably stay away from, but not just for that reason.
For a sky-high $299—more than almost any other fridge in our round up—you get temperatures that vary over time, which can be very bad for beer. Not exactly a great selling point, is it?
And as clean and crisp as its stainless exterior may look, it just doesn't offer the utility of the elegant glass doors and blue LED lighting found on all the other beverage centers we tested. You have to open it just see inside. At these prices, we want luxury, darn it!
Whynter 5.75-Cu.-Ft. Beverage Center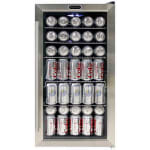 Whynter 5.75-Cu.-Ft. Beverage Center
Avoid
Aside from its handle, the Whynter BR-130SB beverage center is almost identical to the NewAir in every way. The blue lights and silver door trim initially impressed us, but we again lost interest when we discovered this unit's iffy temperature consistency.
While we found the NewAir to be merely mediocre, we're slapping our "Avoid" label on the Whynter due to some service issues. The model we tested used more than 100 times the expected amount of energy, so we assumed something was wrong. We reached out to the manufacturer via e-mail, which proved to be decidedly unhelpful in resolving the issue. This does not speak well for quality control or future support.
Video: The Best Beer Fridges You Can Buy
---