Shopping for a fridge? You may be surprised to find how many different varieties there are. Arguments can be made for every type, but here's why a side-by-side might be a great idea: These models save space while putting both frozen and fresh food at eye level. Many feature through-the-door ice and water, and they often come in counter-depth configurations.
But knowing what type of fridge you want only gets you so far. Lucky for you, we've put enough side-by-side fridges through our labs to find out what separates the merely good from the truly great. If you're looking for a side-by-side and want the best of the best, look no further.
Here are our best lab-tested side-by-side fridges available today.
Updated February 04, 2016
Side-by-side fridges might not be as popular as French door models, but we think the stainless steel Samsung RH29H9000SR is still worth a look. A unique full-length Food Showcase door-in-door storage compartment makes for easy organization, and a sleek exterior blends with either a traditional or modern kitchen. Best of all, the freezer stayed below 0ºF during our tests, so you won't have to worry about freezer burn.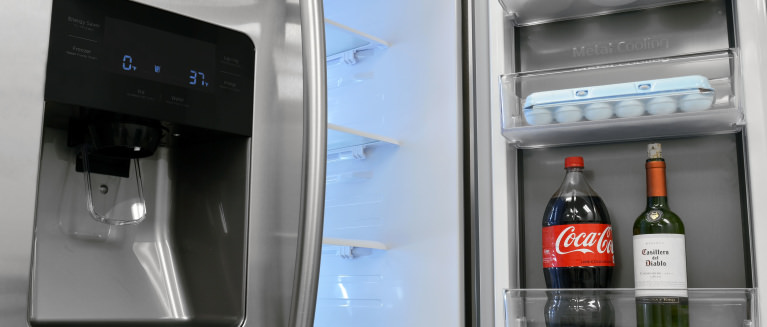 2
Like all Samsung Food Showcase fridges, the RH25H5611SR has a hidden compartment for easy access to condiments and drinks. This 25 cu. ft. side-by-side fridge makes the most of its storage space, but will still fit in most kitchens. In addition to its dimensions, we like its stainless exterior and the bright LED lighting inside. And our tests proved that this Samsung is good at preserving fresh and frozen foods, too.
Where To Buy
$1,495.40
AppliancesConnection
Buy
$1,498.00
Home Depot
Buy
$1,499.99
Best Buy
Buy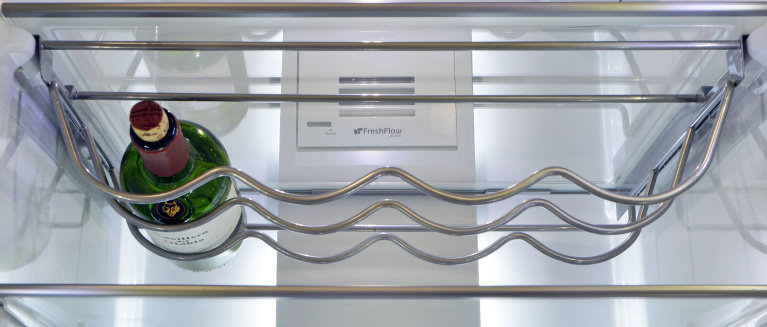 3
The Whirlpool WRS975SIDM side-by-side fridge isn't cheap, but we like how constant it keeps temperatures in the fridge and freezer over time—good news for fresh greens and frozen steaks. It has 25 cu. ft. of storage space that's organized in a straightforward layout, and its exterior dimensions will fit in most kitchens. A four-bottle wine rack that hangs from a glass shelf inside the fridge is a nice perk, too.
Where To Buy
$1,704.10
AppliancesConnection
Buy
$1,709.00
Home Depot
Buy
$1,709.99
Best Buy
Buy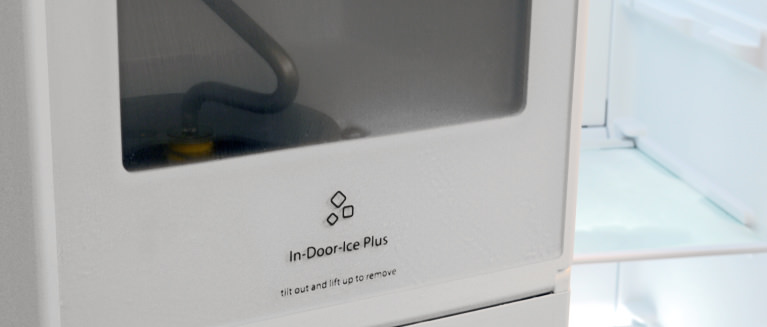 4
Frequently on sale for under $1,200, the Whirlpool WRS571CIDM is one of the least expensive counter depth refrigerators on the market. At just 27.5 inches deep (not including the handles), that means it's shallow enough not to stick out from your counters and cabinetry. And with 21 cu. ft. of storage space, it will also fit your groceries. We think this stainless steel side-by-side fridge is great for small kitchens.
Where To Buy
$1,094.00
AppliancesConnection
Buy
$1,098.00
Home Depot
Buy
$1,099.99
Best Buy
Buy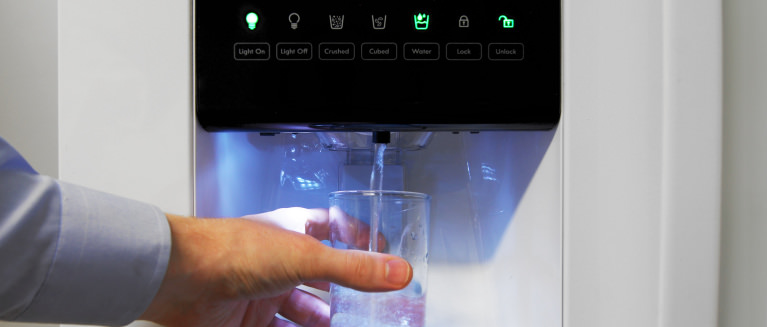 5
Available in black, white, and stainless for just $899 on sale, the Kenmore 51122/51123/51129 is a sleek side-by-side fridge with a 25.4 cu. ft. interior and through-the-door ice and water. For a budget appliance, the fit and finish actually feels pretty sleek. Although it's not quiet, it does keep even temperatures over time. Along with the Whirlpool WRF325FDAM it's based on, this Kenmore is an awesome fridge value.
Where To Buy
$899.00
Sears
Buy