Dacor Renaissance Epicure EF36BNNFSS
The Dacor Renaissance Epicure EF36BNNFSS may look cheap, but as it turns out, you really can't judge a fridge by its finish.
Dacor Renaissance Epicure EF36BNNFSS 19.8 Cu. Ft. French Door Stainless Steel Review
$2,999.00
Better than
81%
of Reviewed Refrigerators
Fridge Temperature
On one hand, our temperature sensors in the fridge interior didn't provide readings that matched the 37 degrees listed on the thermostat. On the other hand...they were actually lower! Temperatures from top to bottom in this particular model all stayed within one degree, with an average of 35.6 degrees throughout. Fluctuation over time was only a quarter of a degree in all sections, too. This is absolutely fantastic temperature consistency, some of the best we've seen. While we're not a fan of temperatures that don't match the settings, we certainly don't mind it doing a better job than we expected.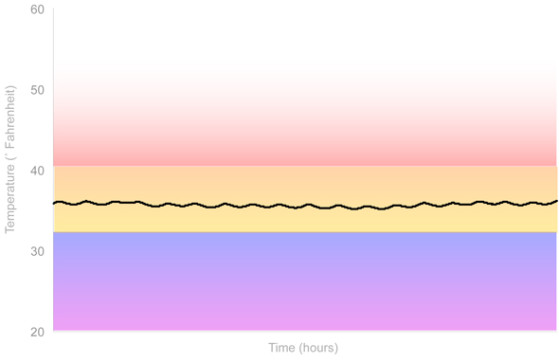 Freezer Temperature
The freezer did an excellent job, though not quite as thoroughly as the fridge compartment. Our sensors picked up average temperatures of just under one degree Fahrenheit, with the top of the freezer running slightly cooler than the bottom. Fluctuation over time stayed within about a third of a degree, which means that the risk of freezer burn in this compartment is satisfyingly low.
Vegetable Drawer
Over the course of three days, the test materials that were placed in the Dacor's vegetable drawer lost an average of 0.17 grams of moisture per hour. While not the absolute best we've ever seen, this is nevertheless an excellent—and perfectly acceptable—level of performance. Vegetables kept in here should stay fresh and crisp for slightly longer than average, though they will still go bad eventually.
Power Loss
To simulate a power outage (something appliance manufacturers may want to do more of given the crazy weather over the past few months), we simply unplug the fridge after all other tests have been completed. After 36 hours, temperature sensors indicated that the freezer's internal temperature had increased to just 28 degrees. Everything was still thoroughly frozen, though we have to mention the small caveat that we never opened the freezer door during this time.
Freezing Performance
Perhaps the most average test result exhibited by the Dacor, it took one hour and 36 minutes for our room-temperature test materials to freeze. This isn't great, but it's certainly not bad, either. If fantastic freezing times are just over an hour, and some of the worst take a little over two, this model falls smack dab in the middle.
Sections