Frigidaire Gallery FGUS2642LF
With good performance and attractive features, the FGUS2642LF is a good value at just under $1100.
Frigidaire Gallery FGUS2642LF 26 cu. ft. Side-By-Side Refrigerator Review
$1,499.00
Front
The Frigidaire Gallery FGUS2642LF's front is slightly curved outward and features contoured handles and an icemaker/water dispenser. The vertical-grain finish of the stainless steel exterior is darker than other fridges we've tested, so make sure it matches the appliances you already have.
That darker stainless finish does, however, keep fingerprints from showing up. Smudges and such aren't as visible on this fridge as others with a similar finish.
The Frigidaire Gallery FGUS2642LF features through-the-door water and ice. The user can choose whether water, crushed ice or cubed ice comes from the dispenser. There's also a child safety lock, a power switch, a light switch and an indicator to remind you to change the water filter.
Interior
It's a classic side-by-side fridge: Freezer on the left, refrigerator on the right.
The water filter is found at the top of the refrigerator door and should be replaced twice a year at a cost of about $35.
Adjustable shelves hang from the interior of the fridge. They're roomy enough for large soda bottles.
The icemaker takes up most of the freezer's top quarter, though there's a tiny storage space above it. Below are wire shelves and a bin that's handy for storing bagged vegetables.
Four plastic walled shelves and a slot for ice to pass through the door make up the interior of the freezer door.
Should you need a large amount of ice at once, the ice maker is removable and accessible from inside the freezer.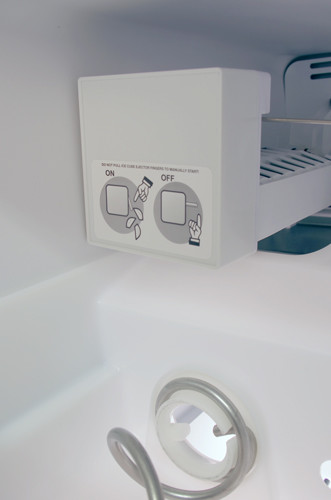 Back
A water line for the water/ice is on the back of the fridge.
Sides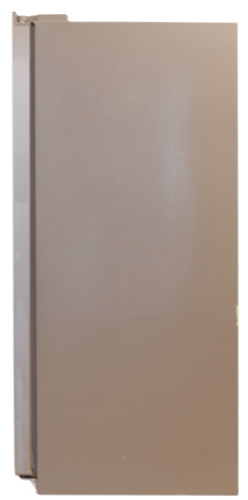 Sections