Frigidaire Gallery FGUS2642LF
With good performance and attractive features, the FGUS2642LF is a good value at just under $1100.
Frigidaire Gallery FGUS2642LF 26 cu. ft. Side-By-Side Refrigerator Review
$1,499.00
Fridge Temperature
The Frigidaire Gallery FGUS2642LF had only a little problem circulating cold air around its large fridge compartment. The top of the fridge consistently stayed a little warmer than the bottom shelves. Since cold air falls, this isn't a surprise in such a tall fridge.
The temperature inside each food package fluctuated quite a bit -- as much as two degrees. That's a sign of an imprecise thermostat, and could lead to premature food spoilage of the most temperature-sensitive items such as soft cheeses.
Freezer Temperature
Likewise, the freezer temperature cycled up and down a little more than we'd like to see, but not enough that your frozen foods would be in danger of severe freezer burn. Temperatures were colder on the top shelf, which is next to not only the vent but the icemaker.
Vegetable Drawer
The Frigidaire Gallery FGUS2642LF didn't do a very good job at keeping our simulated vegetable from drying out, losing 0.27 grams of water per hour. That's a lot for any fridge.
Power Loss
You've filled up the Frigidaire Gallery FGUS2642LF's giant freezer, and the power goes out. Not to worry -- this Frigidaire is well insulated enough to keep frozen foods from thawing for more than 48 hours, as long as you don't open the door and let cold air out.
Freezing Performance
The Frigidaire Gallery FGUS2642LF took 2 hours and 11 minutes to bring room-temperature foods up to freezing. That's longer than most fridges, and it means that ice crystals could form, changing the texture of the food you're freezing.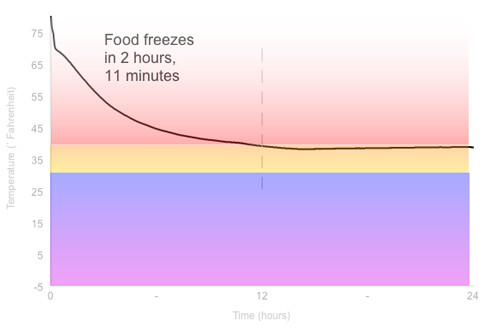 Sections