Frigidaire Gallery FGUS2642LF
With good performance and attractive features, the FGUS2642LF is a good value at just under $1100.
Frigidaire Gallery FGUS2642LF 26 cu. ft. Side-By-Side Refrigerator Review
$1,499.00
Usable Space
Appliance manufacturers measure refrigerator interior space with all shelves removed. That's like measuring a plane's legroom without accounting for the seat in front of you. We measured the interior of the fridge and found it to be 11.45 cu. ft. That's plenty, and the FGUS2642LF makes good use of its cavernous interior with adjustable shelves and big drawers. The largest item it can fit must be narrower than 17 inches, however.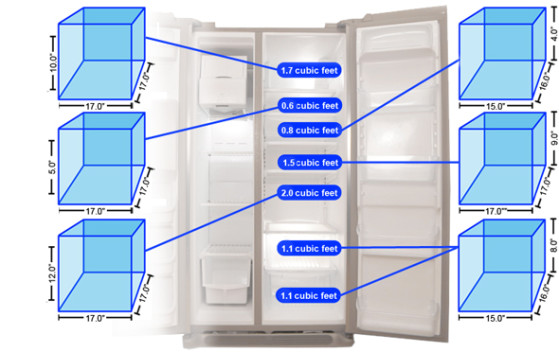 Shelves are easily adjustable and will hold anything from salad dressing to wine bottles.
Icemakers take up a lot of interior space, which is why the FGUS2642LF only has a 5.67 cu. ft. freezer. Still, that's larger than other similar fridges we've tested, and bigger than bottom freezer models. The extendable drawer is a nice touch for holding limp bags of peas and carrots, though as a side-by-side no shelf is wider than 12.5 inches.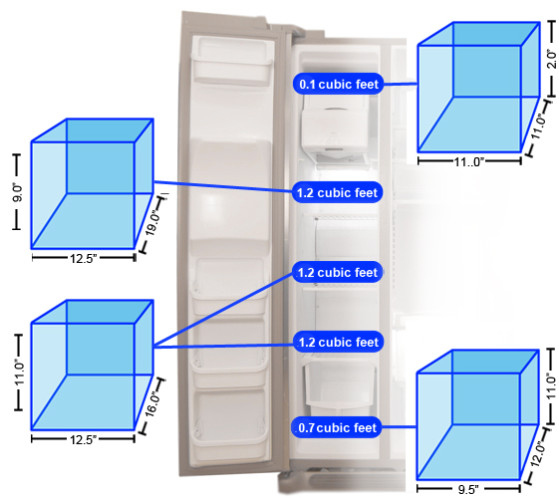 The shelves on the FGUS2642LF's freezer door aren't adjustable, but they can hold boxes or bags of frozen food.
The manufacturers figures do not take account of the shelves, drawers and other removable features, but our measurements do account for the space these take up.
Sections