GE GFSS2HCYSS
The GFSS2HCYSS offers consistency and energy efficiency in a $1300 stainless steel package.
GE GFSS2HCYSS 22.0 cu. ft. French Door Refrigerator Review
$1,699.00
Usable Space
With four adjustable shelves, one storage drawer and two crisper drawers, the GE GFSS2HCYSS offers 10.34 cu. ft. of storage space. That's less than what the manufacturer states, but we only measure the usable space, accounting for shelves and vents and light fixtures.
Both doors feature three shelves each, and all are deep enough to hold a gallon of milk or two-liter soda bottle.
The freezer is made up of two drawers, one which nests inside the other. Together, they offer 3.05 cu. ft. of storage space.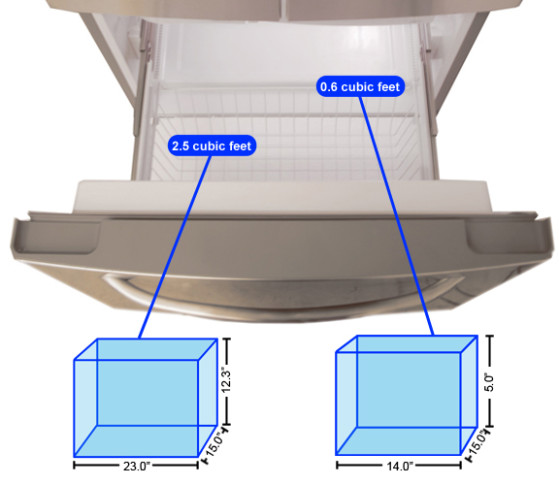 Below are the manufacturers own figures for capacity, and our own measurements for usable capacity. The manufacturers figures do not take account of the shelves, drawers and other removable features, but our measurements do account for the space these take up.
Sections