GE GSL25JGCLS 25.25 cu. ft. Side-By-Side Refrigerator Review
$1,044.05
Ease of Access
If you've ever lost a jar of mayo or some Chinese leftovers in the back of a deep fridge, the GE GSL25JGCLS's sliding shelves are a nice touch. Yes, shelves that hook onto rear rails are harder to adjust than ones that slide into grooves on the fridge interior's sides. However, these slide out and let you access the very back of the fridge.
Controls
Controls are on the fridge exterior, right above the ice/water dispenser. Unlike most mid-range fridges, the temperature controls actually display a true temperature instead of a number between one and four, or a series of stars. You can even make the temperature go up or down without scrolling through every potential option.
All controls are on a front panel. You don't have to open the fridge to change the temperature, and the controls are very easy to use.
Water Dispenser
Water shoots out pretty quickly -- enough to cause splashes on the front of the fridge.
Ice Maker
Ice is made in the top of the main freezer compartment, then dispensed through a chute in the freezer door.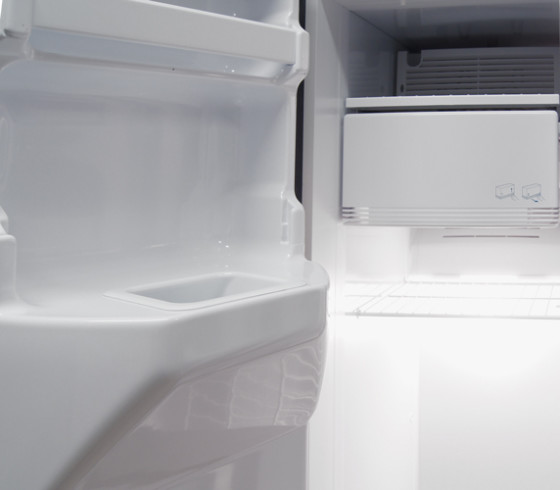 Cleaning
"Clean steel" is easier to wipe down than stainless, though there's the potential for it to rust if the laminate covering ever gets scratched. The fridge shelves do a good job holding in spills.
Noise
The fridge had a slight hum and a little metallic rattle, but nothing too disturbing.
Other Features
Sections