GE Profile PFSS6PKXSS
This bottom freezer device has plenty of space for both frozen and refrigerated food, and a number of features that make it more flexible than most.
GE Profile 25.5 cu. ft. French-Door Refrigerator (PFSS6PKX)
$2,599.00
Fridge Temperature
A refrigerator has to chill your food and keep it at a constant temperature. If that temperature varies too much, this can spoil the food, with too cold freezing the food and too hot allowing it to decay. So, we put fake food packages into the refrigerator at a number of locations, each of which is fitted with a temperature sensor.
The graph above shows a typical 12 hours from our testing (the full test runs over several days), with the yellow zone on the graph representing the Goldilocks zone: not too hot, not too cold, but just right. As you can see, the temperature does dip in and out of the zone a little, both on the hot and cold sides. These variations are only very slight, though, and food should be well preserved in this refrigerator.
Freezer Temperature
The freezer temperature is also pretty consistent, which will help preserve frozen food. The design of the freezer no doubt helps here: the freezer section is one big drawer which helps to capture the cold air and to stop it from escaping when you open it to take something out.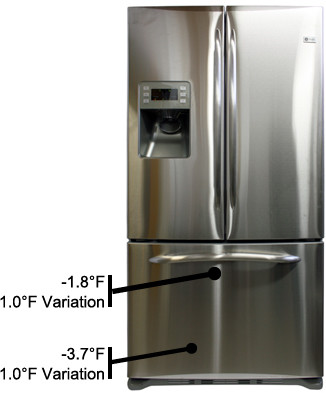 Vegetable Drawer
The vegetable drawer of a refrigerator is designed to keep the veges cold, but without drying them out. To test this, we put in a fake vegetable made of floral foam soaked in water, and monitor the weight of this over a few days. The GE Profile PFSS6PKXSS was slightly disappointing in this test, with our test vegetable losing around 0.2 grams of water an hour. This means that your vegetables will dry our a little quicker than we like to see, so this tray won't keep your veggies fresh for more than a few days.
Power Loss
When the lights go out, your refrigerator should still be able to keep your frozen food cold. We found that our fake food in this refrigerator was still frozen after 36 hours, although some smaller items may be defrosted after this length of time. But most power cuts are only for a few hours, so this refrigerator performed well in this test.
Freezing Performance
Fast freezing is the key to preserving the texture of your frozen food. We test this by putting a block of our fake food fitted with a temperature sensor into the freezer, and them timing how long it takes to freeze. For this refrigerator, we found that this took 1 hour and 24 minutes, which is pretty fast.
Sections