KitchenAid KSRV22FVSS
Behind the KitchenAid KSRV22FVSS' dated exterior is a powerful freezing machine that keeps food consistently cold. Its relatively compact dimensions mean it may fit into the most cozy of kitchens, but its $1400-plus pricetag may not fit your budget.
KitchenAid Architect II KSRV22FVSS 21.6 cu. ft. Side-by-Side Refrigerator Review
$1,949.00
Fridge Temperature
The KitchenAid KSRV22FVSS doesn't have a very large interior. Paired with few obstructions to air circulation, that's a recipe for excellent cooling performance. The KSRV22FVSS proved superior in this regard, with temperatures that stayed constant over the course
Tall side-by-sides tend to have a wide variance in temperatures across shelves, however. This KitchenAid's top shelf was 36 degrees while the bottom shelf stayed around 41 degrees. Keep that in mind when you're storing food that's temperature-sensitive.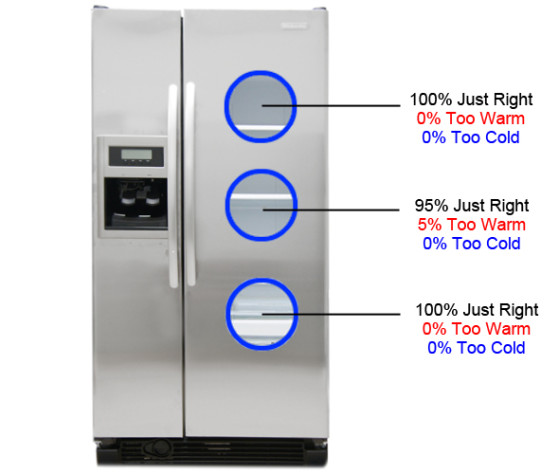 Freezer Temperature
Up in the freezer, temperatures remained constant over time and throughout the freezer compartment. This fridge had some of the most stable performance we've ever tested.
Vegetable Drawer
Circulating air dries out food, but the humidity drawer is supposed to keep veggies moist. We use a simulated vegetable with a standardized moisture content to measure how much water it loses while stored in the high-humidity vegetable drawer. The test veggie in the KitchenAid KSRV22FVSS's drawer only lost 0.1 gram of water per hour, which is an excellent performance.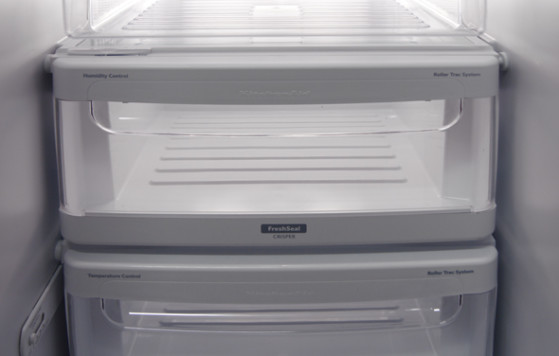 Power Loss
When the power goes out, you stand to lose all the food in your freezer. Thirty six hours after unplugging the KitchenAid KSRV22FVSS, the food in its freezer still hadn't thawed.
Freezing Performance
Freezing food quickly is key to preventing the formation of ice crystals, which will change the texture and flavor of food once it's thawed out. The KitchenAid KSRV22FVSS freezes room temperature items in just under an hour. Only cryokinetic superhero Iceman can do it faster.
Sections