KitchenAid KSRV22FVSS
Behind the KitchenAid KSRV22FVSS' dated exterior is a powerful freezing machine that keeps food consistently cold. Its relatively compact dimensions mean it may fit into the most cozy of kitchens, but its $1400-plus pricetag may not fit your budget.
KitchenAid Architect II KSRV22FVSS 21.6 cu. ft. Side-by-Side Refrigerator Review
$1,949.00
Usable Space
About half of most refrigerators' full interior space is taken up by shelves, drawers and other unusable areas. The KitchenAid KSRV22FVSS is actually pretty good at minimizing that storage space loss, with lots of usable space.
Inside the KitchenAid's fridge compartment are two adjustable shelves and three drawers. It's a narrow compartment, so don't expect to store an entire leftover pizza without taking the slices out of the box first.
Shelves on the KitchenAid KSRV22FVSS's refrigerator door are adjustable, with the exception of the dairy bin and fixed bottom shelf.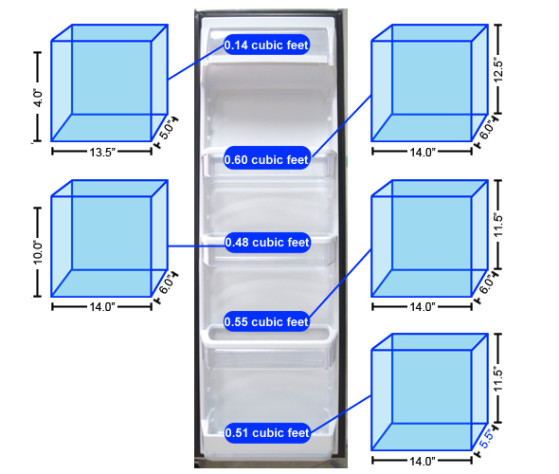 The KitchenAid's freezer is even more narrow than the fridge, and there's only one option for moving a wire shelf. The rear of the freezer is curved, so some shelves are deeper than others.
Mostly consumed by a giant ice dispenser and grinder, the freezer door has just three fixed shelves and a very, very tiny compartment that may be a good place to store ice packs.
Below are the manufacturers own figures for capacity, and our own measurements for usable capacity. The manufacturers figures do not take account of the shelves, drawers and other removable features, but our measurements do account for the space these take up.
Sections