KitchenAid KSRV22FVSS
Behind the KitchenAid KSRV22FVSS' dated exterior is a powerful freezing machine that keeps food consistently cold. Its relatively compact dimensions mean it may fit into the most cozy of kitchens, but its $1400-plus pricetag may not fit your budget.
KitchenAid Architect II KSRV22FVSS 21.6 cu. ft. Side-by-Side Refrigerator Review
$1,949.00
Ease of Access
More modern fridges may offer hidden conveniences, like shelves that swing out of the way on recessed hinges. There's no such creature comfort on this KitchenAid, though lightweight shelves are easy enough to move around. The fridge itself isn't very tall, so those who find it difficult to reach up to a top shelf may find this fridge a good fit.
Controls
The fridge has dual temperature controls, one for the fridge and one for the freezer. They're located at the top of the refrigerator compartment and don't correspond to any temperature scale.
There are just two controls -- one for the fridge, one for the freezer. Neither corresponds to an actual temperature scale.
Water Dispenser
The water dispenser works very well, and its controls are extremely simple. Just put a glass on the lever and water will come out.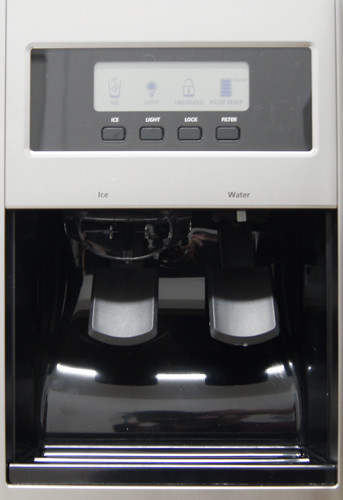 Ice Maker
Ice is made at the top of the freezer compartment. It's crushed inside the top of the freezer door, and dispensed through the middle of the freezer door.
Cleaning
For a fridge with a stainless steel finish, fingerprints are relatively easy to lift off the KitchenAid KSRV22FVSS, but it's certainly not as low-maintenance as a textured white appliance. The interior shelves do a good job at holding in spills, though any liquid that breaches the shelf walls may end up pooling behind the drawers and very difficult to clean.
Noise
We never noticed the KitchenAid KSRV22FVSS making any untoward noises in the lab, aside from when it was crushing ice. The compressor was relatively quiet, though it did have a more metallic rattle than fridges that simply hum.
Other Features
Sections