LG LFX31925ST 31.0 cu ft French Door Refrigerator Review
$3,199.99
Better than
59%
of Reviewed Refrigerators
Fridge Temperature
Up in the vast fridge compartment, the LG LFX31925ST's compressor managed to keep all 11 cubic feet cold, despite obstacles to air circulation that included shelves, drawers and test packages.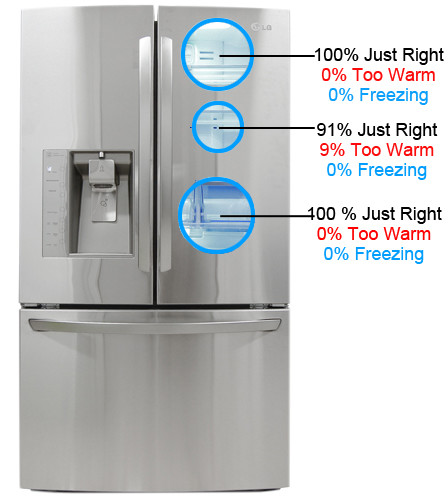 The middle shelf was slightly warmer than the shelves above and below, which hurt the LG LFX31925ST's ratings. However, temperatures remained extremely consistent over time even as the compressor cycled on and off, staying within less than 0.40 degrees of the preset temperature on the fridge's control panel.
Freezer Temperature
Things weren't so great in the freezer. Yes, the well-insulated drawer kept food at consistent temperatures over time. That's a good thing, because it means food won't get freezer burn. However, poor air circulation in a loaded fridge meant that the items inside the bottom drawer were on average eight degrees warmer than food at the top.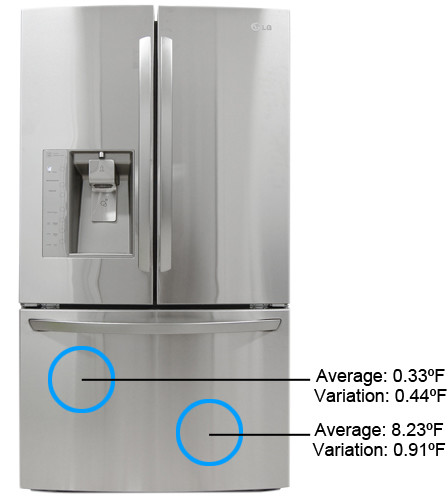 We suspect that all those nesting drawers kept the cool air circulating up at the top of the freezer drawer. Otherwise, cool air would've fallen to the bottom drawer.
Vegetable Drawer
The LG LFX31925ST's vegetable drawers kept moisture in, and the simulated vegetable we used for measurement lost only 0.13 grams of water per hour.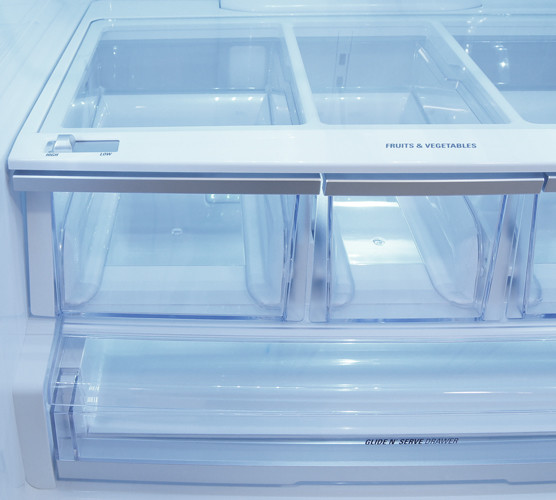 Power Loss
We unplug our fridges at the end of our temperature tests to see how well they retain cold even when the compressor isn't active. It's a good measure of how well-insulated a fridge is, and how well it will handle a power outage. Food inside the LG LFX31925ST hadn't defrosted, even after 36 hours.
Freezing Performance
Freezing food is like taking off an adhesive bandage -- best to do it quickly. Otherwise, ice crystals will form that affect the food's flavor once it's thawed. The LG LFX31925ST had no trouble freezing food quickly, bringing our test packages from room temperature to fully frozen in just an hour and sixteen minutes.
Sections