LG LFX31925ST
The LG LFX31925ST is an excellent fridge with good energy efficiency, consistent temperature control.
LG LFX31925ST 31.0 cu ft French Door Refrigerator Review
$3,199.99
Better than
57%
of Reviewed Refrigerators
Ease of Access
Shelves have narrow frames, so they're lighter and easier to move than those inside many other fridges. Like all French door fridges, this one is best for people who use frozen foods sparingly, as freezer access requires bending over.
Controls
All controls are built into the side of the ice maker. Temperature readings only glow while you're adjusting them, so aside from ice and water controls, the front of the fridge remains unscathed by glowing lights.
The whole appliance is controlled by flat, touch-sensitive buttons on the front of the unit. They're a little obvious on the otherwise sleek exterior. We'd also prefer temperature controls that can move up and down, rather than having to scroll in only one direction (down)

Water Dispenser
The water dispenser is actually flush with the front of the fridge door. Ice is dispensed from behind. Depending on what size glass you're using, expect some splashes.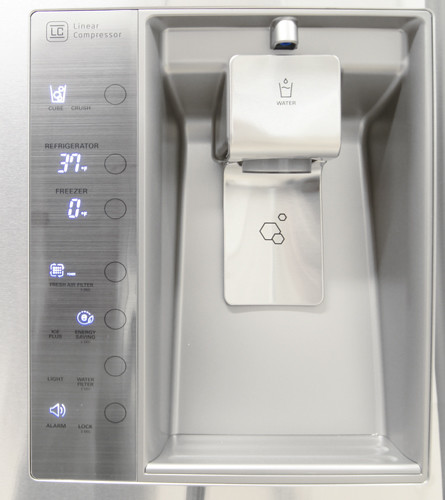 Ice Maker
The icemaker is not in the freezer, but is actually a separate compartment inside the left refrigerator door. Unlock it, and you can access the fridge's store of cubed ice.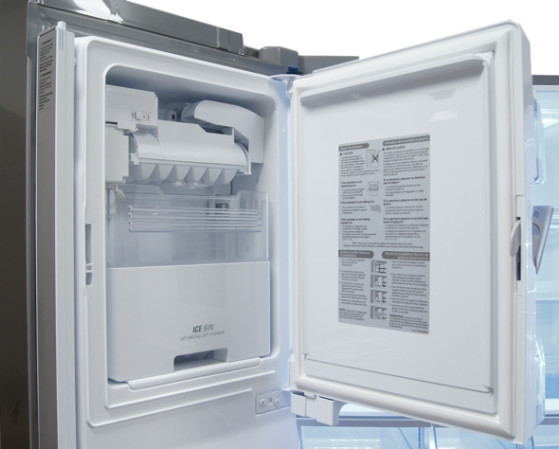 Cleaning
Fingerprints and water splashes will show up on the LG LFX31925ST's exterior. We suggest investing in a bottle of stainless steel cleaner. Inside, "spill protector" shelves do a good job holding onto any liquids that may overflow.
Noise
We could barely detect the LG LFX31925ST's low hum. Absent is any metallic jangling or growling found in lesser fridges.
Other Features
Sections