Magic Chef MCBR415S
For consumers on a big budget who want something more than a truly mini fridge but don't have room for even a smaller full-sized model, we present the Magic Chef MCBR415S. With performance ratings that were surprisingly high, it's worth the average price of $239... if you can find it, that is.
Magic Chef MCBR415S 4.0 Cu. Ft. Stainless Look Compact Refrigerator Review
$239.00
Usable Space
The biggest flaw here is that the shelves are fairly shallow compared to the size of the fridge cavity. Presumably designed as a deterrent for consumers that like to over stock and shove things up against the rear wall—remember that moisture collects on the back of a mini fridge's interior—it resulted in a total of 2.21 cubic feet of fresh food storage. That's spread out over the three shelves and the disappointingly shallow bottom drawer.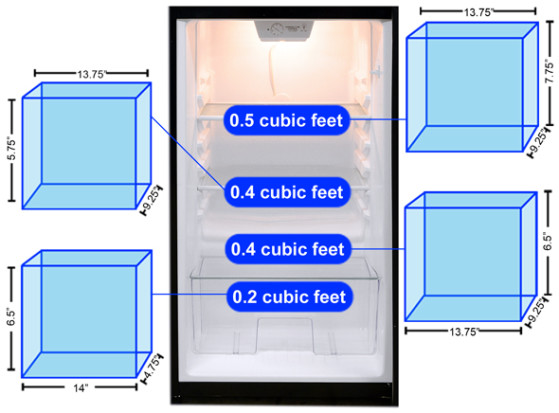 Two shelves and a can rack found on the fridge's door contribute to fresh food storage. The can dispenser is pretty much a one-trick device; if you don't plan on stocking cans, you'll likely end up wasting space. In case you were wondering, it can hold a total of four standard cans at a time.
Freezer storage consists of a large cavity—literally an ice box if you don't take the time to defrost it—that is broken up by a wire shelf into an upper and lower section. All together, it can hold up to 1.11 cubic feet worth of frozen goods. That's substantially more than what you'd find in a one-door mini, meaning you can store a larger variety of items. It's still not big enough to fit the Thanksgiving turkey, but at least you can get more than one Lean Cuisine in it.
Below are the manufacturers own figures for capacity, and our own measurements for usable capacity. The manufacturers figures do not take account of the shelves, drawers and other removable features, but our measurements do account for the space these take up.
Sections