Maytag MSD2576VEM
Impressive temperature control with a sleek, stainless exterior. A few minor quibbles don't keep this from being a great mid-range fridge.
Maytag MSD2576VEM 25.3 cu ft Side-By-Side Refrigerator Review
$1,600.00
Usable Space
The main fridge cavity features two adjustable shelves, a fixed shelf, a deli drawer, general storage drawer and one humidity-controlled drawer. Shelves are held in place by grooves built into the side of the fridge.
On the fridge door, there's a dairy bin, two adjustable shelves and one fixed shelf. Its most prominent feature, however, is a "beverage chiller" -- a set of doors that open to reveal a compartment for storing milk, soda and juice. It's separately vented when the door is closed, and it has its own temperature control. If you store a lot of beverages, this may be a good choice for you. Otherwise, a purpose-built shelf may not be the most efficient use of space.
On the left, the freezer has minimally adjustable wire shelves and one drawer. There's no real usable storage space above the ice maker.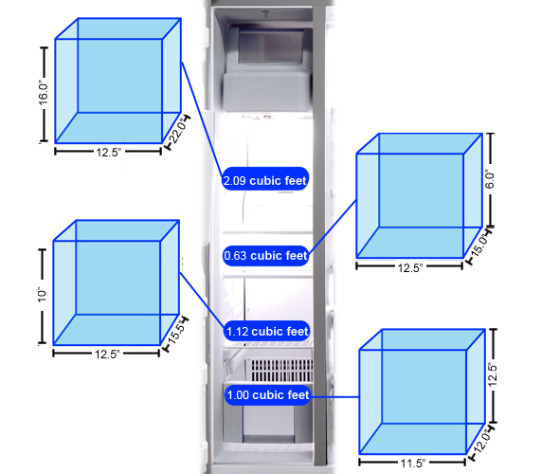 The freezer door has some storage space eaten up by the ice maker chute. Otherwise, there are four fixed shelves.
Below are the manufacturers own figures for capacity, and our own measurements for usable capacity. The manufacturers figures do not take account of the shelves, drawers and other removable features, but our measurements do account for the space these take up.
Sections