refrigerators
Amana A8TXNGFXW Refrigerator Review
You'd be hard pressed to find another fridge that's this good and this cheap at the same time.
$699.00 MSRP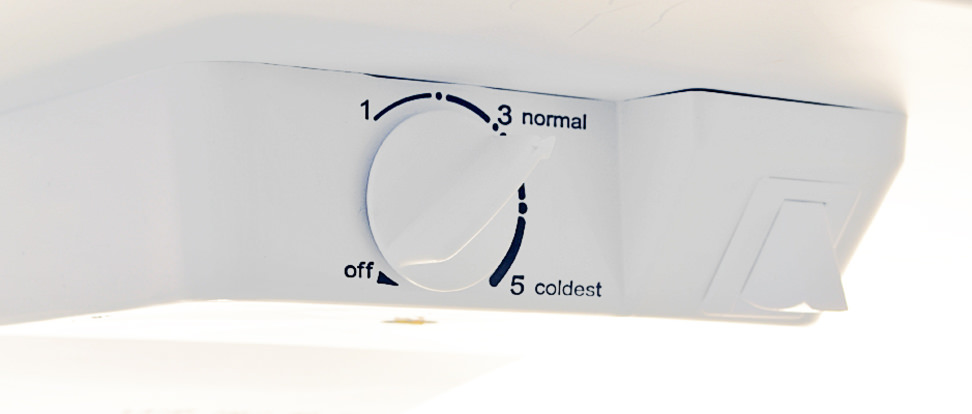 Introduction
Amana's been bringing the heat to the cold appliance lineup lately. First, we came across a fantastic bottom freezer, and now this: the Amana A8TXNGFXW (MSRP $699) white top freezer. Does it have extra features? No. Does it have digital controls? No. Does it have style? Not really. But what it does have is exceptionally effective performance almost entirely across the board, as well as a very affordable price tag. If it's a basic fridge you want, you should definitely check out this Amana.
Design & Usability
A fridge free of frills
There's not much to say about this fridge in terms of design that you couldn't grasp by looking at the photos. It's a basic top freezer with a textured white finish and a few full-width shelves. Some of its aspects are done well: the shelves are fairly light and easy to move, they have relatively effective spill protection, and the wide open spaces make for easy food access in both compartments. The white finish is also resistant to smudging, making it great for households with small children.
The white finish is also resistant to smudging.
That said, the crisper drawers don't slide in or out of place very securely, the fridge door shelves lack any sort of customizability, and the handles are a touch flimsy. There's no water filter, ice maker, or freezer lighting, but that's not surprising at this price.
Probably the most exciting aspect of the fridge's design is the magical, movable deli drawer. Need some extra space on the left side? Slide the drawer to the right. Need space on the right? Slide it back to the left.
Many of the negative elements are par for the course when it comes to budget top freezers.
The single control knob in the fridge regulates temperature throughout the entire appliance. Also par for the course when it comes to budget fridges, it uses an arbitrary scale running from 1 to 5, with 3 marked as the "normal" setting. A less common, positive touch is the fact that 5 is actually labeled as "coldest," something which will make any necessary adjustments to your fridge temp that much easier to manage. Typically, consumers either have to go back to the user manual or just flat out guess as to whether lower numbers are colder or warmer, and it's not always as intuitive as you might think.
Performance & Features
Performance this good makes the budget price hard to believe.
When it comes to fridge performance, consistency is the single factor with the biggest impact, and when it comes to consistency, this Amana is king. Well, okay, maybe not king, but definitely a knight of the realm.
Calibration is a pain.
We set all our fridges to match the manufacturer's recommended setting, but the Amana still ran a touch too warm. Despite this, temperatures managed to remain pretty close throughout. A tiny tweak of the controls should fix any issues there, while the high level of consistency translates to increased preservation.
Matching performance in the freezer will lead to less freezer burn and more effective long-term food storage. The catch there is that, since freezer temperatures cannot be controlled independently of the fridge, optimal performance in one section could come at the cost of the other.
While consistency made up for most of the temperature calibration issues, the crisper drawers were flat out disappointing. They lose more moisture than we'd like to see, and you may end up wasting produce if you buy too much at once.
Freezing times in this Amana were faster than expected.
Conversely, freezing times in this Amana were faster than expected for products of its type and price point. This means you can get some nice cuts of grass-fed beef at that same farmers market and freeze them without having to worry too much about reducing the quality. Combine that with the fridge's high level of efficiency, and you've got yourself a carnivore's ideal top freezer.
Comparable Products
Before you buy the Amana A8TXNGFXW, take a look at these other refrigerators.
Amana for All Seasons.
Stepping up their game.
Amana is a no-nonsense, entry level brand. Typically, "entry level" can be code for "leaves something to be desired." But that's not the case with the A8TXNGFXW. Not only is a budget-friendly, it's got great performance, so it's a strong value overall. You wouldn't expect a fridge with a $699 MSRP to be very competitive, but this top freezer is one of the most consistent and efficient products we've ever tested. It's even better than some higher-priced, fancier models. With many retailers offering prices below $550, you can bet your bottom dollar that there's probably not a better deal around.
Our editors review and recommend products to help you buy the stuff you need. If you make a purchase by clicking one of our links, we may earn a small share of the revenue. Our picks and opinions are independent from any business incentives.