refrigerators
Fagor Torre FFJA4845X Apartment Refrigerator Review
High-end performance that won't break the bank or waste space.
$2,149.00 MSRP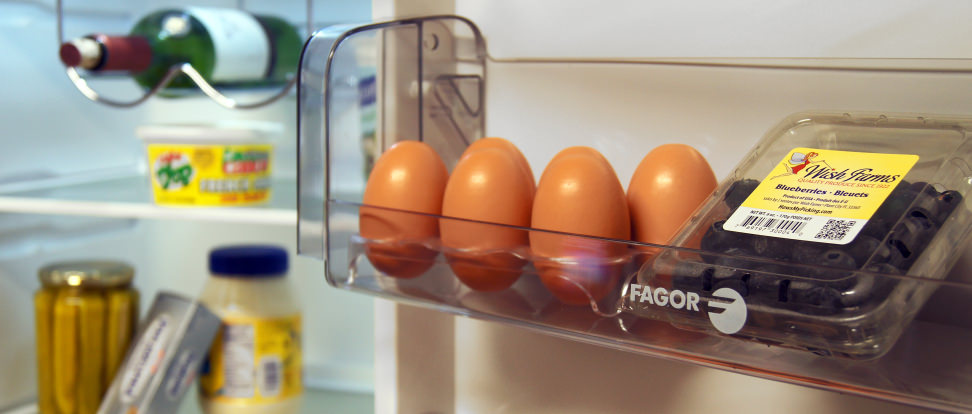 If you're shopping for a luxury car, chances are you'll swoon over Bentleys and Ferraris. When it's time to make a purchase, though, you'll probably "settle" for an Audi or a BMW.
The same goes for fridges. If you're looking at small, high-end kitchens in a design magazine, you'll probably notice the Liebherr CS1360—a stunning (and stunningly expensive) appliance that maximizes food storage without taking up valuable square footage.
If you love the Liebherr but can't quite justify spending upwards of $3,000 on a fridge, the Fagor FFJA4845X (MSRP $2,149) will do the trick and save you more than a grand. While the Fagor doesn't have the razor-sharp accuracy of the Liebherr's freezer, it's a superb performer in its own right.
Design & Usability
Towering above the competition
The Spanish-made Fagor is, without question, a beautiful appliance. In fact, the tall and sleek "Torre" model—its Spanish nickname, which translates to "tower"—boasts an award winning design.
A smooth, stainless steel exterior opens up to reveal bright LED lighting and dark plastic accents that contrast with white-trimmed glass shelves. There's even a designated "Multifresh" drawer for storing or defrosting meat and fish.
Aside from the European-style height-to-width ratio, Americans should feel comfortable with what's inside. In fact, it's downright traditional, with easily adjusted shelves and a produce drawer with optional divider. The two half-dozen egg trays can also be shifted around for optimal storage.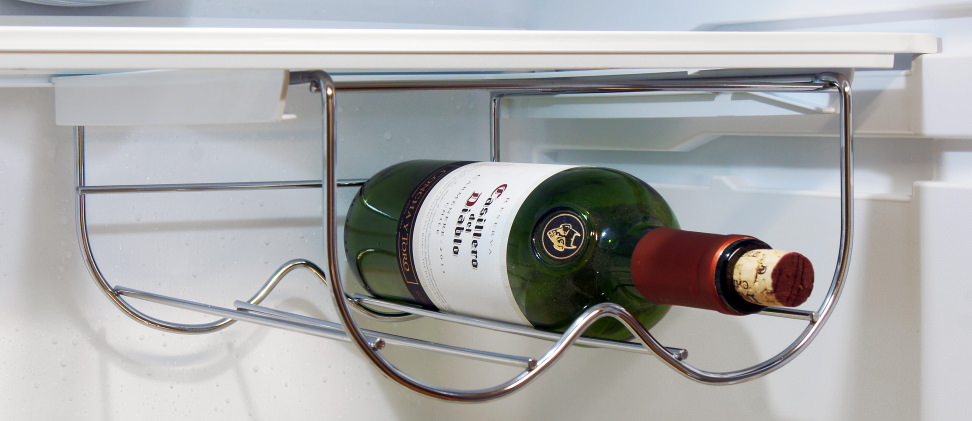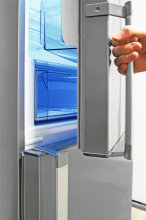 There are some downsides, however. This machine lacks an icemaker (though you do get a removable ice cube tray), and loses space to a bulky light fixture. There are only six slots to customize three interior shelves, and there's only one extra slot on the door. What's more, the door handles are made of multiple pieces of metal, and there's an uncomfortable seam between them.
As is common for apartment fridges (even the Liebherr), the freezer is a bit less elegant. There's no door storage, shelves are a bit stiff, and you've got no internal light. Fortunately, the Fagor's more sensible price tag makes these cons easier to accept.
Performance & Features
Perfect for fresh food, but the freezer could get colder
The Fagor almost aced our fresh food storage tests. Temperatures hovered right around 37ºF from top to bottom, with one slightly cooler spot in the middle. Long-term temperature consistency was excellent, and any deviations weren't wide enough to have a negative impact on food.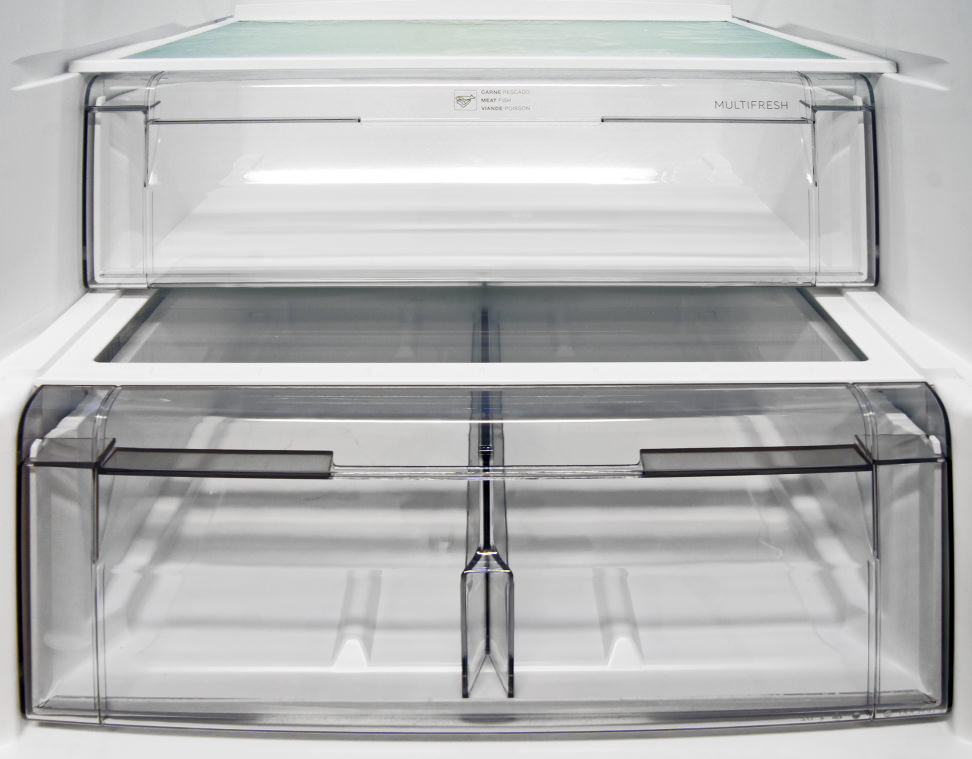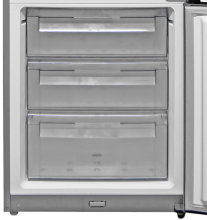 Even though the crisper lacked an adjustable humidity control, it proved a great fit for most vegetables. Just make sure you're not packing it with the wrong kinds of food—specifically, anything that doesn't need to retain lots of moisture.
When it came to freezing, however, the Fagor could use a little work. Oddly enough, the controls only let you set the freezer to -1ºF and no higher. Even so, the internal temperatures of our testing materials never quite averaged the ideal 0ºF. Instead, they came in about a degree and a half too warm.
Thanks to its impressive consistency over time—superior even to the fresh food section—you can turn down the thermostat about three degrees to cut back on freezer burn.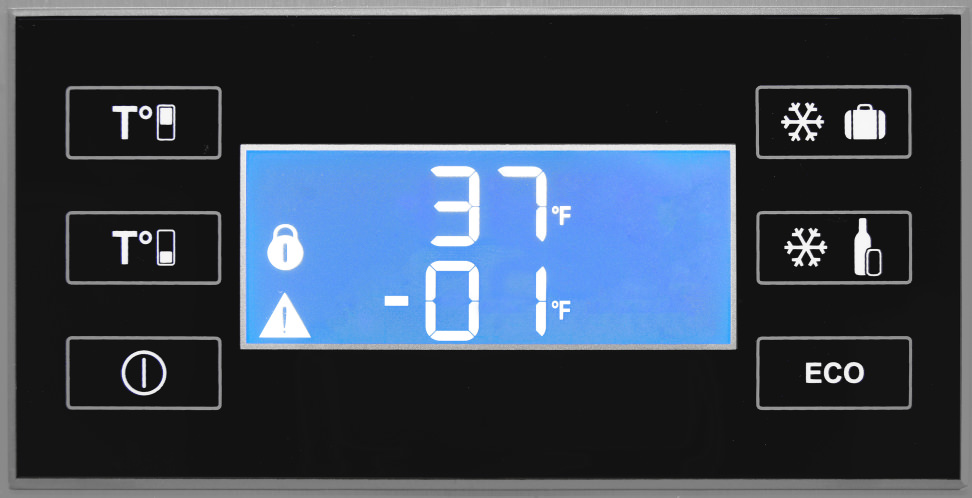 With low energy consumption and lots of usable storage space for a fridge in its size class, this Fagor is an all-around strong performer. The extra perks—ice tray, wine rack, and egg holders—don't hurt, either.
For in-depth performance information, please visit the Science Page.
Comparable Products
Before you buy the Fagor FFJA4845X, take a look at these other refrigerators.
Style, Savings, and Effective Cooling
Spain's finest fridge is excelente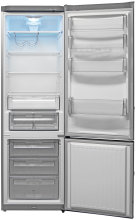 In the niche market that is luxury, apartment-sized refrigerators, the Fagor FFJA4845X is a fantastic choice. It costs a thousand dollars less than a similar Liebherr and achieves nearly identical results in our performance tests.
Though it's beautiful to behold, we found a few minor flaws upon closer examination: Rough seams on the door handles and a lack of shelf customization are unfortunate, while the prominently visible temperature controls may not match your design aesthetic.
Still, this Fagor should fit comfortabely into most upscale kitchens, and could save you an extra thousand dollars to spend on an upgraded backsplash or faucet if you choose it over a product from a better-known brand.
Just remember that niche products rarely go on sale. You'll likely pay the full $2,149 MSRP for this Fagor, regardless of the retailer.
Our editors review and recommend products to help you buy the stuff you need. If you make a purchase by clicking one of our links, we may earn a small share of the revenue. Our picks and opinions are independent from any business incentives.