refrigerators
Frigidaire FFHT1725PS Refrigerator Review
This Frigidaire does better than the basics
$799.00 MSRP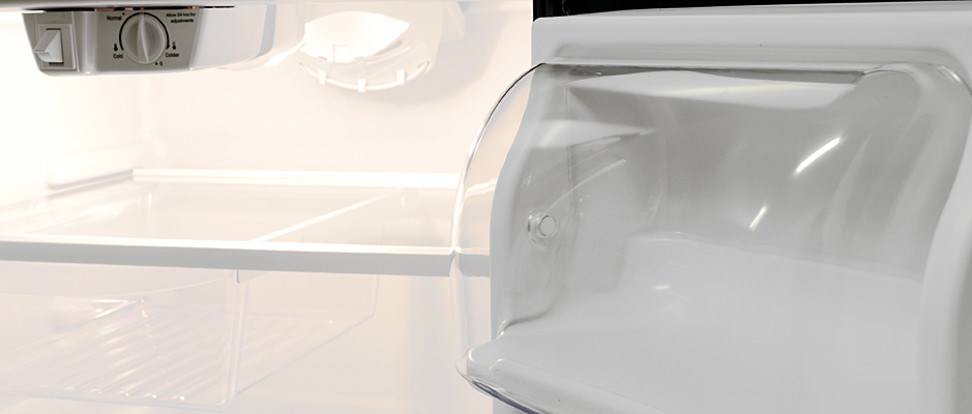 Introduction
The Frigidaire FFHT1725PS (MSRP $799) is a basic top-freezer with a stainless front. It's one of those rare budget fridges that lands right in the sweet spot between an affordable price and acceptable performance. If you're looking to update your kitchen without spending a fortune, or if you don't have room for another style of fridge, it's a good pick.
Design & Usability
Traditional design, on a budget.
This is, at its core, a purely functional fridge. Drawers slide open, control knobs turn, bulbs light up: everything works. Of course, just because something works doesn't mean it's necessarily going to look good doing it. The black plastic handles, as well as the black matte sides, clash with the stainless front, and the stuck-on logo doesn't feel very high end.
On the inside, the combination light/control unit takes up a lot of space and doesn't even sit flush with the fridge ceiling. The plastic drawers aren't terribly smooth, and shelves are held in place loosely enough that they wiggle around when touched. Main shelves can't hold spills, and customization is nearly impossible. Sure, the two full-width fridge shelves can be moved around, but the choices for placement are limited. The doors possess only walled shelves with removable plastic fronts, where dripped maple syrup and salad dressing will pool.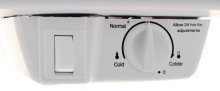 Though lacking attention to detail, it's a safe, comfortable layout that won't surprise or intimidate anyone. Access to all the different zones is fairly open, even the space below the deli drawer, a traditionally tight fit with limited practicality. It may not be the most attractive fridge out there, but it still presents a stainless steel option for consumers on a budget.
Performance & Features
Pretty consistent, and very efficient.
For a budget model, this Frigidaire's fresh food compartment was surprisingly on task. There was very little temperature variation over time, a good place to start when it comes to food preservation. It had a marked increase in warmth from top to bottom, though, even more so than usual. A little extra heat at the bottom can be okay—most produce is meant to be stored at a slightly warmer temp compared to other refrigerated goods—but this was a little more than is typical. Don't store dairy down there.
The freezer, on the other hand, had some issues. Temperature consistency wasn't awful, but it also wasn't nearly as good as in the fridge. Even though we set the thermostat to the manufacturer's recommended setting, it ran several degrees warmer than 0ºF during our testing. Temperatures varied from top to bottom, too, so we'd recommending turning the temperature down if you don't want to risk freezer burn.
It is really cheap to run, though that efficiency comes at the cost of having no icemaker or water dispenser.
In all other respects, the product was usually just below average: moisture retention, freezing times, and storage space weren't anything to write home about. It is really cheap to run, though that efficiency comes at the cost of having no icemaker or water dispenser. That lack of extra features is par for the course with top freezers in this price point, though, so it's not too surprising.
Comparable Products
Before you buy the Frigidaire FFHT1725PS, take a look at these other refrigerators.
Before You Buy
A bit better than your average low-cost top-freezer.
Compared to other budget fridges with a stainless finish, the Frigidaire FFHT1725PS offers good performance for a modest price. With fridge consistency and excellent efficiency rates as its two biggest strengths, this is a Frigidaire that gets the job done at a pure and basic level. Most online retailers offer it up for about $625, roughly $175 less than the advertised MSRP. For such a reasonable figure, budget-conscious consumers looking for an space-conscious top freezer should definitely check this one out.
Our editors review and recommend products to help you buy the stuff you need. If you make a purchase by clicking one of our links, we may earn a small share of the revenue. Our picks and opinions are independent from any business incentives.