refrigerators
Frigidaire Gallery FGHB2866PF Refrigerator Review
Not a bad fridge, but don't pay full price.
$1,796.40 at Home Depot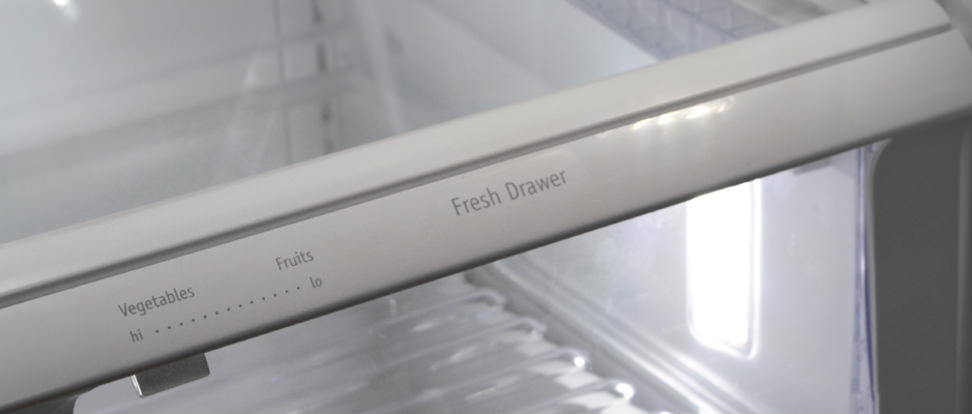 The Frigidaire Gallery FGHB2866PF is better than 40% of the refrigerators we tested.
It is better than 48% of the refrigerators we have tested under $3,000.
It is better than 22% of the french door refrigerators we have tested.
Introduction
Frigidaire's Gallery series sits right at the opening price point for higher-end appliances. Their new flagship French door, the FGHB2866PF (MSRP $2,599), isn't cheap by any means, but it's a lot less expensive than many similar units. It's not a bad fridge, but there's enough of a build up of issues here and there—sticky drawers, off-kilter shelves, a temperature output that just doesn't jive with the thermostat display—that makes its full price tag hard to swallow. With that said, we didn't find any glaring issues with this fridge, and we also found it on sale for around $2,000. If you're looking for a French door fridge this big, that's about the lowest price you'll get.
Design & Usability
Not fancy, but with some user-friendly touches.
Anyone who has looked inside a French door refrigerator over the past 10 years or so won't be surprised by the Frigidaire Gallery's overall design. Glass shelves surrounded by thick white plastic isn't as au courant as thinner stainless trim shelves, and where most manufacturers seem to be moving to on-the-door ice makers, Frigidaire continues to leave it on the top shelf of the freezer. The control panel is no better. It has a lot of options, but it presents them in teeny-tiny fonts that are almost too small to read. Also, its touchscreen appearance is misleading: comprised of multifunction buttons set into a black surface, it's pretty cumbersome to navigate—think programming your VCR in the late 1980's and you'll get the picture.
Where most manufacturers seem to be moving to on-the-door ice makers, Frigidaire continues to leave it on the top shelf of the freezer.
Despite the simple aesthetic choices here, there are actually some very nice subtleties to the design which could make life easier for consumers. For instance, all of the adjustable shelves slide forward, granting easy access to items stuck in the back. They also make it possible to clean spills without having to take a shelf entirely out of the fridge. In addition, a retractable shelf simplifies tall item storage, and an abundance of half shelves improves customizability.
Nevertheless, the overall feel is decidedly midrange. Plastic drawers on plastic runners are hard to open and are ever-so-slightly crooked. We noticed a similar issue with the freezer, where the pull-out shelf came out at a slightly skewed angle. It doesn't impact storage capacity or any functional element of the fridge, but the interior is outclassed by competitors that cost only a slight bit more. Frigidaire's finish may make the fridge look a bit darker, but it is unusually resistant to smearing and fingerprints—great for families with small children!—plus, since it's 430 grade stainless, you can use magnets. On the other hand, it may not match the rest of your kitchen.
Performance & Features
Good temperature consistency despite a few other flaws.
This Frigidaire falls prey to an all-too-common problem: the temperature reading on the control panel doesn't match the temperature inside the fridge. In this case, it's particularly frustrating because this Frigidaire's temperature output over time is actually quite consistent. Unfortunately, both fridge and freezer ran a bit warmer than the big 37 and zero we saw displayed on the control panel. If you choose to buy this product, you'll need to calibrate it on your own, or risk subpar food preservation.
There's not really anything special that sets this fridge apart.
Sadly, the crisper drawers just aren't very good, and lose more moisture than average. That means you may notice your produce spoiling a bit faster than expected. Otherwise, there's not really anything special that sets this fridge apart. You've got a basic ice maker, as well as a through-the-door water and ice dispenser, but that's it. At $2,500, it seems fair to expect some innovation, but this Frigidaire doesn't really supply anything in that regard.
Comparable Products
Before you buy the Frigidaire Gallery FGHB2866PF, take a look at these other refrigerators.
The Cold Truth
Cooling hearts and minds, not food.
The Frigidaire Gallery FGHB2866PF is an entry-level high-end fridge. That may sound like an oxymoron, but it's relatively inexpensive for a 27.8 cubic foot French door with a stainless exterior and through-the-door ice and water... as long as you find it on sale. Performance-wise, we had few complaints, and our biggest one—calibration—is easy to correct if you've got a thermometer. Unless you'd rather save your pennies for a sleeker French door or downsize to something more affordable, this Frigidaire hits a sweet spot for customers who need lots of capacity for the least amount of money. That said, just make sure you don't pay the exorbitant $2,500 MSRP.
Update (5/17/13):** An earlier version of this article referred to this fridge's exterior as "stainless-look," when in fact it is finished with 430-grade stainless, which is magnetic. A representative from Frigidaire informed us that this Gallery also features a fingerprint-resistant coating applied over the steel, likely the cause of the darker-than-average look.
Our editors review and recommend products to help you buy the stuff you need. If you make a purchase by clicking one of our links, we may earn a small share of the revenue. Our picks and opinions are independent from any business incentives.