refrigerators
Frigidaire Gallery FGHS2655PF Refrigerator Review
It won't win a beauty contest, but it's one of the best side-by-sides we've seen yet.
$1,599.00 MSRP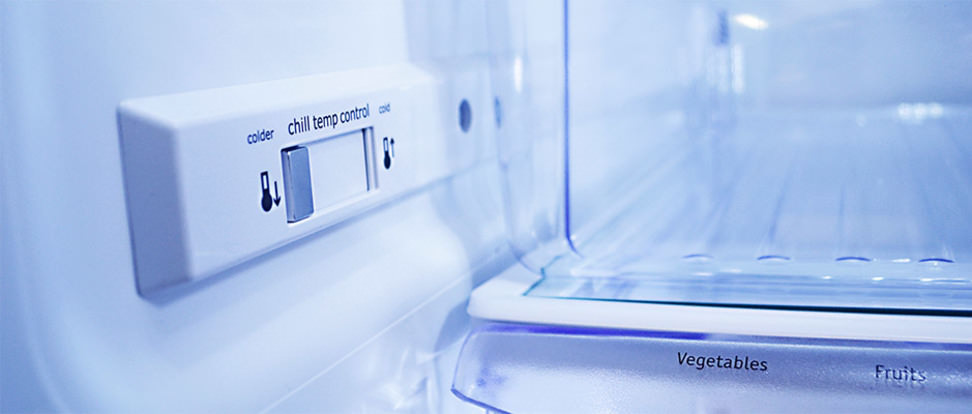 The Frigidaire Gallery FGHS2655PF is better than 24% of the refrigerators we tested.
It is better than 35% of the refrigerators we have tested under $2,000.
It is better than 36% of the side-by-side refrigerators we have tested.
Introduction
Frigidaire seems to have hit the nail on its proverbial head with their new Gallery side-by-side flagship. The FGHS2655PF (MSRP $1,599) is one of the better side-by-sides we've encountered in terms of actual performance. It's far from perfect—there are definitely some cheaper design elements that made us wince a little, and side-by-sides have fallen behind more fashionable French door fridges when it comes to popularity—but it's better than we'd expect for such a reasonable price. This is a very affordable and consistent piece that we're comfortable recommending.
Design & Usability
Great for a side-by-side, even with a few missteps.
There is nothing wrong with your computer monitor. Do not attempt to adjust the picture. The Frigidaire Gallery is in fact darker than a traditional stainless steel fridge despite what the manufacturer's specs state. Compared to the equally new FGHB2866 French door, which has a standard, horizontal grain and shimmery steel surface, the side-by-side has a more muted exterior with a subdued, vertical grain. Neither product is actually stainless, though, but that's not such a bad thing depending on your needs in the kitchen. You can put magnets on the surface, and it's got a freakishly strong resistance to smears and fingerprints, two things that make for a really family-friendly appliance.
It's got a freakishly strong resistance to smears and fingerprints.
What this fridge fails to surmount, however, are the flaws inherent in its layout. By design, side-by-sides are tall and narrow, and items that are wide (like a birthday cake, or my favorite frozen pizza, for instance) don't seem to be a natural fit for the shelving arrangements That said, this Frigidaire Gallery did what it could to make up for what the factory gave it: Wide surfaces can slide out easily for quick and simple access to refrigerated items stored at the back, and the shelves are unusually lightweight despite the rear-mounting hooks, making them easy to reorganize.
For all of its perks, however, the freezer is still quite cramped.
For all of its perks, however, the freezer is still quite cramped, with far fewer options for adjustable organization. Nothing slides easily, either, be it the floating bucket shelves in the freezer or the crisper drawers in the fridge. The "Chill Drawer," with its adjustable temperature control, was exceptionally difficult to open; half the time, when we went to open the drawer, the shelf above it came along for the ride.
Update (5/17/13): Turns out the old-fashioned magnet test isn't entirely fool proof: this fridge really is a stainless steel product. It's finished with "430 stainless," a particular grade which does actually take magnets. A representative from Frigidaire informed us that this Gallery also features a fingerprint-resistant coating applied over the steel, likely the cause of the darker-than-average look.
Performance & Features
It doesn't trump every side-by-side, but it comes pretty close.
And now, for the crux of the argument: it's not a mind-blowing fridge overall, but it's got great performance for a side-by-side in that price point. Because it's hard to circulate air through tall, thin compartments, side-by-sides typically subject consumers to temperature consistency issues from top to bottom more than other fridge types. Nevertheless, Frigidaire's new Gallery flagship manages to avoid that pitfall in the fridge... for the most part. Temperatures were mostly consistent throughout, warming up mostly down by the crisper, and remained exceptionally stable over time. The freezer was a little worse, exhibiting a larger temperature gap from top to bottom, as well as a slightly wider margin of long-term fluctuation, but as long as you don't swap items from one shelf to another the risk of freezer burn should be pretty low.
Temperatures were mostly consistent throughout, and remained exceptionally stable over time.
Moisture retention in the crisper is mediocre at best, which will likely dismay fans of fruits and veggies. Conversely, the freezer was exceptionally fast when it came to chilling our room-temperature items. This is good news for meat lovers: faster freezing times mean higher-quality thawed items.
You'll want to keep your interactions with the control panel to a minimum.
In terms of perks, there's not a whole lot going on here, but that's to be expected for a fridge with such a modest price. In the back of the fridge is a replaceable water filter, and in the freezer there's a bulky ice maker that's a pain in the neck to remove. This model also comes with a replaceable air filter, which the manufacturer claims reduces odor build up. The through-the-door ice and water dispenser won't surprise anyone, but you'll want to keep your interactions with the control panel to a minimum. It's unnecessarily convoluted, and this fridge doesn't really have fancy functions that would require you to delve into it anyway.
Comparable Products
Before you buy the Frigidaire Gallery FGHS2655PF, take a look at these other refrigerators.
Side by Side by Satisfaction
For the price, it's excellent.
Side-by-sides tend to have more features than a basic top freezer, but lag behind most French door models. As such, the Frigidaire Gallery FGHS2655 is swimming in a sea of mediocrity, a market where many side-by-sides fail to stand out for positive reasons. Frigidaire's new product, however, is one of the rare exceptions. For a reasonably priced model like this one to do as well as it did and still have a very affordable MSRP of $1,599 is unusual. With some promising sale prices dropping this product down to about $1,350, fans of the side-by-side style should definitely keep an eye out.
Our editors review and recommend products to help you buy the stuff you need. If you make a purchase by clicking one of our links, we may earn a small share of the revenue. Our picks and opinions are independent from any business incentives.