refrigerators
GE Cafe CFE29TSDSS Refrigerator Review
Hot water in a fridge! Need we say more?
$3,099.00 MSRP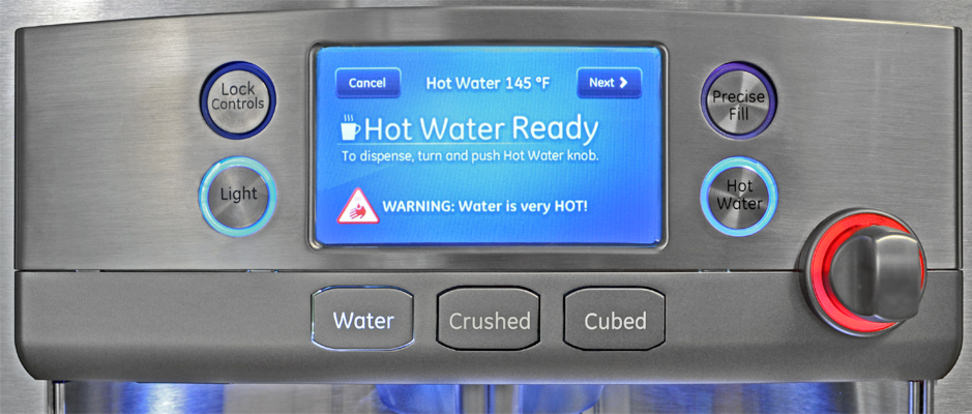 Q: What does a refrigerator do? A: Preserve food by keeping it cold, or refrigerating it. Pretty straightforward premise, right?
A fridge that could also boil water might strike you as counterintuitive. A cold appliance being used to heat something? Nonsense!
Nevertheless, engineers over at GE have developed the world's first hot water fridge, and it's awesome. Built in Louisville, KY, the GE Café CFE29TSDSS (MSRP $3,099) is a stainless steel French door refrigerator that not only dispenses traditional ice and cold water, but also puts hot water on tap for making instant soup, tea, and more. It only takes a few minutes to heat up, and it means you can ditch your kettle for more counter space.
The best part? Like its GE Profile counterpart, the PFE29PSDSS, this Café is a downright incredible fridge. With great energy savings, a roomy interior, and phenomenally consistent temperatures all around, this is a fridge worth buying regardless of its special features.
World's First Hot Water Fridge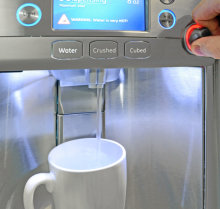 Is it warm in here, or is it just us?
Undoubtedly, the hook on this GE is its ability to dispense hot water. Getting boiling water out a fridge may seem odd, but we're here to tell you that the whole process works seamlessly. With a wide range of customizable temperatures to choose from, as well as four preset options that streamline the system even further, the internal hot water tank gives you boiling water in the same amount of time as a kettle while freeing up space on your counter or stovetop.
We spent some time playing with the GE's hot water dispenser, and you can read about our take on it here.
Design & Usability
Style, gadgets, and a few secret compartments? James Bond would approve.
On the outside, the CFE29TSDSS matches the rest of the Café series design aesthetic, with angled edges and thick, straight stainless handles. It gives the fridge a somewhat industrial feel.
On the inside, you've got stainless trim on the shelves, bright LED lights, and dual crispers. An on-the-door icemaker keeps the main compartment wide open and accessible. The wide temperature-adjust drawer on the bottom even uses colored lights to indicate which setting it's currently on: purple for citrus, green for produce, etc. It's like a swanky club for your perishables.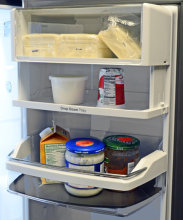 Fridge designers tend to neglect the doors, so we were surprised to see two unexpected features there. Two adjustable gallon-sized buckets on the right door come with rubberized, dishwasher-safe mats. They're a little tricky to remove but are very easy to clean, and makes crying over spilt milk a thing of the past.
A bit more interesting is the Drop Down Tray located in the base of the dairy bin. Pressing a switch on either side causes another small shelf to descend. Check out the video above to see the shelf in action.
Even the freezer has some surprises in store. A traditional pull-out design serves up some deep bucket storage, as well as two sliding drawers on the top. What's nice is that those two drawers slide independently of one another, as opposed to the wide single drawer found in most other models. That, as well as a shallow shelf that flips forward (which you can find just inside the freezer door), helps keep your freezer fairly well organized.
Comparable Products
Before you buy the GE Cafe CFE29TSDSS, take a look at these other refrigerators.
Performance & Features
An appliance master class.
It's almost hard to believe, but our tests showed there simply wasn't anything wrong with this fridge. Temperatures in the fridge were consistent, the freezer always stayed below 0ºF (a very rare achievement that'll keep freezer burn at bay), the crispers did a great job at retaining moisture, and even freezing times were faster than average. There's not a single thing that this fridge didn't do well.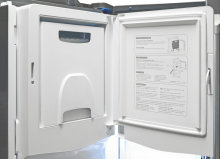 As far as features, this fridge hits all the key points, and then some. You've got through-the-door ice and water and an on-the-door bulk icemaker that's incredibly easy to remove. The water filter is located inside the left door frame, as opposed to up in the corner of the fridge or between the crispers, further maximizing your ability to store groceries.
When it comes to dispensing options, the GE may very well have mastered the art. The dispenser nook is large enough to fit a standard drinking glass on its own, but the base can extend out another inch and a half, giving you room to comfortably fit deeper containers like punch bowls or soup mugs. The Precise Fill option lets you control exactly how much water is dispensed.
Everything about the control panel is responsive, from the regular buttons to the animated touch screen. Learning where all the functions are located on each menu may take some time, but the learning curve is very shallow.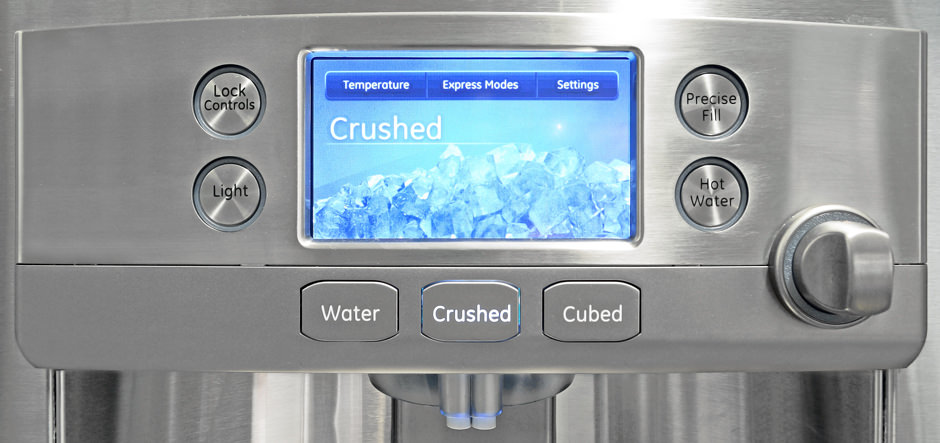 GE also included the ability to upload photos via a USB stick to your fridge, turning the small display into a little picture frame or slideshow gallery. It may not seem terribly practical until you remember that stainless steel isn't magnetic. If you don't want to tape something to the door, it's the only way to show off your kids' artwork on the fridge.
Even with all that space and extra features, the GE used surprisingly low amounts of energy. It'll cost less to run this fridge on an annual basis than some smaller, cheaper fridges, and that's with the icemaker running.
For in-depth performance information, please visit the Science Page.
Bringing the Heat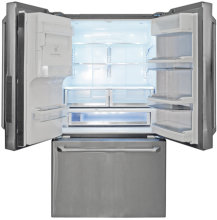 A hot new fridge that brings more than just boiling water to the table.
We almost never have a chance to give a fridge as much praise as the GE Café CFE29TSDSS, but it earned every good word. From its incredible performance to its numerous features—not to mention a groundbreaking and intuitive hot water dispenser system—we wholeheartedly recommend it.
True, it's not the cheapest fridge on the market, but with most retailers offering it for about $2,400, it's actually a lot more accessible than many other French door fridges with less to offer.
Our editors review and recommend products to help you buy the stuff you need. If you make a purchase by clicking one of our links, we may earn a small share of the revenue. Our picks and opinions are independent from any business incentives.