refrigerators
GE Profile PFE29PSDSS Review
This fridge is innovative and effective.
$3,099.00 MSRP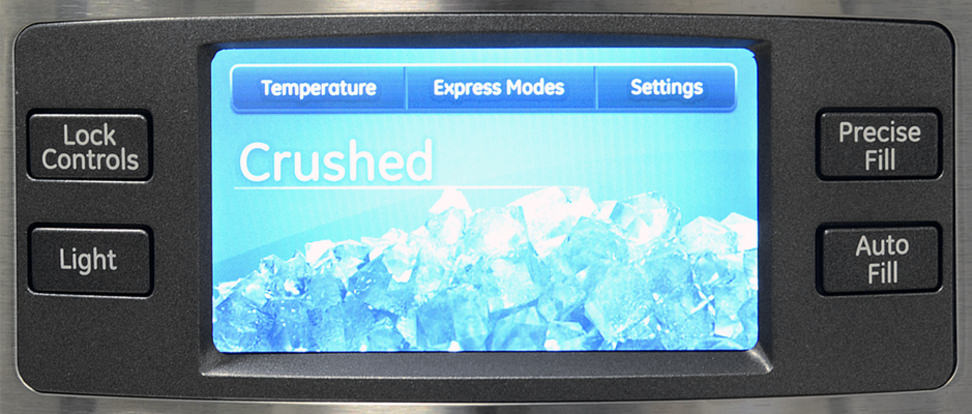 Introduction
Calling a refrigerator one of the best we've ever tested isn't a decision we take lightly. With that said, the GE Profile PFE29PSDSS is definitely one of the best. With a stylish finish, excellent energy efficiency, plenty of space, and fantastic performance ratings, this fridge really has the whole package wrapped up in stainless. It even has a trick water dispenser that senses the size of your glass and fills it automatically.
Excellence has its price, however. In this case, it's an MSRP of $3,099. We've seen some sales, and if you can snag a lower price you'll be getting a great deal. If you can fit this fridge into your budget and into your kitchen, we suggest doing so.
Design & Usability
A curved front may not fit every kitchen, but it's far less boring.
We'll start our review of the GE Profile PFE29PSDSS in a specific spot: The water and ice dispenser. It's one of the most unusually designed features on this fridge, with an animated screen and controls that bow out from the left-hand door. The dispenser's bottom panel can slide out to create a larger platform; that feature, combined with its impressive height and width, make it easy to rest even gallon-sized containers in place for filling. You'll want to take advantage of that tray: this fridge has PreciseFill and AutoFill, which means it can automatically fill a large container to the top without spilling.
Inside, pale, blue-grey LED lighting gives the inside of this GE a clean and bright appearance. Steel highlights and clear plastic shelves also work to add an air of modern sophistication to the overall design. To save space, GE mounted the ice maker on the inside of the left fridge door, and hid the water filter inside. There are also lots of very usable cubby holes and hideaways, plus a temperature-controlled drawer for items that require the utmost care.
Performance & Features
Some of the best temperature consistency we've seen.
In all of our tests, this GE did exceptionally well. In both the fridge and freezer compartments, the PFE29PSDSS kept an astoundingly even temperature throughout our 72-hour test period, and the actual internal temperature was quite close to the one shown on the control panel. That will protect your foods against premature spoiling and freezer burn, which just might save you some money.
Moisture retention was exceptional, which means veggies in the crisper drawer will stay fresher longer. The freezer did, however, take about an hour and a half to freeze items from room temperature. A faster freeze — say, under an hour — would better preserve the texture of foods when they're unfrozen. Best of all, it was exceptionally efficient, especially for a fridge of this size.
Comparable Products
Before you buy the GE Profile PFE29PSDSS, take a look at these other refrigerators.
Conclusion
We really like this fridge, and we bet you will, too.
Thanks to superb food preservation, a spacious interior, and innovative features, the GE Profile PFE29PSDSS earns every compliment we can give it. True, its $3,099 MSRP is steep, and its style may be a bit polarizing, but it excelled in every test we conducted. From nearly-nonexistent temperature fluctuations to vegetable drawers with incredibly effective moisture retention, this is one of the best refrigerators on the market.
Our editors review and recommend products to help you buy the stuff you need. If you make a purchase by clicking one of our links, we may earn a small share of the revenue. Our picks and opinions are independent from any business incentives.