refrigerators
Haier HRF15N3AGS French Door 28-Inch Counter Depth Refrigerator Review
Haier's stylish, unique four-door fridge fits any kitchen, and any budget.
$1,079.10 at AppliancesConnection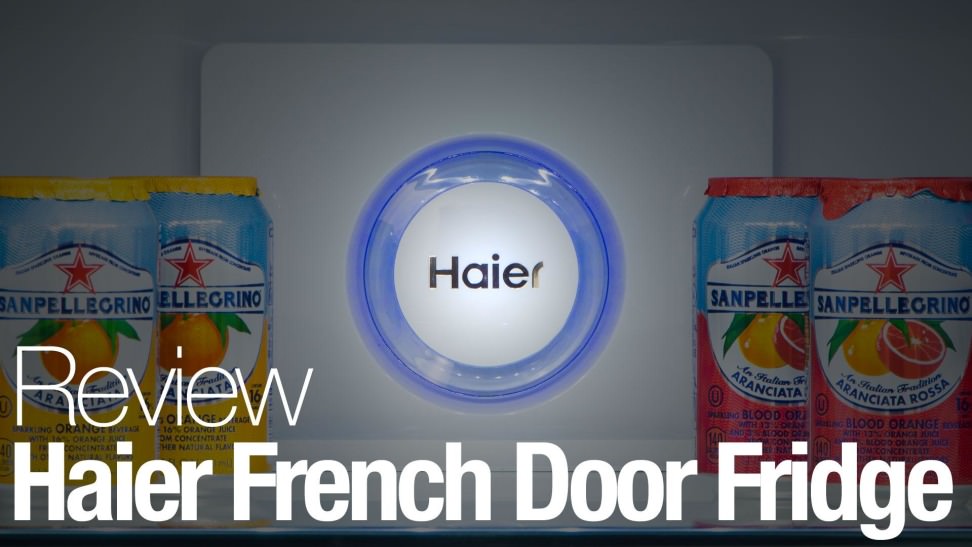 Got a small kitchen but don't want to settle for a boring, top-freezer refrigerator? Haier has you covered with a little inspiration from overseas.
In the rest of the world, the compact French door refrigerator is extremely popular. It squeezes all the benefits of a French door—fresh food at eye level, compartmentalized storage, sleek design—into a 28-inch wide platform. Unfortunately, such fridges have never been available in the U.S.
Until now. As part of its plan to expand into the U.S., the Chinese appliance titan unveiled an all-new small kitchen appliance lineup at the Dwell on Design show in 2015. The fridge just hit stores earlier this month.
We spent two full weeks testing and using the unique, 14.9 cu. ft., 28-inch wide HRF15N3AGS (MSRP $1,899)—an affordable, counter-depth apartment fridge that's just under 30 inches wide, and can be found for just $800 on sale. It brings the French door style to small kitchens—and small budgets. We uncovered a few minor flaws during that time—but also found a lot to love about this curious little fridge.
Looks Like Nothing Else
Stainless-ish, seamless, and striking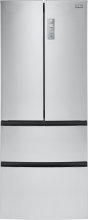 Call to mind an $800 refrigerator, and you won't picture this Haier. A stainless-style finish, counter depth design, and specialty width would typically command a price tag more than twice as hefty as this one.
Recessed handles leave the front panels seamless, and free up a few more inches of valuable workspace in your kitchen. And a minimalist, capacitive touchscreen control panel is one more feature that makes the HRF15N3AGS seem more expensive than it is.
Dig a little bit deeper, though, and you'll find evidence of cost cutting. That finish isn't actually stainless steel, and the front door scratched pretty easily while we were unpacking it. If you're putting it in your own home, take care. Inside, plastic abounds and shelves offer virtually no customization or spill protection—similar to competitors in the same price range. But at least the aesthetics are good: Blue trim gives the shelves some pop, while bright LEDs illuminate your groceries and the clean white walls.
This model's door shelves also lack the adjustable storage we're used to seeing even on entry-level fridges like Frigidaire's new Custom-Flex lineup. There's just one extra height level available, and none of the bucket shelves are deep enough to hold gallon jugs. You'll either store your milk in the main section, or you'll be buying half-gallon jugs.
Instead of one large pull-out freezer with drawers, Haier designers opted for two separate freezer compartments that can be opened independently of each other. Neither compartment gets its own light, but the drawers are so shallow that your ambient room light should be enough.
Does it Work?
Impressive performance
We spent a week testing this fridge in controlled conditions, evaluating how well it preserves food over time, and we can confidently say that this fridge does a great job. Temperatures are consistent and accurate, energy consumption is low, and freezing times are fast.
Our only gripe is the crisper, which won't keep your greens quite as fresh as the competition. Of course, with a fridge this size, it'd be hard to even fit more salad than you could eat before it goes bad.
Note some features have also been left out to cut costs. There's no ice maker or water dispenser to speak of, but the fridge does come with a small ice cube tray, so... at least that's something.
For in-depth performance information, please visit the Test Results Page.
Comparable Products
Before you buy the Haier HRF15N3AGS, take a look at these other refrigerators.
Will it Last?

Haier offers a standard one-year limited warranty, with partial coverage that extends out for fives years from the date of purchase. You can read more about it in the user manual.
One elephant in the corner of the room that we must address: Though Haier is rapidly expanding all over the world—it has a factory in Camden, SC, owns Fisher & Paykel and recently announced plans to purchase GE Appliances—some American customers may balk at the relatively unknown brand on the outside, or the "Made in China" label on the inside.
Haier has a long history selling compact and wine refrigerators in the U.S., and although we haven't done any long-term testing on this full-size fridge, we still haven't found any reasons to worry in the short time we spent with it.
If you buy the HRF15N3AGS, please let us know more in the comments.
Unique and Impressive
A winner in almost every way
A counter depth, 30-inch wide, four-door French door with stainless finish for between $800 and $1,100? It's unheard of, but Haier has made it a reality.
Our tests proved this Haier not only looks good, but does a great job preserving and storing food. If you don't need an ice maker or water dispenser, this is an exceptional choice for your apartment or small kitchen remodel, especially if the budget's tight.
Now, the only problem is finding it. We've tracked this model down at a number of online retailers like AJ Madison and HH Gregg, but until Haier expands its sales network, it may prove a bit difficult to find. Still, we think the extra legwork is worth it.
Our editors review and recommend products to help you buy the stuff you need. If you make a purchase by clicking one of our links, we may earn a small share of the revenue. Our picks and opinions are independent from any business incentives.