refrigerators
LG LBC24360ST Refrigerator Review
LG's pricey bottom-freezer is a great choice for most families
$1,395.00 MSRP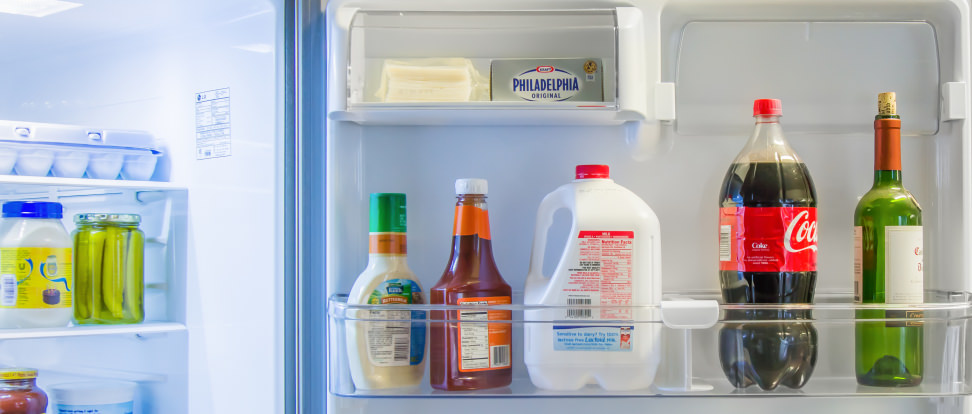 With an MSRP of $1869.99, LG's LBC24360ST is the most expensive bottom-freezer refrigerator we've ever tested. You're paying for looks (the stainless steel model is over $300 more expensive than the white version), as well as a few design conveniences. Hopefully, you're not paying full price, as we found the LBC24360ST for as low as $1,250 on sale.
Performance-wise, the LBC24360 will be perfectly fine for most situations, but we uncovered a few specific weaknesses in testing. First, the crisper drawers really have trouble keeping vegetables sufficiently moist, which will hasten spoilage. Second, the freezer can't bring down the temperatures of food fast enough, which will impact the flavor and texture of food you freeze yourself. If vegetable crispness and flash freezing aren't priorities for you, this fridge is an attractive—albeit expensive—option.
Otherwise, check out the myriad of Amana/Maytag/Whirlpool/KitchenAid bottom freezers that this LG competes against.
Design & Usability
Attractive and innovative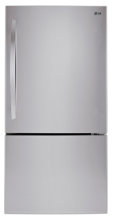 LG fridges frequently have beautiful interiors, and this is one such example. The spacious fridge compartment is brightly lit by white LEDs, and although most of the trim is white—not silver—we do get the classy diamond embellishments on the bottom of the crispers. In the fridge, shelves and drawers slide with ease, Down in the freezer, however, we found that both pull out drawers become wiggly and hard to move when laden with frozen food. On the fridge door we get two shelves with customizable, clip-on partitions, as well as a butter tray and a flip-up adjustable shelf that folds out of the way of tall items like wine bottles.
Unlike other bottom freezers, the freezer door isn't a drawer. It swings open, and features indentations so you can slide out freezer shelves even when the door isn't fully open. The freezer door has recessed handles, while the fridge door has a traditional handle. Temperature controls are at the top of the fridge, and use numeric temperature readouts instead of an arbitrary "cold to colder" scale. Here you'll also find buttons for Ice Plus (which, according to LG, increases ice production by 20%) and and alarm that beeps if you leave the door open.
Performance & Features
Strong test results, but two quirks
Solid temperature consistency throughout the fridge and freezer compartments lead to generally excellent scores for the LBC24360. We think the vast majority of users will be satisfied by this model's performance, but two key tests drag down the overall package.
In the crisper drawers, we measured rapid moisture loss. Our tests showed that your produce may dry out at almost twice the speed of fruits and veggies in the average fridge. If you're having trouble getting the kids to eat their celery, this appliance won't help.
The LBC24360's freezer also takes its sweet time bringing room-temperature food down to 32°F, taking about two hours when other freezers can do it in close to half that time. This will have an adverse effect on the taste and texture of frozen meats. If you buy in bulk and freeze what you can't use, watch out.
For in-depth performance information, please visit the Science Page.
Comparable Products
Before you buy the LG LBC24360ST, take a look at these other refrigerators.
Conclusion
A fridge with wide appeal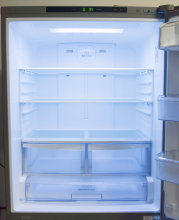 If you're looking for a generally competent refrigerator with an attractive design, the LBC24360 is a fine choice. We love the bright, customizable interior, with digital controls and innovative storage. Rock-steady consistency inside both the fridge and freezer will delay spoilage and sidestep freezer burn, and sufficient insulation will keep your frozen foods frozen during a power outage.
But if you're a very serious home chef, the sort who worries about subtle flavors and variances in texture, you should consider buying a different refrigerator. This LG's crispers can't retain moisture, and its slow freezing times might lead to tough meat and rubbery veggies.
While the expensive, attractive LG LBC24360 is wrong for some, it's great for most. Just make sure you wait for a sale.
Our editors review and recommend products to help you buy the stuff you need. If you make a purchase by clicking one of our links, we may earn a small share of the revenue. Our picks and opinions are independent from any business incentives.