refrigerators
LG LSC22991ST Door-in-Door Counter Depth Refrigerator Review
Hold on to your hyphens: It's a side-by-side door-in-door!
$2,699.99 MSRP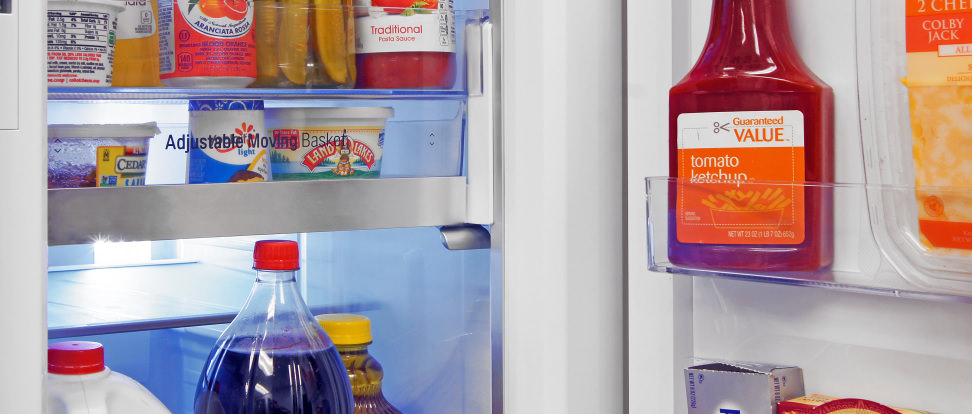 LG led the charge in bringing door-in-door storage to American consumers. The LG LSC22991ST (MSRP $2,699.99) keeps the company ahead of curve: Not only is it one of the first side-by-side door-in-door models on the market, it's also the first to be counter depth.
By contrast, Samsung's excellent Food Showcase is a full-sized model, which means it might not fit in tighter kitchens.
Aside from its unique qualifiers, the LSC22991ST boasts an excellent fit and finish plus superb cooling performance. Calling it the best counter-depth, side-by-side, door-in-door fridge may not be much of a complement at this point—since it's currently the only one on sale—but it's an excellent fridge nonetheless. If you're in the market for a counter-depth model, this one should be on your short list.
Door-in-Door Storage
A door-in-door that fits your kitchen
Even though, the LG is a side-by-side fridge, it adds a unique door-in-door compartment for storing condiments and drinks—similar to what you'd find on one of the manufacturer's French door models.
Press a button, and the top half of the refrigerator door pops open to reveal a small compartment inside the door, where users can store cans of soda, bottles of mustard, and other frequently-accessed items. Grab the door handle, and the whole door opens for access to the entire refrigerator compartment. The setup works fine, but closing the door requires a bit more force than you might be used to; shut it too gently, the door can pop back open.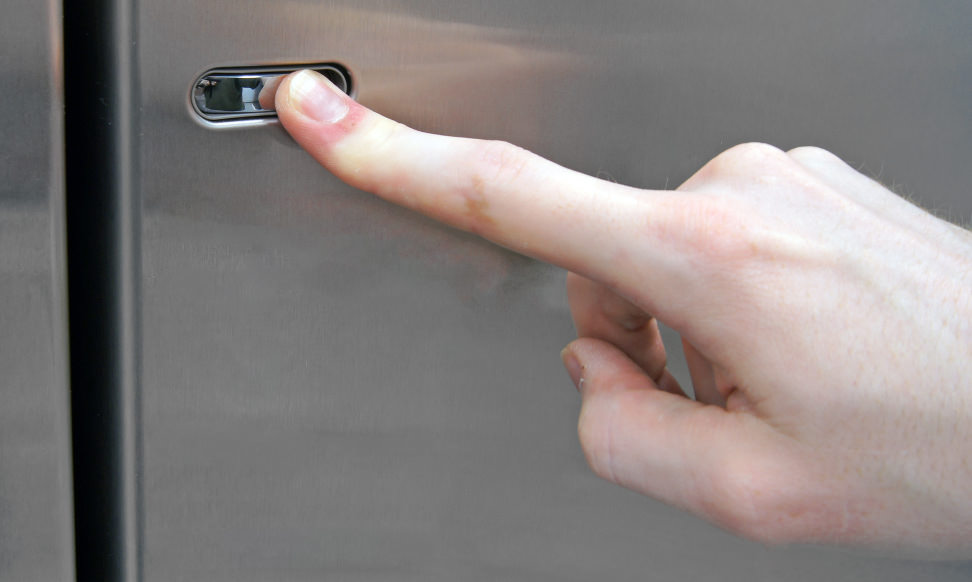 While you cannot adjust shelves in the traditional sense, the middle storage unit can slide up or down to accommodate items of varying heights. A drawer is great for storing cold cuts or meat that's being marinated for grilling, while shallow bins on the outer door are ideal for bottles of salad dressing, sticks of butter, and other narrow items.
The designated door-in-door storage section is almost entirely enclosed by a wall of plastic. Unlike what we found in LG's French door models or Samsung's Food Showcase, this plastic wall is fixed and cannot pop open. That actually makes it bit harder to access food if you're looking for items from both compartments—like lettuce and salad dressing, for instance.
Design & Usability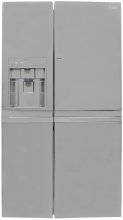 High-end, but unique
Unlike Samsung's Food Showcase, whose exterior seemed to highlight a smooth and seamless design, there's something a bit more industrial about this LG.
For instance, the recessed handles are found about two-thirds of the way down the front of the fridge, and work very similarly to the handles on a car door or an industrial freezer. They pull out on a small hinge before bringing the rest of the door along, and have a weighty feel.
Aside from the door-in-door shelving unit, the interior should feel very familiar. There are ways to customize shelves, and a thin, door-mounted icemaker uses space efficiently in the freezer.
Despite the counter-depth design, this fridge is capable of accommodating enough food to satisfy a sizable household. Wide, shallow shelves make it hard to lose track of leftovers. Wide frozen pizzas might not fit, but that's always a challenge for side-by-side storage.
Our only real concern is with lighting: The bright LED lights look gorgeous when the fridge is empty, but since they run down the back wall, a well-stocked fridge will get pretty dark.
Comparable Products
Before you buy the LG LSC22991ST, take a look at these other refrigerators.
Performance & Features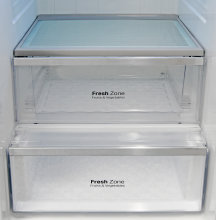 Counter depth without compromise
Features and flash are great, but our performance tests proved that this LG is a truly excellent fridge. In our lab, we measured temperatures that were consistent over time, a freezer that stayed exceptionally cold, and energy consumption that could lower your electric bill.
We did notice some disconcertingly warm temperatures down by the crisper. It could be intentional—produce should be stored at higher temperatures than most other refrigerated foods—but it's still something you should keep in mind.
The crispers themselves were probably the weakest part of this fridge's performance. Over time, they lost much more moisture than average. That could shave a few days off the life of your lettuce. Unfortunately, the drawers don't have adjustable controls, so users can't remedy that problem.

Touch controls on the outside of the fridge respond easily enough, though the feature set is surprisingly limited for a fridge in this price range.
As for features, you can lock the controls, and there's an Ice Plus option that makes the icemaker work overtime during summer parties, but that's really it. There's no Fast Freeze option, no vacation mode, not even a button for turning off the "door ajar" alarm—which could get quite annoying if you're trying to clean out the fridge and want to leave the door open for more than a minute.
For in-depth performance information, please visit the Science Page.
Why We Love It
Space efficient, exceptional performance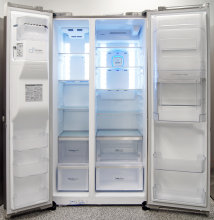 The LG LSC22991ST is exceptional, and not just because it's the only side-by-side counter-depth on the market. Future competitors will likely have a hard time building a better product.
Even if you don't care about the perk of door-in-door storage, this LG is still a well-designed fridge that does a great job chilling, storing, and preserving food. Samsung's Food Showcase slightly edges it out in our performance tests, but it will also stick out in your kitchen.
If counter-depth is your thing, be sure to check out this LG, especially if you can find it on sale. We found prices as low as $2,200, which make this great fridge a great value.
Our editors review and recommend products to help you buy the stuff you need. If you make a purchase by clicking one of our links, we may earn a small share of the revenue. Our picks and opinions are independent from any business incentives.