refrigerators
Maytag MFF2558VEM Review
A stylish French door model with great overall performance.
$1,799.00 MSRP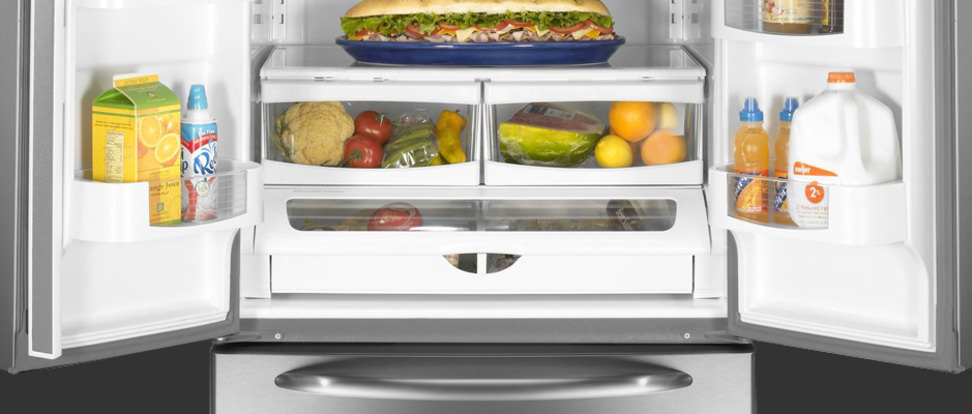 Introduction
The Maytag MFF2558VEM (MSRP $1,799) is a stylish French door refrigerator with excellent all-around performance, though the interior doesn't feel as high-end as the exterior.
Fridge and freezer temperatures were consistent, and the vegetable drawer in this unit will keep your produce tasting fresh. Though this Maytag isn't cheap among side-by-sides and top-freezers, it's one of the least-expensive French doors we've found that still performed well in our tests. Sale prices below $1,550 make it an even better value.
Design & Usability
The Maytag MFF2558VEM has a high-end look on the outside, but the interior borrows too much from less expensive models.
Handsome right angles and horizontal-grain stainless steel distinguish the front of this Maytag. The edifice attracts fingerprints, true, but the stainless finish is easy to clean with a damp cloth.
On the whole, the interior feels a great deal cheaper than the exterior would have you believe.
Inside, the fridge will be familiar to anyone who has used a Whirlpool/Amana/Maytag fridge in the past decade. A freezer drawer rolls out from the bottom, separated into two parts by a plastic divider. Above, a more shallow drawer contains the ice maker, which unfortunately takes up about a third of that space. Up top, adjustable glass shelves with metal frames and thin plastic drawers populate the fridge. On the whole, the interior feels a great deal cheaper than the exterior would have you believe.
All controls are located on the inside of the fridge at the top. Instead of offering actual temperature readings, Maytag presents users with an ambiguous, numerical scale with a recommended setting of "4."
Features
The Maytag MFF2558VEM sports an easy-to-clean finish, but the crisper drawers are sticky and the shelves are quite heavy.
Like all bottom freezers, the Maytag MFF2558VEM requires some bending down to get to frozen foods. If that's a problem, you should consider a side-by-side or top freezer. Meanwhile, shelves in the fridge are heavy and difficult to adjust because they must hook into slats at the rear of the cavity. Like most Maytag/Whirlpool/Amana fridges that we've seen, the flimsy-feeling crisper drawers stick. At least it's easy to clean up interior spills, thanks to the plastic frames surrounding the glass shelves.
Instead of an exterior water/ice dispenser, this Maytag's freezer houses and internal ice maker and tray.
As we mentioned before, temperature controls use an arbitrary numeric scale instead of Fahrenheit/Celsius displays—if you want accurate information, you'll have to invest in your own thermometer. We do appreciate how easy it is to adjust these controls, though. Instead of an exterior water/ice dispenser, this Maytag's freezer houses an internal ice maker and tray. Some users will miss having a convenient cold water dispenser, but others will relish the clean, uninterrupted look of the exterior.
Comparable Products
Before you buy the Maytag MFF2558VEM, take a look at these other refrigerators.
Performance
With less temperature variation than many of its competitors, the Maytag MFF2558VEM boasts impressive performance.
The Maytag MFF2558VEM maintained nearly consistent temperatures throughout its fridge cavity, though the top shelves were ever so slightly cooler than the bottom ones. Food stayed at consistent temperatures without fluctuating over time, ensuring extended freshness. The same goes for the vegetable drawers: produce kept in these compartments retained plenty of moisture.
Delicious frozen goods are safe from freezer burn in this appliance.
With such a small freezer, it's not that hard for the MFF2558VEM to keep it all uniform. Temperatures were fairly steady throughout, and any fluctuation over time was trivial. What this means for consumers is that their delicious frozen goods are safe from freezer burn in this appliance.
Additionally, if electricity sells for $0.09 per kW-h, this fridge will only cost you $32.89 a year—an excellent result for a full-sized French door model.
Conclusion
Consistent temperatures make this feature-light fridge a winner.
French door refrigerators are usually on the costly side, and the Maytag MFF2558VEM, with its MSRP of $1,799, is no exception.
This model lacks features like a water/ice dispenser or a control panel, but it is still worth the price of admission. Temperatures are consistent in both the fridge and freezer, energy usage is efficient, and the fridge interior and exterior are both easy to clean. If you can get past the small freezer compartment—a design trait shared by many French door fridges—and the flimsy vegetable drawers, the MFF2558VEM would make a welcome addition to any household in need of a refrigerator.
Our editors review and recommend products to help you buy the stuff you need. If you make a purchase by clicking one of our links, we may earn a small share of the revenue. Our picks and opinions are independent from any business incentives.