refrigerators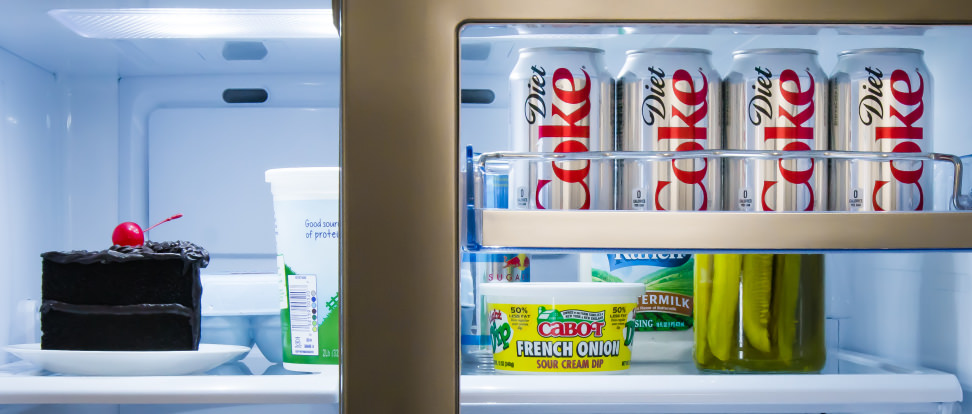 When LG debuted the first modern door-in-door refrigerator back in 2012, we wondered how customers would respond.
Apparently, they bought door-in-door fridges in droves. Now, two and a half years later, LG has expanded its lineup, Kenmore has added door-in-door products, and nearly every high-end fridge comes with the option of a hidden space for frequently used drinks and condiments.
Now, it's Samsung's turn.
At first glance, you might think the Samsung RF28HDEDBSR (MSRP $3,299) is just another high-end French-door refrigerator. It's beautiful, sure. But the layout is traditional, the feature set is typical, and the design falls in line with competitors.
In fact, the only feature that really distinguishes this product from other French door models is its door-in-door fridge compartment, which Samsung refers to as "Showcase" storage. Even though this fridge's MSRP looks pretty hefty, we've reliably found the RF28HDEDBSR on sale for $1,899. That makes it a great value, too.
Door-in-Door Storage
Improvements in accessibility
The big draw here is the RF28HDEDBSR's door-in-door storage, found tucked away in the right-hand door of the main compartment. To open this secondary door, you simply squeeze a release on the right door handle.
We think Samsung's solution is subtle, sturdy, and certainly more stylish than the large buttons used on Kenmore and LG door-in-doors.
Unlike those LG units, this Samsung doesn't fully enclose its door-mounted shelves with a plastic partition. While that means cold air will still escape even when the Showcase door is open, it also opens up enough space to store multiple jugs of milk or a whole bevy of salad dressings with ease.
Like the other door-in-door models we've tested, the shelves themselves are not customizable. You're stuck with the heights as arranged by the manufacturer. But on the plus side, this is the first time we've seen door-in-door shelves that slide out.
Got a two liter bottle of soda? Simply pull out the drawer, slip your bottle in place, and push the drawer back inside. It's outrageously simple, but adds a whole new level of accessibility to a potentially cumbersome storage space.
Design & Usability
Behind the secret passageway...
This fridge certainly looks and feels like a high-end unit. In any fridge north of three grand, consumers expect a stainless steel finish, LED lighting, and crispers that slide like they've been freshly oiled, and this Samsung doesn't disappoint.
Ironically, it's the door shelves—usually the most mundane part of a fridge—that really pop: frosted blue plastic shelves surround adjustable silver bars that secure tall items in place.
The control panel features the same touch-sensitive buttons we've encountered on other new Samsung fridges, with the same level of responsiveness. Food storage is straightforward and roomy, and should be adequate for all but the largest families.
Comparable Products
Before you buy the Samsung RF28HDEDBSR, take a look at these other refrigerators.
Performance & Features
An OK fridge, but a perfect freezer.
Open this Samsung's right fridge door, and you'll see a shiny sheet of metal. Samsung calls it the Metal Cooling panel and claims that—since metal retains temperatures more effectively than plastic—the fridge won't have to work as hard to maintain evenly brisk temperatures.
At least, that's the idea. While Metal Cooling may have contributed to this unit's commendable energy efficiency, it didn't seem to do much as far as keeping things cool. Though we set the fridge to the ideal 37°F setting, temperatures ran about a degree and a half too warm throughout most of the interior.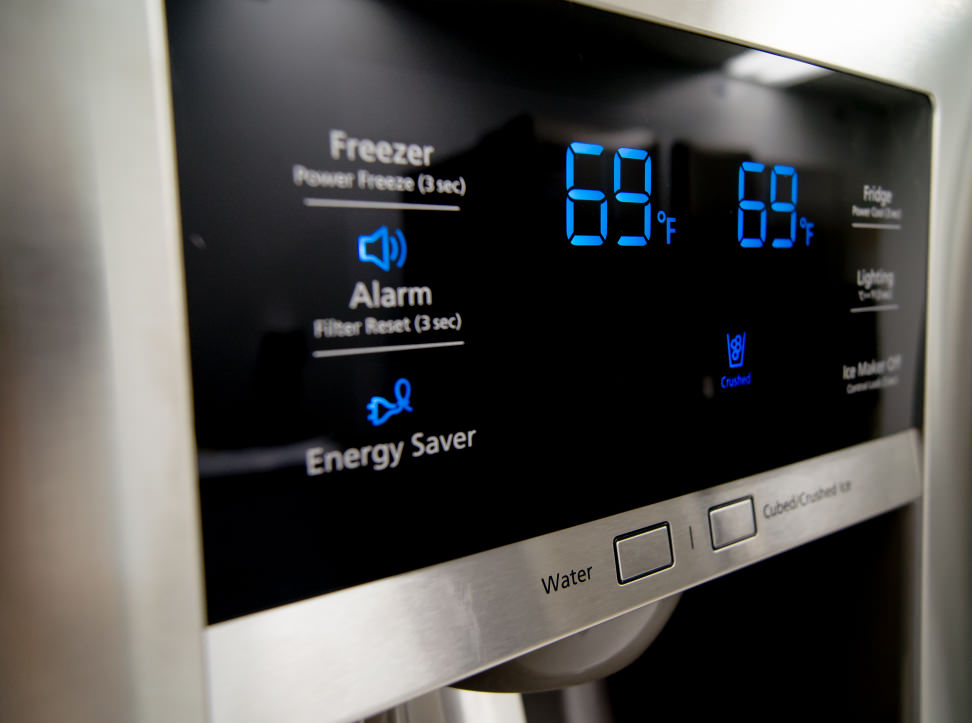 Down by the crisper drawers, however, internal temperatures came perilously close to 41°F. While a little extra warmth is good for produce, 41°F is the point at which bacterial growth starts to increase. If you buy this fridge, you should probably turn the thermostat down by a degree or two and keep an eye on what you store where.
The freezer, on the other hand, worked perfectly. All of our test materials were thoroughly frozen, and almost never ventured above 0°F. That means virtually no freezer burn and no wasted money on spoiled food.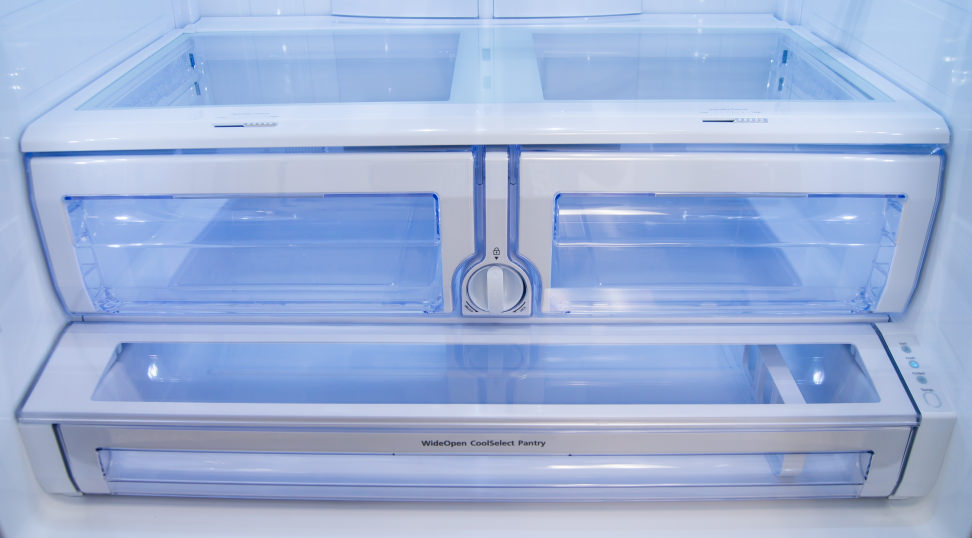 In terms of features, this Samsung is fairly standard... aside from the door-in-door storage of course. There's a fast freeze (called Power Cool here), two kinds of ice, and through-the-door water, all of which is quite commone these days. The one unexpected perk is an adjustable deli drawer under the crispers. It's got three different settings for optimal preservation: Deli, Fresh, and Chilled.
For in-depth performance information, please visit the Science Page.
Wait For a Sale
Steep discounts abound on this door-in-door.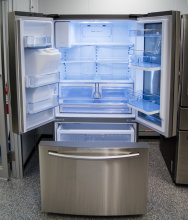 Up until now, LG and Kenmore have dominated the door-in-door market in the US. As one of Samsung's first forays into this growing niche market, the RF28HDEDBSR does take some major steps forward in terms of convenience and accessibility.
Samsung also wins on price, albeit temporarily. We've seen retailers offer the RF28HDEDBSR on sale for as low as $1,900—a huge bargain that you should absolutely take advantage of if you're interested—but we're worried such a massive discount may be temporary. We wouldn't spend the full $3,300 sale price on this fridge, and you shouldn't, either, which is why we're not giving it a more wholehearted recommendation.
If door-in-door storage isn't a necessity for you, consider some alternatives. For less money (assuming that deep discount isn't permanent) you could get a fridge with a built-in hot water dispenser—arguably a more practical perk—or the GE Profile PFE29PSDSS, our most favorably reviewed fridge to date.