refrigerators
Samsung RF28HMELBSR Smart Refrigerator Review
Good as a fridge. Bad as a tablet.
$3,599.00 MSRP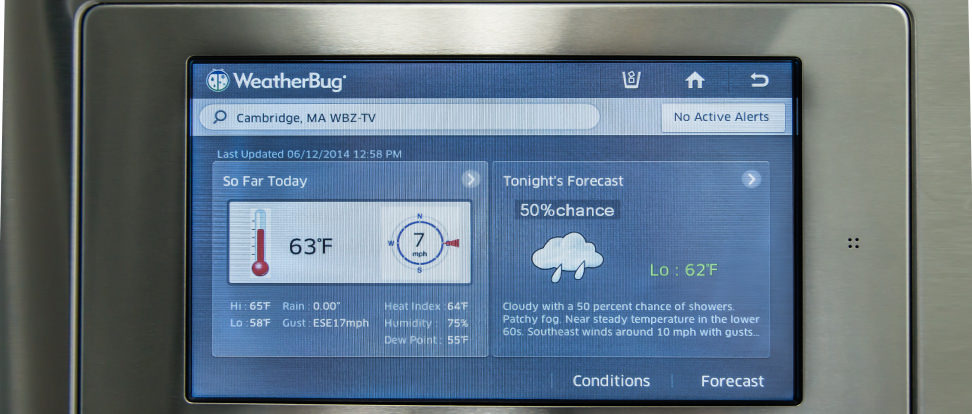 The RF28HMELBSR (MSRP $3,599.99) is Samsung's second attempt at a smart fridge, following up on the underwhelming RF4289HARS, which debuted in late 2012. While the refrigerator itself does a solid job at storing and preserving food, its upgraded smart platform seems just as misguided as the original.
Don't get us wrong: We have no issues with bringing the internet into the kitchen, and we're excited about the future of the smart home. We also love the non-smart elements of this fridge, including its superb interior design and good performance.
Sadly, this pricey Samsung offers little in the way of true innovation, which is why we just can't recommend it.
Design & Usability
Good design meets... bad design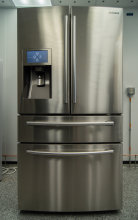 We've already written at length about the few strengths and many weaknesses of the RF28HMELBSR's sluggish touchscreen and buggy WiFi enabled user interface, so we'll refrain from harping on it too much longer.
Suffice to say, it's essentially a slow, feature-limited tablet glued to the front of your fridge. There are a few apps of questionable relevance—like Epicurious for recipes, Pandora for music, and a notes interface for… paper?
We were especially miffed that the WeatherBug app flashes advertising across the screen. If you want a tablet in your kitchen, buy a tablet. If you're in the market for a $3,600 fridge, you can afford an iPad or Galaxy Note.
Without legitimate utility, the object of this touchscreen must be vanity. But the fridge already looks gorgeous! The all-stainless, four-door French-door design is just as eye-catching as the cool blue interior lighting and silver-accented shelves. All the drawers glide on smooth rollers, and the middle drawer can be set to any temperature between 42°F and 29°F.
That versatility, plus the intuitive criss-cross partition, means the middle drawer can accommodate anything from a bottle of wine to meat or fish. All the shelves have at least some degree of spill proofing lips, and almost all of them are height-adjustable. Both the middle drawer and freezer drawer glide out with little effort.
Performance & Features
An average fridge with an above-average price
We certainly wish more of this model's high MSRP had been applied to refrigeration instead of the world's most expensive tablet, but the RF28HMELBSR still earned above average—if not cost-effective—scores.
Temperatures within the freezer compartment fluctuated very little during our test, which is good. However, the freezer did allow temperatures to climb (briefly) all the way up to 2°F, which isn't ideal and can lead to freezer burn. We observed greater fluctuation in the fridge compartment, but variation doesn't matter as much in the fridge as in the freezer.
The produce drawers weren't particularly impressive. Moisture retention is important for keeping fruits and vegetables crisp and delicious, however the RF28HMELBSR's drawers lost moisture at a rate worse than average for fridges in this price range.
On the bright side, this model is great in a power outage. Even when denied electricity for 36 hours, frozen food was kept insulated and never reached 30°F. Freezing times were also average: about an hour and a half for our test materials. The faster your foods are frozen, the less their flavors and textures are damaged.
For in-depth performance information, please visit the Science Page.
Comparable Products
Before you buy the Samsung RF28HMELBSR, take a look at these other refrigerators.
Conclusion
This could've been so much better.
If Samsung had glued a Galaxy Note Pro to the front of a fridge and charged the same price, we might have been sold. After all, Samsung makes some of the world's best tablets, and some pretty great fridges, too.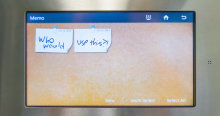 That's why we're so perplexed by this product. It's as if Samsung temporarily forgot how to make a great user interface.
We love streaming music in the kitchen and looking up recipes online, but we don't want to be stuck listening to Pandora from a tinny speaker or dealing with a sluggish recipe interface. And we certainly don't want to spend an extra $1,000 for the privilege, while our fridge flashes advertising across its LCD screen along with the weather forecast.
Aside from that, the refrigerator's performance is that of a $2,500 unit. This fridge will keep food fresh and freezer burn at bay, but it won't make your kitchen smart.
Our editors review and recommend products to help you buy the stuff you need. If you make a purchase by clicking one of our links, we may earn a small share of the revenue. Our picks and opinions are independent from any business incentives.