refrigerators
Samsung RF31FMESBSR Refrigerator Review
Samsung's partnership with SodaStream adds some sparkle to their latest fridge.
$3,799.99 at Best Buy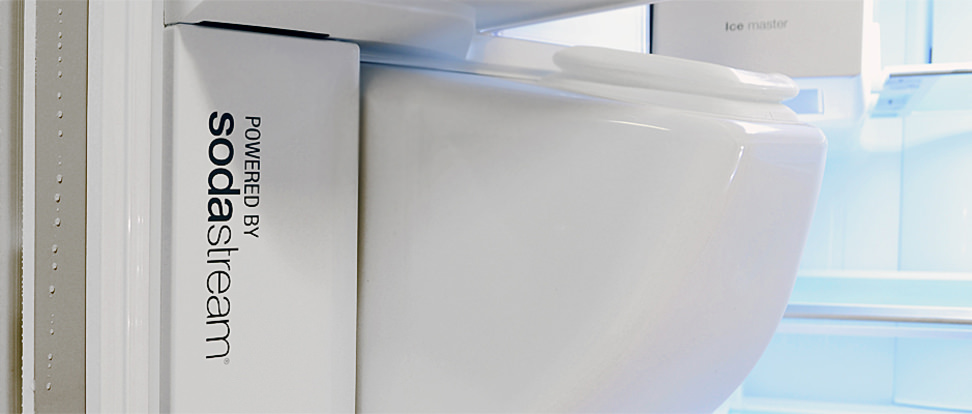 Introduction
At the 2013 International Home and Housewares Show, we gave you a sneak peak at the Samsung RF31FMESBSR (MSRP $3,899), the world's first sparkling water fridge. Well, we finally got a chance to get our hands on it, and—given our expectations after testing another variation on this model, the RF4289HARS—we were pretty pleased.
It's a stylish fridge with fantastic usability, plenty of versatile space, and relatively good energy efficiency to boot. Throw in the sparkling water—an innovation that embraces the SodaStream boom while saving precious counter space–and you've got a functionally impressive (albeit expensive) fridge.
Design & Usability
Movable shelves, smooth sliding drawers, and specialty compartments.
One of the latest Samsung fridges, this model continues the company's tradition of blending a white interior with glass shelves and stainless trim. It looks almost identical to the RF4289HARS, except it has a much thinner icemaker. While that change does make for more usable space, it's an absolute pain in the neck to take out. If you like to host parties or cook outs, be prepared to bang your hand on the fridge door while trying to wrestle the bulk ice tray out of its compartment.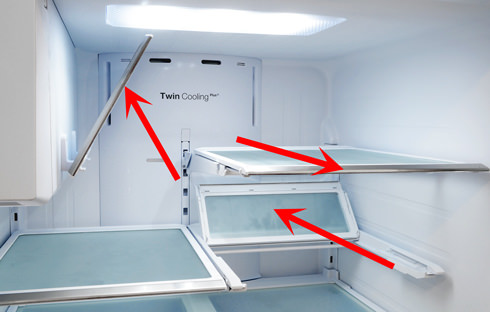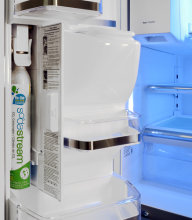 Fortunately, everything else about this fridge screams high-end design. The crispers, as well as the separate temperature control drawer, slide as smoothly as anything else we've tested. Speaking of the temp control drawer, it offers detached storage at five separate settings ranging from 42ºF—useful for chilling wine or keeping hors d'oeuvres fresh—all the way down to 29ºF, which is perfect for defrosting meat or storing a freshly bought cut that you'll be eating later that night.
The right-hand door offers up three large identical and adjustable bins; given the height restrictions, two of those are capable of holding two gallon-sized containers at a time with space left over.
The left-hand door is the least flexible part of the fridge, given the presence of the ice chute. The rest of the fridge, though, is exceptionally versatile. Samsung's pull-out freezer, while less exciting, has plenty of deep storage sections with enough partitioning to keep your food well organized.
Performance & Features
Strong performance, a few hiccups... Oh, and sparkling water!
Normally we talk about a fridge's performance first, but we just can't wait to talk about the features on this one. Sure, it's got the standard high-end accoutrements like a power freeze and a slim icemaker, but more importantly, it's the first fridge ever (and hopefully not the last) to come with a Soda Stream hookup and sparkling water reservoir. Choose from three levels of carbonation, give the tank some time to fill, and voila! Homemade seltzer for everything from sparkling lemonade and soda to a refreshing gin fizz. The bubbles, Duke, the bubbles!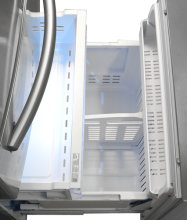 Okay, with the really exciting part out of the way, lets talk quality: This fridge does well objectively, but it's not the best you can get for its price. Fresh food storage was quite good, meaning your soft brie and Greek yogurt will do just fine. The freezer, however, was a little more finicky. If you're rotating food in and out fairly frequently, as opposed to buying a giant box of salmon at Costco to preserve for the long term, you should be fine.
But there was enough of a temperature fluctuation over time that anything frozen for too long may begin to develop freezer burn. A freezer this size can hold a few hundred dollars worth of food at a time, but you may not want to stock it with more than you can easily keep track of, otherwise the food you forget about may end up unusable after a long while.
The crispers were fine, but they lost more moisture than we'd expect for such an expensive fridge. They're deep enough that you'll have room to splurge at the farmer's market, though you'll want to limit yourself to what you can eat within a week or less if you want to enjoy prime levels of freshness.

Despite its substantial size, this Samsung was exceptionally efficient. It costs a fair amount to run every year—especially if you're going to take advantage of the icemaker and sparkling water—but the ample storage means all that energy is being used effectively. If the energy cost seems too high, consider that what you pay to the electric company will be significantly less than what it costs to buy a stand-alone Soda Stream.
For in-depth performance information, please visit the Science Page.
Comparable Products
Before you buy the Samsung RF31FMESBSR, take a look at these other refrigerators.
The Final Fizz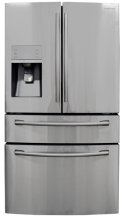 Tiny bubbles in the fridge make me happy...
Given the popularity of the SodaStream, it's hard not to fall in love with Samsung's new RF31FMESBSR. Love aside, however, most people don't have the money or the kitchen space to afford this fridge. If you've got the funds and the square footage at your disposal, though, definitely check out this model, especially if you can find some of the outrageously low sale prices that we came across.
Some retailers have slashed prices down to almost $2,500, more than 25% off the $3,899 MSRP. True, it's not the most perfect fridge we've seen when it comes to food preservation, but it's darn good at caring for food and offers up one of the most useful new features we've seen on a fridge in a long time. Now, excuse me while I go refill my glass…
Our editors review and recommend products to help you buy the stuff you need. If you make a purchase by clicking one of our links, we may earn a small share of the revenue. Our picks and opinions are independent from any business incentives.