refrigerators
Samsung RF32FMQDBSR Refrigerator Review
Four doors and a flexible freezer
Back at CES 2013, we got our first look at one of Samsung's newest appliance innovations, the RF32FMQDBSR (MSRP $3,999) 32 cu. ft. four door fridge. The unusual design, flexible freezer compartment, and massive interior were all promising, but we were anxious to find out just how well it actually performed.
After putting this unique fridge through its paces, it turns out that this is an appliance that—as far as our tests indicate—you'll definitely want in your kitchen. The flexible freezer zone is easy to use, letting you store everything from frozen pizza to hors d'oeuvres to white wine at each item's ideal temperature. Other performance high points, like low energy consumption and consistent temperatures, hit all the right notes to complement unparalleled versatility.
Design & Usability
2013: A Fridge Odyssey
This massive Samsung is one of the largest fridges we've ever come across, but the interior layout remains familiar. Bright LED lights in the fridge bathe your food in a bright aura that makes everything look clean and fresh. Not only do the rear-mounted shelves make for flexible fridge storage, they also flip up, fold back, and slide out for easy access. Even though the icemaker is found in the main fridge cavity, it's designed to be slimmer than the bulky ones you'd find on older models.
While the small shelves on the left fridge door are contoured to fit around the large ice dispenser, the right door sports three multi-gallon-sized bucket shelves. Only the middle shelf on the right door is adjustable; none of the others can be moved from their designated slots. Instead, removable shelf dividers and an egg bucket help organize storage.
Like the upper fresh food section—but unlike most other fridges—the freezer uses two French doors that open up onto mirrored half-freezers. Everything—the sliding shelf on top, as well as the two drawers underneath—glides in and out with remarkable ease. Splitting the freezer into two independent compartments does result in some cramped storage, though. Having more independent drawers and shelves makes it easier to organize your food, but the drawers don't slide out as far as a typical pull-out freezer. You have to bend down and dig deep to get at food in the back. Also, fans of large frozen pizzas will be disappointed: the storage cavities are roomy enough to fit bulky items like a frozen turkey, but they're not broad enough for your favorite family-sized thin crust.
Advertisement - Continue Reading Below
Performance & Features
Efficient, roomy, and consistent—everything you'd want in a fridge.
It's rare that a fridge is nearly flawless, but such is the case with the RF32FMQDBSR. Its crisper drawers were remarkably effective at retaining moisture, its freezing times were slightly faster than average, and its total storage space is larger than almost every other stand-alone consumer fridge on the market today.
What really impressed us was the freezer's consistency. We recorded less than one degree of fluctuation over 72 hours, the kind of regularity that will prevent freezer burn if temperatures stay below 0ºF—which they did. The right-hand freezer section offers adjustable temperature settings independent of the permanent freezer, and as such, each lower compartment gets its own independent compressor.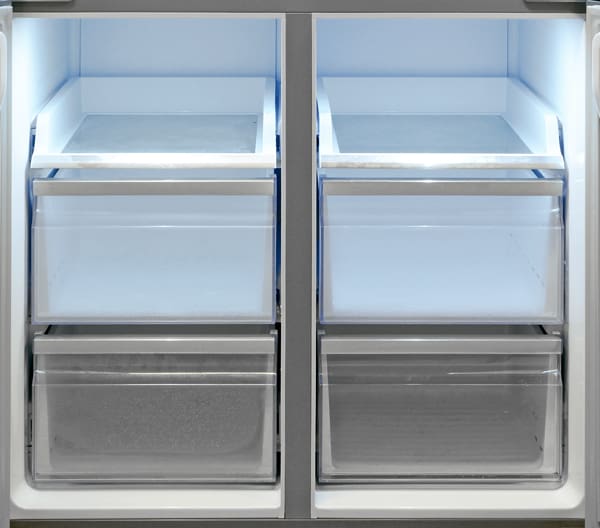 We did notice that the freezer takes a long time to bring food from room temperature down to the ideal 0ºF—it stalls out at about 20ºF after 24 hours, requiring another full day to stabilize. Your food is still frozen either way, and once temperatures stabilized, they displayed almost no fluctuation at any point in the freezer. We repeated the freezing test three times on two different models, and the results proved consistent. This issue applies to both of the lower compartments, regardless of which setting you use for the adjustable section.
The icing on the performance cake is definitely this fridge's energy efficiency. Despite having a larger-than-average internal capacity, this model will cost you less to run in a year than some smaller budget fridges.
For in-depth performance information, please visit the Science Page.
Flexible Freezer
Four settings for the fourth door.
The lower right corner of the RF32FMQDBSR is what makes this fridge really interesting. Holding down the CoolSelect+ button on the control panel lets you alternate among the Freezer, Soft Freezing, Chill, and Cool settings.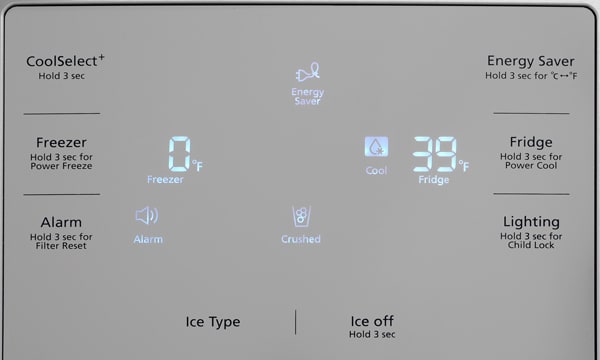 Soft Freezing, designed to cool food at 23ºF, is great for keeping ice cream and other frozen treats creamy without turning your Rocky Road into a dairy brick. Chill sets the compartment to 30ºF, ideal for defrosting meat or keeping deli items fresh when preparing for a party later in the evening. The Cool setting, which hovers at a balmy 41ºF—even warmer than the main fridge compartment—turns it into additional drink storage, whether you want water and soda for a summer cookout, or if you need to chill a lot of white wine for that fancy dinner party.
And of course, you can always use it as a regular freezer section identical to the lower left compartment. This allows the Samsung to match the storage capacity of a full-width pull-out freezer.
Our tests showed that this compartment works just as well as the main freezer section regardless which setting you choose, though you'll want to wait at least 24 hours for temperatures to change when switching between settings.
Four Thumbs Up
An awesome product that may change how you look at food storage.
Americans love multi-purpose gadgets, but it's rare for something as stagnant as fridge design to get an interesting jumpstart—precisely why the Samsung RF32FMQDBSR's innovation makes it so interesting. The convertible freezer section is a practical innovation that turns this fridge into an interactive experience, one that may make you rethink how you shop, and may even help you become a better host or hostess. Stock up at the store, invite some friends over, and get ready to utilize this fridge to it's fullest potential.
Even if you never use the convertible cavity, you won't be disappointed: Low energy consumption and steady temperatures help keep long-term expenses like electricity and food waste down, while the huge interior capacity makes it a perfect fit for large families. Even better is that most retailers seem to be offering it for just under $3,000, a price that puts it into direct competition with many other high-end French door models.
Our editors review and recommend products to help you buy the stuff you need. If you make a purchase by clicking one of our links, we may earn a small share of the revenue. Our picks and opinions are independent from any business incentives.
Our editors review and recommend products to help you buy the stuff you need. If you make a purchase by clicking one of our links, we may earn a small share of the revenue. Our picks and opinions are independent from any business incentives.
Advertisement - Continue Reading Below
Our editors review and recommend products to help you buy the stuff you need. If you make a purchase by clicking one of our links, we may earn a small share of the revenue. Our picks and opinions are independent from any business incentives.
Get Our Newsletter
Real advice from real experts. Sign up for our newsletter
Thanks for signing up!