refrigerators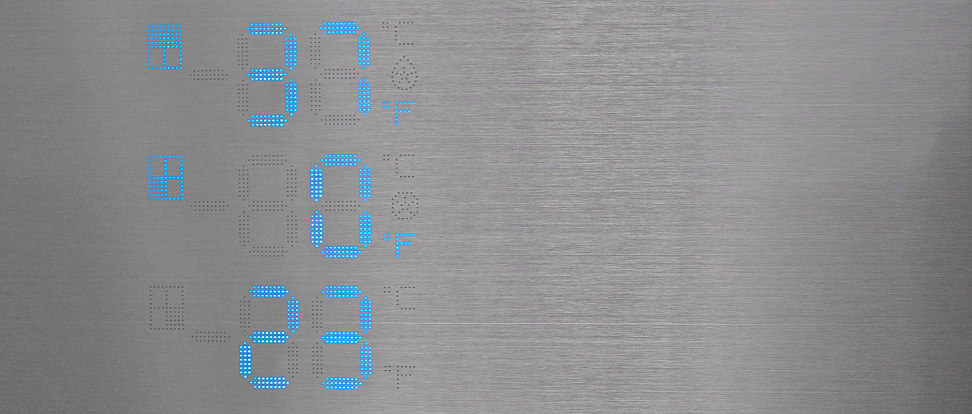 The Samsung RF34H9960S4 (MSRP $5,999) is one of the largest—and most expensive—standalone fridges on the market. It's part of Samsung's Chef Collection, a high-end kitchen package designed to catapult the Korean manufacturer into the luxury realm.
Samsung manages to cram all their top features (and then some) into this single machine, including a 34-cubic-foot storage capacity, a unique exterior display, a convertible freezer zone, Metal Cooling panels, a built in sparkling water dispenser courtesy of a partnership with SodaStream, and more. Think of it as a giant Swiss army fridge.
Perks aside, our tests place performance above all else. In terms of food preservation, the RF34H9960S4 is an above average fridge. But compared to the competition, it's hard to justify that sky-high price tag—especially against the very similar (and more affordable) RF32FMQDBSR. If you're interested in buying this fridge, be aware that you'll be paying for design, capacity, and features.
Design & Usability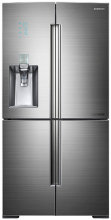 Looks so good, you'll want to take up cooking
We're not sure whether this fridge is prettier on the outside or the inside. Samsung's new Star Display sets the RF34H9960S4 apart from every other model on the market. Pinpoint-sized blue LEDs are embedded directly into the stainless steel finish of the top left door. When the fridge isn't in use, the dim lights are practically invisible. Every time you open a door or use the dispenser, the Star Display lights up to show the current temperature settings for each compartment.
Below the Star Display are the main user controls and dispenser unit. The whole assembly, with its various levers and touch screens, looks impressive but remains functional.
Inside the fridge compartment, shelves and drawers have been trimmed with a mix of striking blue plastic and stainless trim. It matches the cool LED lighting perfectly, giving this product a visually unique aesthetic that has a cool, futuristic vibe to it.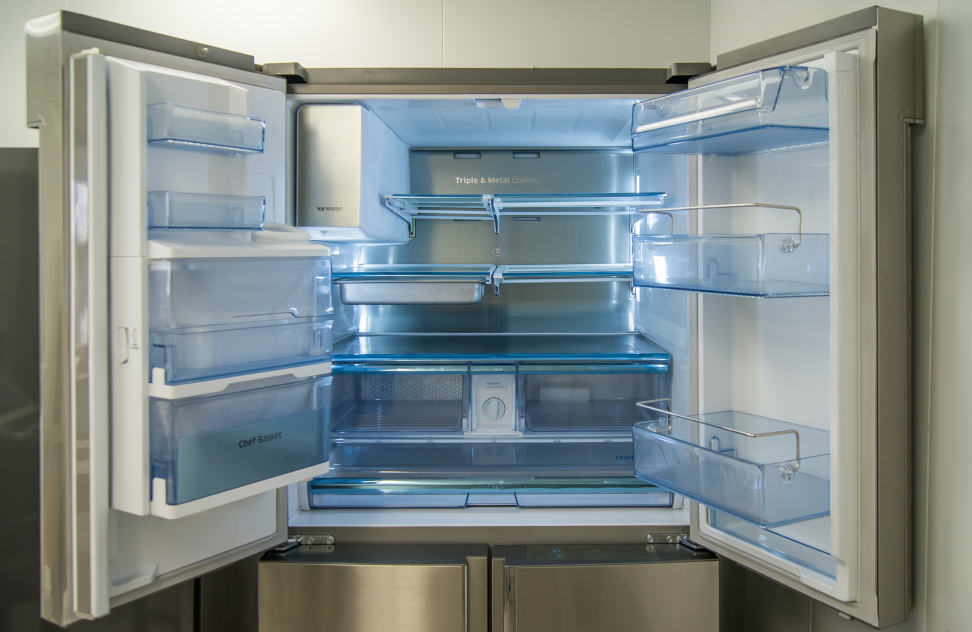 A stainless steel Metal Cooling panel is found on the back wall. It's designed to help the fridge cool more efficiently and evenly, since metal is better at retaining its surrounding temperature than plastic. Our experiences with these panels have led to mixed results, but they can't hurt.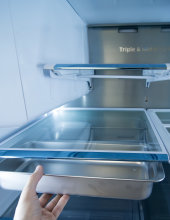 One of the fridge shelves is designed to hold stainless steel Chef Pans. They're designed to be a sort of one-stop cooking tool. You can place meat, vegetables, and a marinade directly into the pan without the risk of dripping onto other food. When ready to cook, just slide the pan directly into the oven. They're even dishwasher-safe for easy clean up.
In addition to rear-mounted adjustable shelves, door storage has also gotten a bit of a redesign. The Chef Basket, located on the left door, flips forward to improved access and organization. On the right, adjustable wire bars can be flipped up or down to make room for large items or to hold smaller ones in place.
The freezer compartments are almost identical to what we found in the RF32FMQDBSR. The right-hand side is a convertible section that can serve as a freezer or supplemental fridge storage. A series of drawers and shallow door shelves accommodate most frozen items, even large and bulky objects.
Performance & Features
Excellent, but not perfect.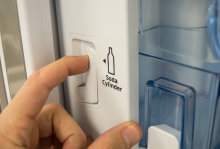 It turns out that the RF34H9960S4 was ever-so-slightly outperformed in our temperature accuracy tests by the less-expensive four-door fridge that Samsung released first, the excellent RF32FMQDBSR.
Despite the well-advertised Metal Cooling panels, neither the fridge compartment nor the freezer proved particularly consistent over time. In the freezer, that's no big deal—the compartment is just so darn cold (as chilly as -6°F). But in the fridge, where temperatures can swing as high as 40°F, you'll need to know where you're storing things, or risk spoilage.
This Samsung did well in other tests. It froze room-temperature food quickly and did a good job retaining moisture in the crispers to keep vegetables fresher, longer.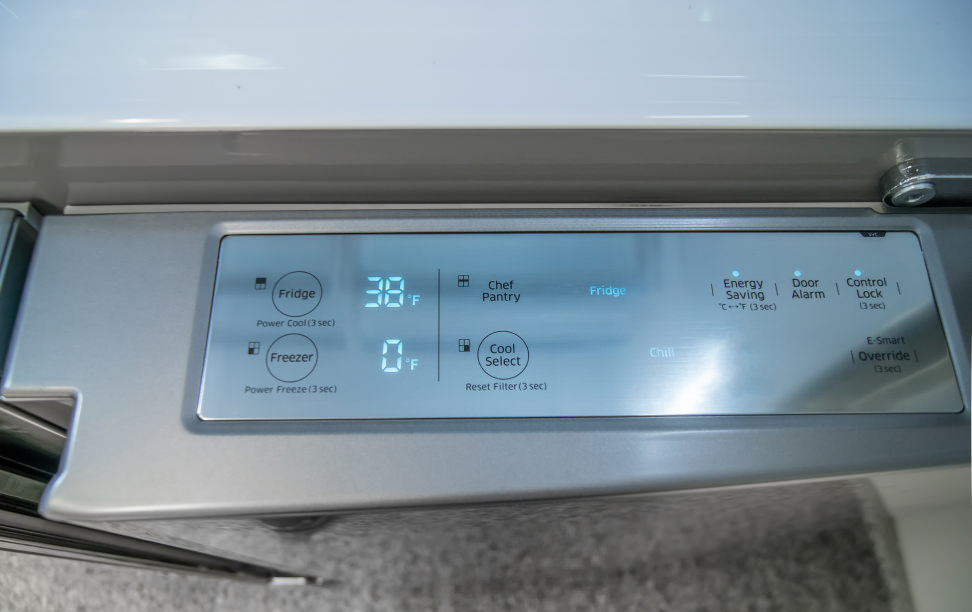 In terms of features, this Samsung has them coming out of every hidden nook and cranny. In addition to standard ice and water dispensers and the aforementioned Chef Pans, this fridge has tons of toys at its disposal: The water dispenser can also produce sparkling water courtesy of a SodaStream canister hidden in the left fridge door.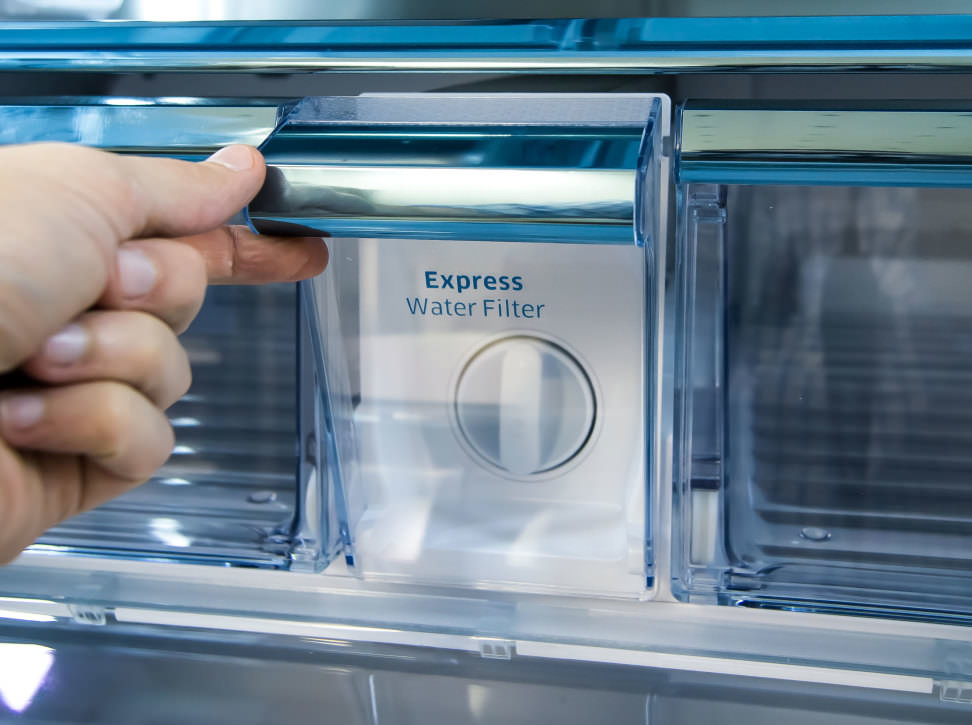 The icemaker is mounted inside the main fridge compartment, but's got a slim design that takes up only minimal fridge space. Even with icemaker running, this massive fridge is still surprisingly energy efficient. You also get traditional fridge functions, such as a Power Cool and Power Freeze, as well as an energy saver option and control lock.
For in-depth performance information, please visit the Science Page.
Comparable Products
Before you buy the Samsung RF34H9960S4, take a look at these other refrigerators.
Conclusion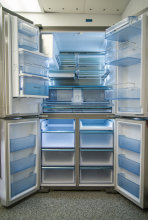 Six thousand dollars is a lot of money
If you approach the RF34H9960S4 as a luxury fridge with a plethora of toys to play with, then you've got the right mindset. The Star Display results in one of the sleekest, most attractive designs we've seen. The built-in Soda Stream functionality is fun and convenient, and the Chef Pans are a practical innovation that we'd love to see in more models. As a gadget, this fridge is pretty sweet.
On the other hand, if you're expecting professional grade performance, you may be disappointed. Yes, the crispers are excellent and the giant storage space is cooled efficiently. But when it comes to temperature, anything short of perfection just doesn't cut it, especially for a fridge with a $6,000 MSRP.
Will it keep your food cold? Of course. Will it look great in your kitchen? Absolutely. But with sale prices barely dipping to $5,400 on average, though, it just doesn't seem practical. If you've got cash to spare and want to get the whole Chef Collection, go for it. If you're just looking for a massive fridge that performs at a level that matches the price, look somewhere else.
Our editors review and recommend products to help you buy the stuff you need. If you make a purchase by clicking one of our links, we may earn a small share of the revenue. However, our picks and opinions are independent from any business incentives.