refrigerators
Samsung RF4289HARS Review
We can say with some disappointed certainty that this fridge really isn't anything special.
$3,699.00 MSRP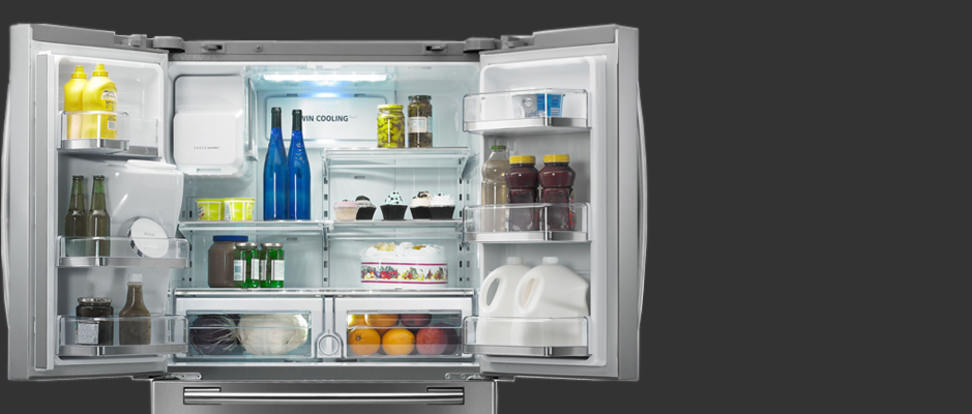 Introduction
We came across the Samsung RF4289HARS at the IFA conference in Berlin, where we took a close look at the potential of the fancy control panel. Now that we've had a chance to examine the whole package, we can say with some disappointed certainty that this fridge really isn't anything special. Sure, with the control panel you're essentially getting a built-in tablet—definitely a nifty feature that we enjoyed playing with—but the inability to access the fridge's stored information on a smartphone takes away much of its practical uses.
Aside from the controls, you're essentially looking at a $3,699 refrigerator that offers average performance, average energy efficiency, and average storage capacity. It looks and feels great, but even with online sale prices as low as $3,150, it just doesn't seem like the best investment out there. Still, keep an eye on the technology; if Samsung can push the wireless capabilities further, we definitely intend to come back and revisit our opinions.
Design & Usability
With versatile compartments and a fancy control panel, the Samsung RF4289HARS is a fridge designed for the top of the line.
This very fancy French door fridge boasts even more access points than normal. You'll notice the traditional double doors on top that open out to grant access to the fridge. At the very bottom, you'll find a pull-out freezer drawer—also par for the course. Between them, however, is an additional pull-out drawer that serves as a separate storage compartment with its own independent thermostat.
On the left-hand door is an LCD screen that grants you access to a series of apps.
On the left-hand door is an LCD screen that not only works to control your fridge, but also grants you access to a series of apps. The two-paddle ice and water dispenser is located under the LCD control panel and has a cavity large and deep enough to hold almost any reasonably sized drinking glass—no gallon containers, please, unless you plan on holding them yourself.
Looking inside this Samsung, you'll see that everything is covered by a clean blue glow created by the LED lighting. The fridge interior offers up three half-width adjustable shelves that mount to hooks on the rear of the main cavity, with a smaller fourth shelf bridging the gap left by the ice maker. A full-width shelf that cannot be moved sits below all of these, with two crisper drawers at the very bottom.
With all the amazing little design touches, panels, apps, and switches you'll no doubt excitedly swing open the freezer to find... a boring old freezer. You have an upper pull-out drawer, as well as a lower section that incorporates a plastic divider. There's a small storage compartment just on the inside of the freezer door, as well. You can use it to hold small items or open a small flap to create instant pizza box storage. Yawn, Samsung. Yawn.
Features
The LCD controls have flash with only moderate substance.
We mentioned earlier that this particular model includes a WiFi-enabled LCD screen that works to control your fridge and even includes a series of apps. It's essentially a built-in tablet for your fridge, complete with speakers and an SD input. The touchscreen is bright and vivid with an assortment of screen savers that you can set to remain active anywhere from one minute to over half an hour.
Using the controls can be a bit of a pain. The touch screen can be finicky and you can only use one app at a time. As of this writing, you can't access your fridge information (such as the grocery manager) from your smartphone. It's a step in the right direction, but hasn't quite reached perfection yet. At the very least, connecting to the internet was a breeze. The LCD display only works with wireless, though, as there's no external port for a wired hookup.
Comparable Products
Before you buy the Samsung RF4289HARS, take a look at these other refrigerators.
Performance
An overzealous freezer only somewhat makes up for mediocre performance everywhere else.
The performance in this particular Samsung was all right, albeit not nearly as good we'd expect for such an expensive fridge. Inside the fridge cavity, temperatures only fluctuated a little bit, keeping things within an acceptable range that shouldn't cause any undue damage to food. Moving from top to bottom, you may notice things getting a little warmer, but this is normal; in fact, produce is typically meant to be kept two or three degrees warmer than other refrigerated items.
The freezer is like an over-achieving bookworm.
If the fridge is a laid back student putting in the minimum amount of effort needed to maintain average marks, the freezer is like an over-achieving bookworm—boring, staid, but acing all of his exams. Keeping the control panel set to 0, we found that this freezer plummeted to temperatures well below that. It seems like overkill to us, but at least you'll never have to worry about your food thawing out. Also, you shouldn't notice too much freezer burn; the accuracy in this freezer was fairly solid.
When it comes to moisture retention, there are usually two kinds of results: mind-blowing performance that earns tons of praise, or lukewarm performance that just gets by. Unfortunately, the Samsung happened to fall in the latter category. Fresh fruit and vegetables will be fine for a couple of days, but don't expect them to last much longer than that just because you've bought an expensive fridge.
Conclusion
The RF4289HARS doesn't quite live up to its price tag.
After we examined the Samsung Smart Fridge at IFA, we were really excited about the potential that this new wireless technology might have in changing the way we shop, store, and cook food. Samsung is putting forth a vision of the future where the contents of your fridge are expertly managed, a world replete with RFID tags letting you know the precise moment your milk has turned.
While your nose will no doubt love the utopian future smart fridges promise, this is still a very underdeveloped—if promising—technology. Aside from that, however, the fridge proved to be a little disappointing. The freezer was freakishly cold, but fridge temperature, moisture retention in the crispers, and freezing time all came back with mediocre results. For $3,699—or $3,150 if you can get it on sale—we wanted more. At the full price, it's easy to label this a high-end novelty product; even the best sale price we could find ($3,150) is far more than this fridge is worth.