refrigerators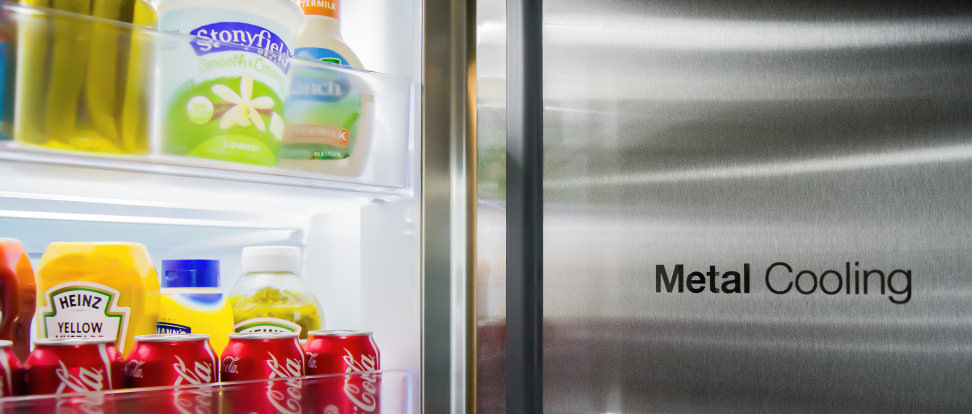 This spring, visitors to the Duomo in Milan got to see something other than a Gothic cathedral: Ads for Samsung's new Food Showcase refrigerator were displayed onto scaffolding that covered a restoration project. Tales of a new fridge design heralded a renaissance in perishable food storage.
With that kind of promotion, we were excited to get the Food Showcase—otherwise known as the Samsung RH29H9000SR (MSRP $2,999)—into our labs. At first glance, its unique full-length door-in-door storage compartment seemed like a gimmick. After living with it for a week, however, we found that it really did make it easier to access fresh foods.
Design aside, this Samsung also displayed some of the best performance we have ever seen. With superior temperature consistency in both fridge and freezer, this fridge's only flaw was an ineffective crisper drawer.
It may pale in comparison to a 14th century church, but this side-by-side can compete with not only the best side-by-sides on the market, but the best French door models, as well. That's why we're willing to give it our blessing.
Door-in-Door Storage
Door-in-Door Storage
We first saw the Food Showcase last year at IFA 2013 in Berlin, and our curiosity was piqued.
After all, we've tested a number of door-in-door fridges, all French door models to date, and the Food Showcase is the first side-by-side to try and tackle this "new" storage technique.
A small bar divides the recessed fridge handle: Grip and pull above the bar, and you can access the entire fresh food compartment, or Inner Case. Pull below the bar, and the outer panel opens to reveal the door shelves from the other side. We only wish that the labels for each compartment were removable; as it is, they disrupt an otherwise svelte exterior.
The Showcase's design seems to emphasize practical storage: The door buckets are all quite large, and almost all of them are deep and wide enough to hold two gallon-sized jugs at the same time.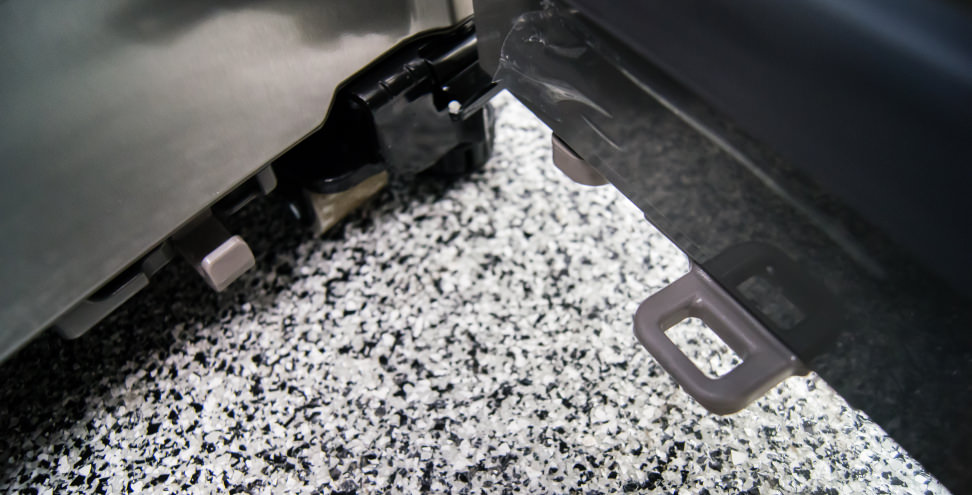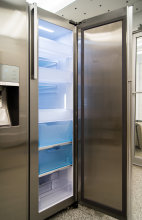 The top three shelves have slots for removable plastic dividers, while the two green-tinted shelves near the bottom have adjustable wire racks. These help to organize storage and keep smaller items from sliding around. What's more, those two green shelves double as sliding drawers for easier access.
As you could probably guess from the emblazoned Metal Cooling label, the outer door is lined with a metal panel designed to retain cold temperatures.
We've seen this before on Samsung fridges that didn't perform as well as the Showcase, so the effects of the panel aren't quite guaranteed.
On a more practical note, you might notice a small latch at the base of the door. It engages automatically when the user opens the full door, ensuring there's no risk whatsoever of the outer panel flying open accidentally and catapulting your glass jar of mayonnaise across the kitchen floor.
Design & Usability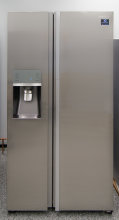 An otherwise typical fridge
Door-in-door storage aside, the Food Showcase is a relatively normal fridge… or rather, normal for a higher-end fridge. The stainless finish is very sleek, and surprisingly hard to smudge.
Inside, bright LED lighting illuminates an assortment of shelves and drawers, all with steel edging on the fronts.
The only downside to this interior? It's hard to customize. Both the fridge and freezer compartments get one alternative shelf slot each, and there are no adjustable slots on either door whatsoever.
The spacious interior should be able to accommodate most items, but as is the case with almost all side-by-sides, exceptionally long or tall food may require some finagling.
Comparable Products
Before you buy the Samsung RH29H9000SR, take a look at these other refrigerators.
Performance & Features
A pinnacle of performance
Because of their tall, skinny compartments, side-by-sides are more likely to suffer from temperatures that fluctuate from top to bottom. The Food Showcase, however, sidesteps that pitfall entirely.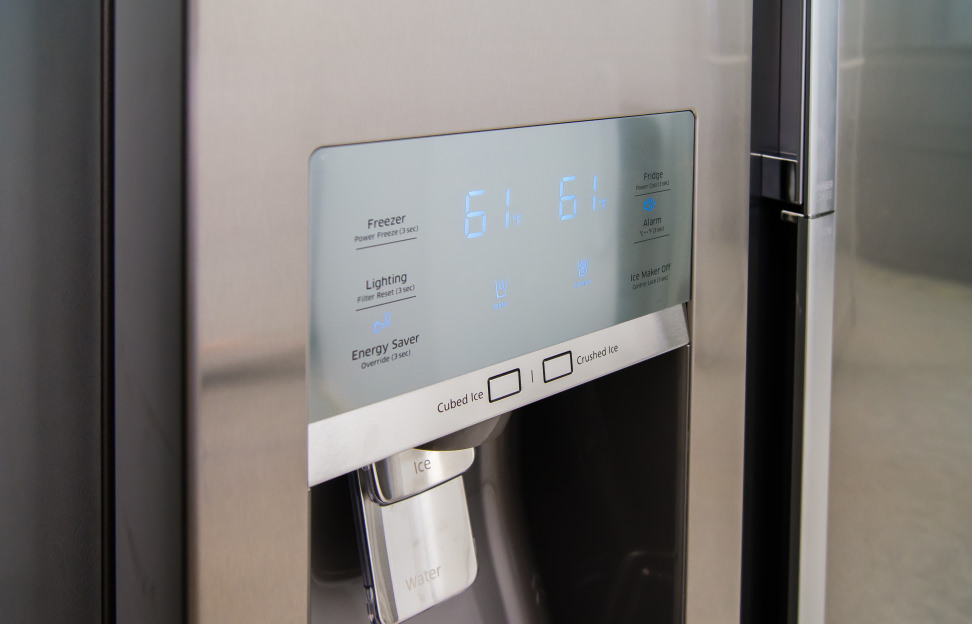 The RH29H9000SR managed to cool food almost precisely down to 37ºF, and the freezer was cold and consistent enough that temperatures never went above 0ºF, ever. That uniformly perfect performance is rare in our tests, and it didn't come at the expense of energy efficiency.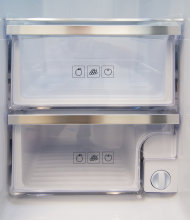 There's always a catch, however, and in this case it's the crisper. The drawers in this Samsung were so bad that over the course of 72 hours, our test materials lost almost five times more moisture than a typical crisper. Don't expect this machine to do your greens any favors.
Aside from the door-in-door compartment, the feature spread proved pretty standard. The door-mounted icemaker is spatially efficient but can still make enough cubes for dinnertime in a single go. You've got an Energy Saver, Power Cool and Power Freeze, plus a Control Lock for houses with little children.
For in-depth performance information, please visit the Science Page.
Side by Side, and Splendid
A superlative specimen
If you've never been particularly fond of side-by-side fridges, Samsung's Food Showcase is definitely the product that will change your mind. Phenomenal performance—crisper aside—and improved accessibility via the door-in-door storage means this fridge earns its place alongside history's great designs.
True, it is more expensive than a traditional side-by-side: A $2,999 MSRP and $2,699 sale price puts it in the same class as some upper-echelon French door fridges. In this case, though, we can confirm that you're definitely getting what you pay for. If you manage to track down a more generous sale price, absolutely put the Food Showcase on your shopping list.
Our editors review and recommend products to help you buy the stuff you need. If you make a purchase by clicking one of our links, we may earn a small share of the revenue. Our picks and opinions are independent from any business incentives.