refrigerators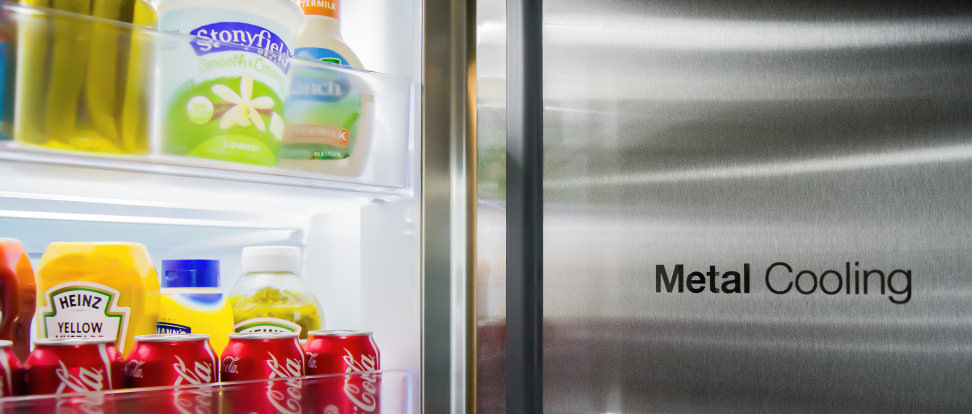 The Cold Hard Facts
When we analyzed the data acquired from testing the Samsung RH29H9000SR (MSRP $2,999) Food Showcase, we were truly impressed. Temperature stability and uniformity were both among the best we've ever recorded.
Temperature Performance
Stable as a table
From top to bottom inside the main fridge compartment, we collected respective average temperatures of 36.98°F, 36.65°F, and 37.35°F, respectively.
Collectively, that gives the Samsung an overall average temperature of 37°F exactly, which is the ideal temperature for food preservation. The slight increase in warmth near the crisper is also good for produce. With an average temperature deviation of just ±0.12°F over 72 hours, you won't have to worry about items prematurely spoiling.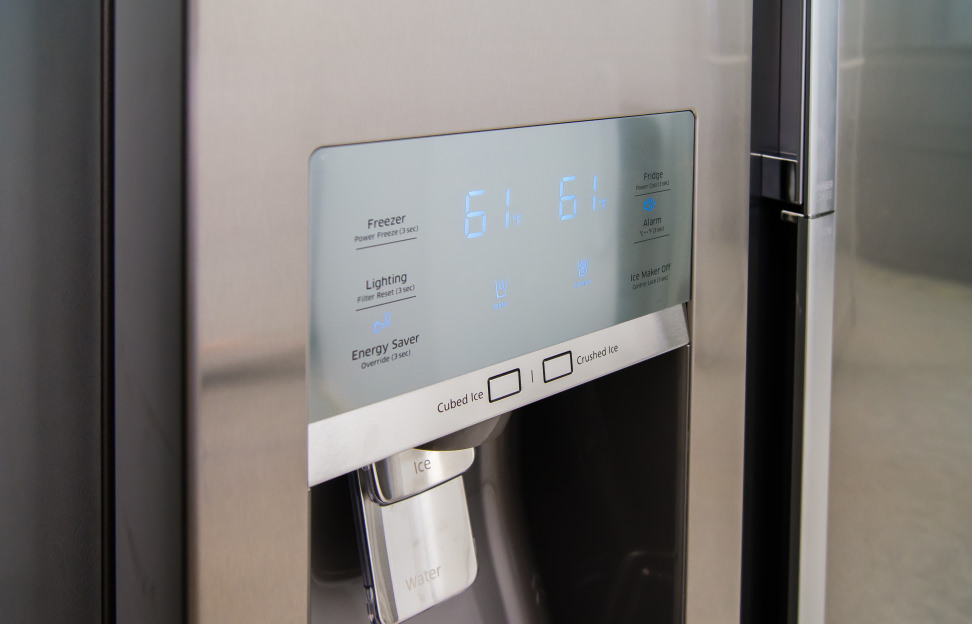 The freezer turned out to be even better. Temperatures at the top and bottom averaged -2.34°F and -2.15°F—one of the smallest temperature differentials we've ever recorded. True, this doesn't match the 0°F indicator on the external thermostat, but some extra chilliness won't hurt. Keeping everything below 0°F helps prevent freezer burn, especially when coupled with a ±0.17°F standard deviation over time. That's exceptionally stable.
Moisture Retention
All dried up
The one thing keeping us from calling this refrigerator perfect is its crisper drawer.
Two drawers in the fridge may have pictures of fruits and vegetables on them, but that doesn't make them good at preserving produce. Over the course of three days, our test materials lost an average of 0.42 grams of moisture per hour. To give you some context, our acceptable average hovers around 0.08 grams per hour. That's a recipe for dried out carrots and wilted lettuce.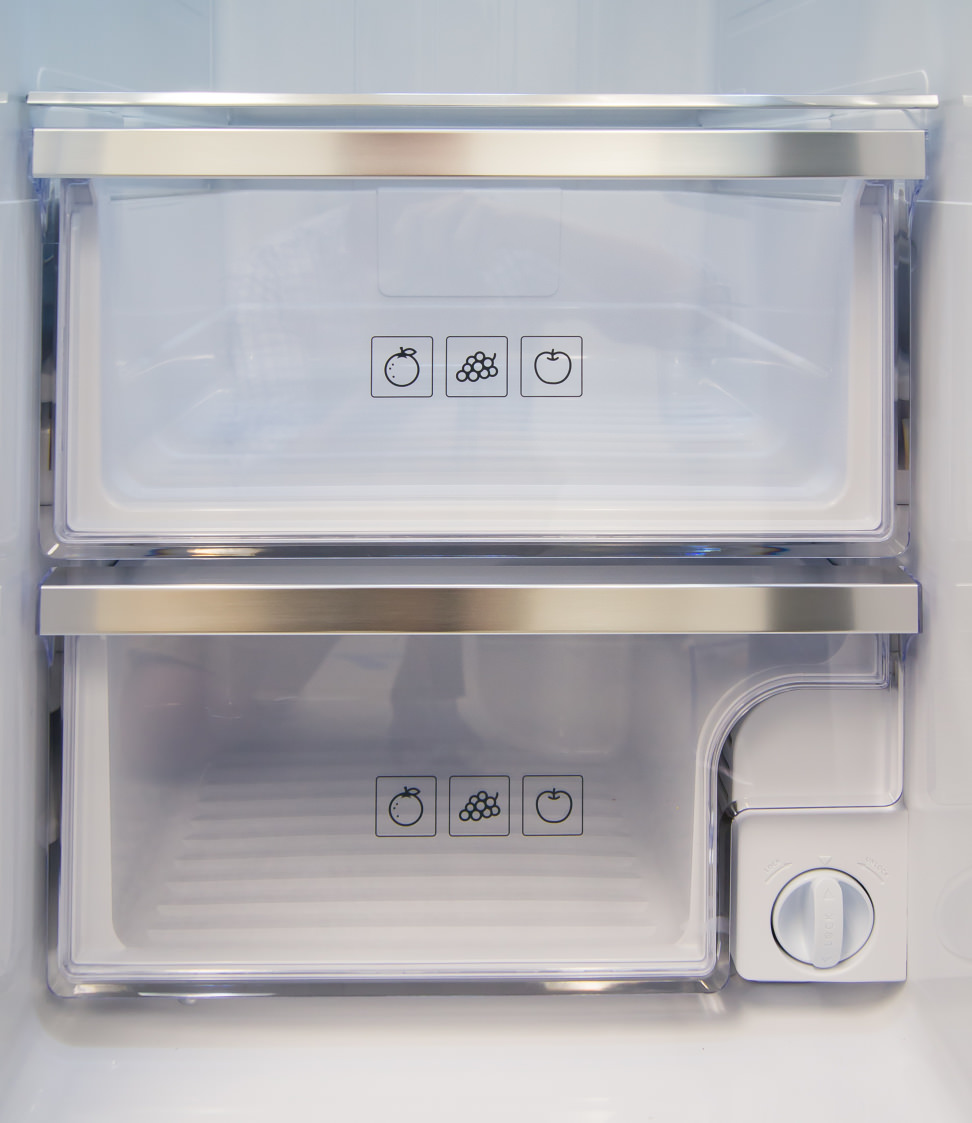 Comparable Products
Before you buy the Samsung RH29H9000SR, take a look at these other refrigerators.
Freezing & Thawing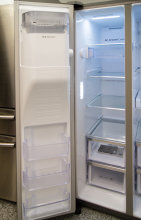 Standard freezing
Even phenomenal freezing consistency won't necessarily correlate with faster freezing times. The Showcase's frozen food compartment chilled our room-temperature test materials in one hour and 32 minutes. That's acceptable, but it's not breaking any records.
As you would expect of a high-end fridge, the insulation in the Samsung's freezer proved more than capable of retaining cold air. After letting the appliance sit for 36 hours without power, frozen test materials had warmed to only 26.83°F.
Storage Space & Energy Efficiency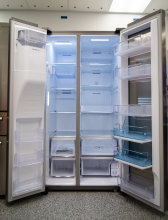 So much room!
Side-by-sides often feel quite cramped, but this Samsung is large enough that it never felt that way. The main fridge compartment has four shelves—one of which slides out like a drawer—plus the two crispers. On the door, you get six different shelves, five of which can accommodate gallon-sized jugs and two of which can slide out like drawers. All of the door shelves are highly accessible regardless of which way you get at them. In total, this plethora of storage surfaces provides 14.25 cubic feet of usable space.
The freezer is a bit more straightforward. Four shelves and three sliding drawers provide most of the usable storage, with three small buckets under the icemaker on the door. These all give you 7.65 usable cubic feet, making this freezer exceptionally roomy.
Despite the large amount of storage, the Showcase still proved to be quite energy efficient. At a rate of $0.09 per kWh, this fridge should only cost you about $50.01 per year. It only requires 0.07 kWh per usable cubic foot—and that's with the icemaker running—which means this fridge is as efficient as the best of them.
Our editors review and recommend products to help you buy the stuff you need. If you make a purchase by clicking one of our links, we may earn a small share of the revenue. Our picks and opinions are independent from any business incentives.