refrigerators
Whirlpool Gold WRF989SDAM Review
A fine product that's finely tuned.
$2,699.00 MSRP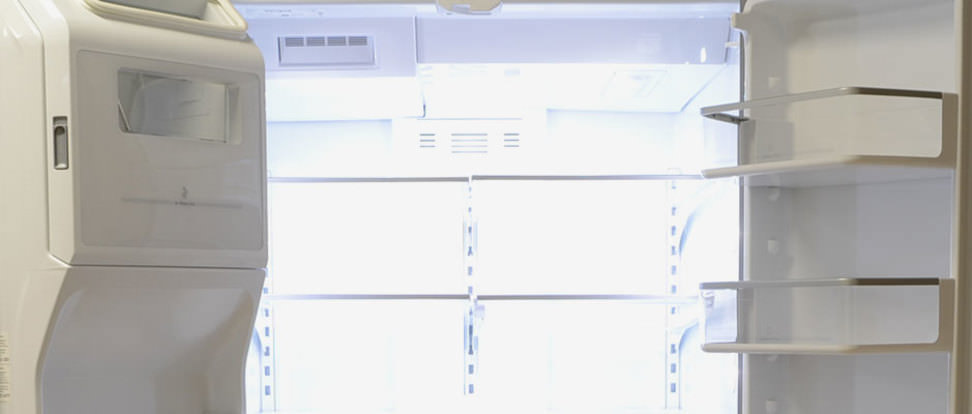 Introduction
The Whirlpool Gold WRF989SDAM (MSRP $2,699) is a French door refrigerator on an all-new platform from Whirlpool. The improvements are subtle, yet pay off with impressive temperature consistency, plenty of storage space, and lots of aesthetically pleasing design touches.
Best of all, it's affordable—at least as far as comparably-sized French door fridges are concerned. If you can find a sale, you'll be even better off.
Design & Usability
Improved, but not reinvented.
This French door fridge has a stainless steel finish. On the left fridge door, you'll find both the appliance's control panel as well as a through-the-door ice and water dispenser.
With a large capacity—advertised at 29 cu. ft.—it's important that the inside sports more than just your average layout of shelves and drawers. Blue-tinted LED lighting gives food a clean, appetizing appearance. Also, it's worth mentioning that one of the adjustable shelves has a retractable portion for easy storage of tall items like flowers and wine—how romantic! To top it off, there are three drawers on the bottom instead of the usual two. Along with the regular dual crisper drawers, there's also a third, thinner drawer between them that's ideal for deli storage. Drawers in the fridge and freezer all slide quite smoothly.
One of the adjustable shelves has a retractable portion for easy storage of tall items.
At the very bottom of the fridge is a full-width drawer with its own independent temperature control. It has three settings, all of which are programmed in and cannot be altered. These are Meats / Poultry (32ºF), Cold Drinks (36ºF and the default setting), and Deli / Cheese (39ºF).
The pull-out freezer consists of three separate sections, plus an In-Door Pizza Storage compartment. It's essentially a thin opening in the door that's wide enough to fit two or three frozen pizzas when they're placed on their sides. It's a clever feature, and a necessary one: an average full-sized pizza would not fit in either freezer drawer since the dividers cannot be shifted enough to provide the necessary space.
Features
It doesn't have a ton of spill protection, but this machine offers a familiar user experience.
Folks that prefer buttons to touch panels won't be won over by this fridge, but it's quite intuitive and has a low learning curve.
The control panel utilizes symbols on a touch screen. They shine with a blue light when active, but turn off after the fridge is left alone for a minute or so. The touch-based controls are easy to read and very straightforward to use. Folks that prefer buttons to touch panels won't be won over by this fridge, but it's sleek and intuitive.
The single paddle ice/water dispenser proved a bit too sensitive for our taste. Consumers with small children may want to use the control lock.
Speaking of spills, the shelves have some spill protection on the front and back edges, but nothing on the sides. You'll want to be careful about where you keep liquids. The door shelves, however, are all quite well contained; if anything goes amiss there, it should be a cinch to clean.
Comparable Products
Before you buy the Whirlpool Gold WRF989SDAM, take a look at these other refrigerators.
Performance
Great temperature control.
Up in the fridge, temperatures hardly shifted at all over time. Since fluctuations in temperature can affect food preservation, this was good news. We did notice that the temperature displayed on the control panel was a bit lower than the temperature we measured inside the fridge, though.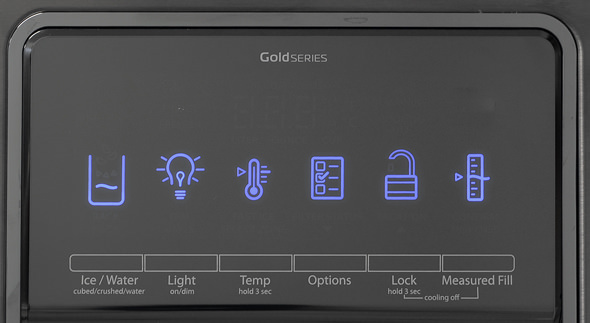 The freezer didn't perform quite as well, but wasn't bad by any means. Again, our sensors read a bit warmer than what was on the control panel, so it couldn't hurt to turn the thermostat down a smidge here, too. Temperatures remained consistent over time and from top shelf to bottom shelf, and never went above 0ºF—so freezer burn shouldn't be a problem.
Freezer burn shouldn't be a problem.
The only problem we had with this fridge was in the crisper drawers, which didn't retain as much moisture as we'd like to see. The WRF989SDAM wasn't bad, but other fridges in this price range do a better job.
Conclusion
Solid performance, sleek design, and a decent price—what more could you want from a high-end fridge?
The $2,699 Whirlpool Gold WRF989SDAM is a fairly new addition to the Whirlpool family, and we're quite pleased with how it turned out. With a sleek control panel, LED lighting, and sliding shelves, it's attractive and easy to use.
Overall performance was solid. We were impressed by the temperature consistency in both the fridge and freezer, though the crisper drawers weren't optimal. If you can find the WRF989SDAM on sale—minimal online searching turned up prices around $2,000—this Whirlpool should be on your shopping list if you're looking for a French door fridge.
Our editors review and recommend products to help you buy the stuff you need. If you make a purchase by clicking one of our links, we may earn a small share of the revenue. Our picks and opinions are independent from any business incentives.