refrigerators
Whirlpool WRL767SIAM Smart Refrigerator Review
Smart, good looking, and thrifty? Sounds crazy, but it's true.
$1,999.00 MSRP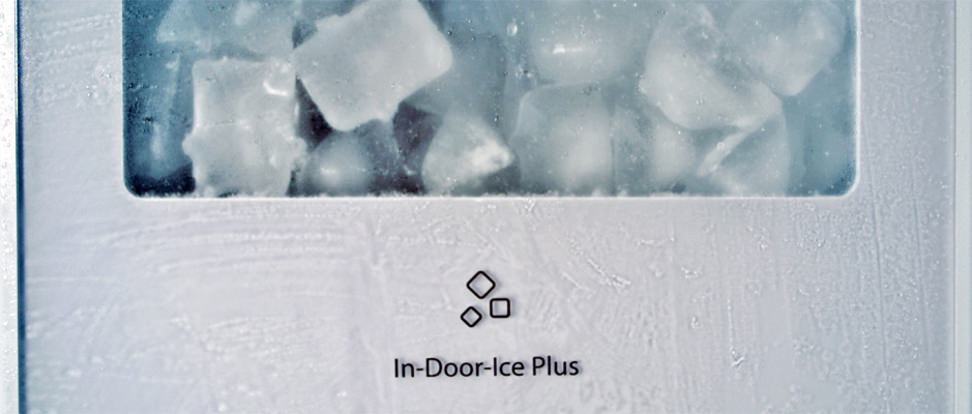 The Whirlpool WRL767SIAM (MSRP $1,999) side-by-side refrigerator is one of the first smart appliances available in the US market. In order to lower electric bills, this internet-connected fridge decides when and how hard it should work based on real-time energy prices. It also lets users check on and control the fridge remotely with a smartphone app.
We're excited about the promise of smart technology, but we're also glad that Whirlpool debuted its 6th Sense Live smart platform on one of the best side-by-side fridges we've come across. The WRL767SIAM may be a tech showpiece, but it's got plenty of storage, does a good job preserving food, and has a relatively low price tag for an upscale side-by-side.
Design & Usability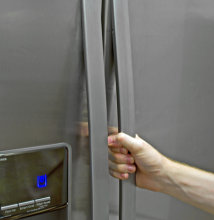 Silvery smooth.
From the outside, you'd never know how much tech is hidden behind the stainless finish and slim, tapered handles. There's no color touchscreen or flashing lights—just a vast expanse of stainless.
The dark control panel, with its gray buttons and unobtrusive labels, blends in well with the stainless steel exterior. It's completely blank when not in use, but the bright blue symbols really pop when activated. Only a small Smart Grid selector hints at what this fridge can do when it's connected to a wireless network.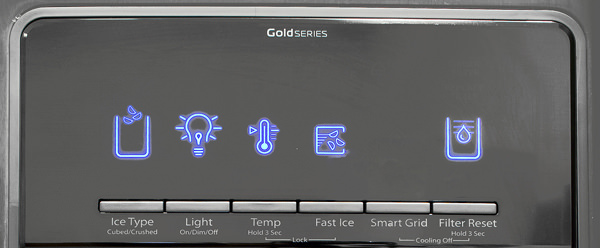 On the inside, pale LED lights give off a cool, bluish glow that really highlight the gray shelf trimming and bright white walls. The shelves slide out for access to items in the rear, and there's plenty of vertical space to keep things from getting crowded. A door-mounted icemaker means the same is true of the freezer.
Storage in both compartments is ample, but there's a minimal amount of shelf adjustability. Three of the four shelves on the fridge door—two of which can hold two gallon-sized containers—can be moved to variety of different heights. And despite their high-end looks, the drawers could have opened more smoothly. While they didn't catch or wiggle, we found them a little too stiff.
Performance & Features
Side by side by satisfaction.
The most compelling reason to buy the WRL767SIAM is Whirlpool's 6th Sense Live functionality. By communicating with local utilities, the fridge can conserve energy by running defrost and freeze cycles during times of low energy demand unless absolutely necessary. Since so few areas currently offer smart electric meters, Whirlpool has collected pricing and demand data from local utilities so the fridge can have a better idea of when to run. 6th Sense Live also sends alerts to your iPhone (no Android, Windows, or Blackberry support just yet) if your door is ajar or the power cuts out, an-if you're on vacation, for instance-allows you to change the temperature remotely.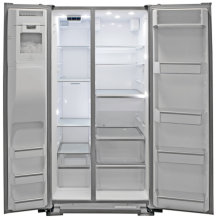 We'll be taking a closer look at 6th Sense Live as soon as we're done testing the full suite of Whirlpool smart appliances, which includes a washer, dryer, and dishwasher. Check back in a few weeks for all the details. For now, you can take a look at our preliminary coverage of this system from the 2012 Consumer Electronics Show.
All that aside, this appliance is a flat-out great fridge. Fridge and freezer temperatures were remarkably consistent over time and space, a sign of optimal food preservation. While the freezer fluctuated a bit more than we like to see, it never got warm enough for freezer burn to be a concern.
Crispers managed to retain slightly higher-than-average amounts of moisture, which should save you from throwing out fresh produce that's gone bad prematurely. Without turning on any smart features, energy consumption was reasonable even with the icemaker running. The only other extra feature of note is the Fast Ice option. That said, you can also convert the bottom crisper from vegetable storage to a meat defrost bin.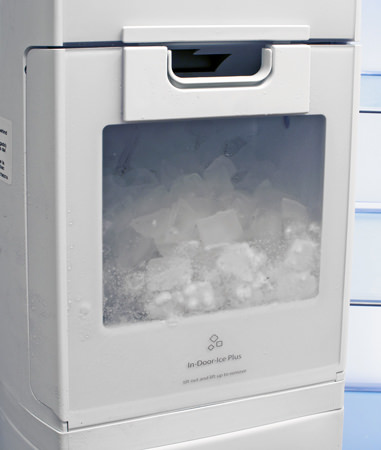 For in-depth performance information, please visit the Science Page.
Comparable Products
Before you buy the Whirlpool WRL767SIAM, take a look at these other refrigerators.
Conclusion
A smart fridge that's a smart purchase.
Smart or not, it turns out the WRL767SIAM is one of the best side-by-side fridges on the market. With exceptional temperature performance, decent energy ratings, and more space in a side-by-side than we're used to seeing, it's a great alternative to pricey French door models. With most retailers offering it for as little as $1,700, it's a quality fridge that's got more than just fancy new tech working in its favor.
Our editors review and recommend products to help you buy the stuff you need. If you make a purchase by clicking one of our links, we may earn a small share of the revenue. Our picks and opinions are independent from any business incentives.