refrigerators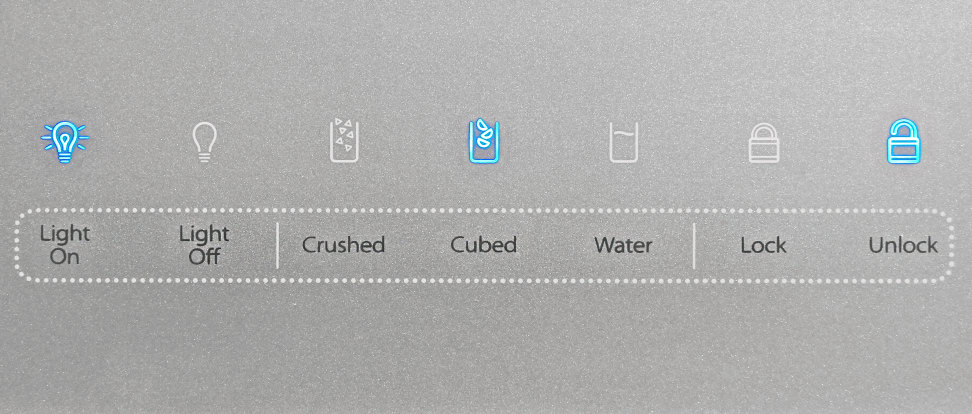 Whether you're looking to outfit a new home or remodel an existing kitchen, a suite of appliances can be pricey. It's hard to find an effective side-by-side on the cheap, especially if you're looking for fashionable stainless steel. That's why we're so excited about the Whirlpool WRS325FDAM (MSRP $1,399). It can be found for under $1,000 on sale, but still manages to avoid the pitfalls of budget fridges.
It's got lots of fresh food storage, great energy efficiency, and attractive LED interior lighting that's more often found on pricier models. Sure, it's got hit-or-miss temperature dials and a control panel that only looks like a touch screen, but it's still one of the best fridge values we've come across.
Design & Usability
High-end looks for a mid-range price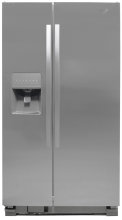 You'd be hard pressed to find another fridge besides the WRS325FDAM with a stainless exterior, through-the-door ice and water, and bright LED lighting in the fridge and freezer at this price. Sure, there's only one crisper and the external dispenser's "touch screen" is just plastic placed over a series of manual switches, but that's a small price to pay for a small price to pay.
Other than a bunch of different places to put the fridge door's bucket shelving, there aren't a whole lot of options for customization. Luckily, the natural layout of the shelves in both the fridge and freezer gives your groceries plenty of headroom: gallons of milk, jugs of iced tea, even birthday cakes will fit here.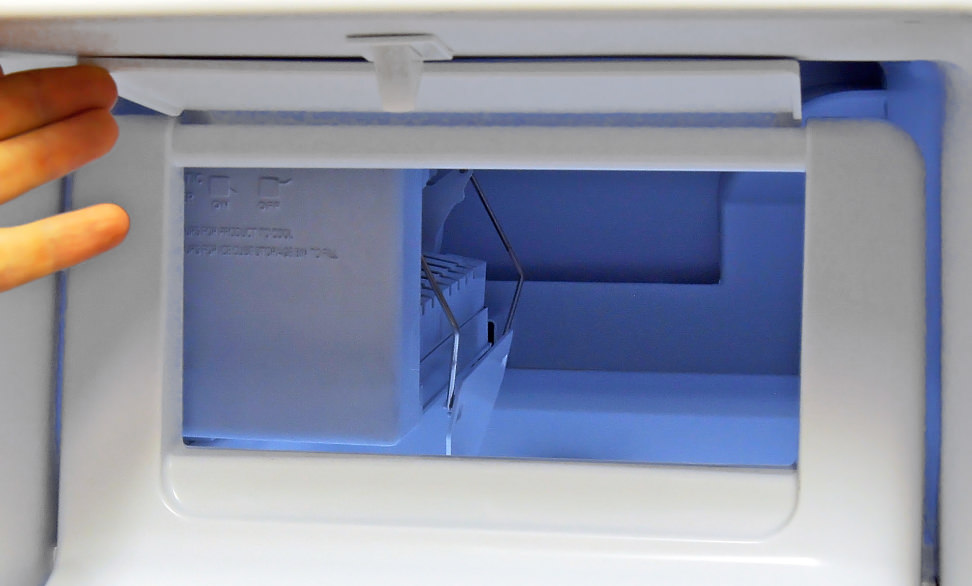 Perhaps most impressive is the fact that the Whirlpool's freezer leaves you enough room to store a family-sized frozen pizza—albeit on its side. That's virtually unheard of, especially in this price bracket. Despite the effective layout, though, one thing to keep in mind is that the freezer can get cramped pretty quickly. Consumers buying a fridge for a large household will want to keep that in mind.
Performance & Features
Watch the temperatures and you'll be fine
For the most part, this Whirlpool's performance was quite strong. Despite some excess cold air at the top, the fresh food side was consistent over time and stayed right around the ideal 37ºF. The freezer, though, hovered a little over 9ºF—much warmer than we wanted.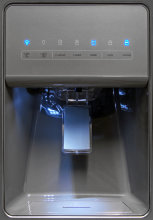 Luckily, the fridge and freezer have separate thermostats. The dials use a scale running from cold to colder; we tested the fridge at its recommended setting, marked with a small dot. For optimal chilling, you'll want to turn down the dial for the freezer, checking the results with an external thermometer until it's just right.
The single crisper drawer did an excellent job keeping in moisture, which should keep produce from drying out or turning slimy ahead of its time. It's also quite energy efficient.
In fact, the only downside about this fridge is its lack of features. Aside from through-the-door water and ice, all you've got is a lock for the dispenser—useful if you've got curious kids. For this price, though, we aren't complaining.
For in-depth performance information, please visit the Science Page.
Comparable Products
Before you buy the Whirlpool WRS325FDAM, take a look at these other refrigerators.
A Deal Worth Making
Saving money with style
Just because you want a good fridge with a stainless finish doesn't mean you have to spend a fortune. That's why we're such big fans of the Whirlpool WRS325FDAM. It performs well, looks even better, and is available at true bargain prices. It's usually available for around $1,160, but we've even seen sale prices lower than $1,000.
If you're looking to save even more money, this fridge is also available in white, black, and an off-white in the same vein as old bisque appliances—Whirlpool's calling it biscuit. These non-stainless finishes will run you about $100 less.
Our editors review and recommend products to help you buy the stuff you need. If you make a purchase by clicking one of our links, we may earn a small share of the revenue. Our picks and opinions are independent from any business incentives.