refrigerators
Whirlpool WRT111SFAW Apartment Refrigerator Review
Small fridge, big value.
$549.00 MSRP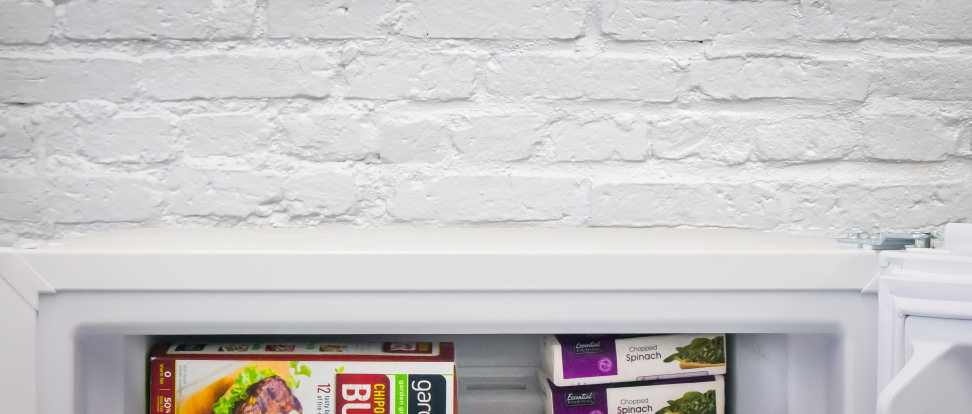 The affordable-yet-undersized WRT111SFAW (MSRP $549.00) is Whirlpool's smallest top-freezer refrigerator. It's only 24 inches wide, 61.5 inches tall, and just shy of 28 inches deep. On sale, you can find it for around $400.
There's plenty of demand for slimmer, cheaper refrigerators from those who live in smaller residences, but such low prices often result in an appreciable performance drop.
Thankfully, Whirlpool's little top-freezer manages to dodge many of the pitfalls associated with "budget" appliances. Solid scores came back in just about every test except the crisper drawer, making this model an easy recommendation for apartment dwellers or those who need a smaller, second fridge.
Design & Usability
There just isn't much here.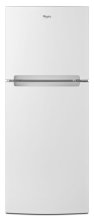 Refrigerators are relatively passive appliances once they've been set up, so "usability" is really more a question of what could go wrong. In this case, the wire racks could be easier to move, the door shelves are removable but not adjustable, and the freezer is just a big old chasm that really could've used an additional rack.
Controls take the form of two circular dials: one in the fridge and one in the freezer. You cannot specify the exact temperatures at which you'll be preserving your food. Instead, they're labeled ambiguously from Min to Max. Still, most fridges at this price range have but a single control for both fridge and freezer, so this is an upgrade. A little experimentation may be all that's required.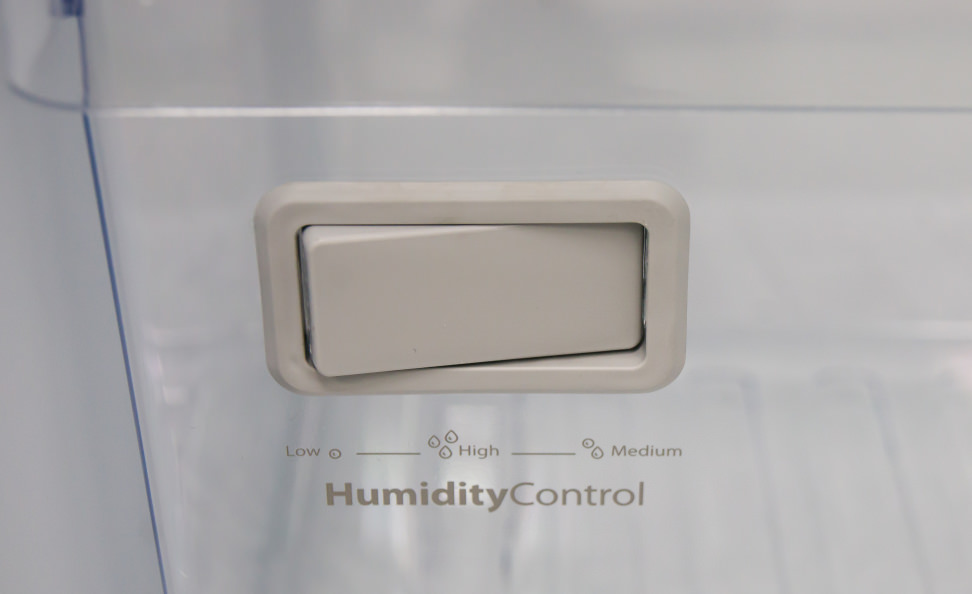 One exception to the relative unimportance of this refrigerator's design is the crisper drawer, because you will be using this thing all the time, and it's terrible. Plastic slides on flimsy plastic, without any rollers or smooth action of any kind. The drawer will twist around and become stuck, and it's a real pain if you've got anything heavy in there.
On the plus side, we love the reversible door design. Recessed handles mean you can swap the door hinge from left to right without reattaching a handle.
Performance & Features
Eat your veggies... quickly.
Problems with the crisper drawer extend to performance too. The refrigerator's single crisper is incapable of doing its job: namely, keeping produce crisp. Fruits and vegetables are best refrigerated in a humid environment, and that's something this model does not provide. It's probably the WRT111SFAW's biggest flaw.
Otherwise, performance is far better than we expected from a refrigerator in this price range. Fridge temperatures held steady around 37°F, and freezer temperatures were stable too, which is important in keeping freezer burn at bay. The freezer chamber did run a bit warm on the recommended setting, but you can crank down that dial and make it colder.
Freezing times were also respectable. The freezer required just over an hour and a half to cool room-temperature materials down to 32°F, which means less damage to the taste and textures of your frozen food.
For in-depth performance information, please visit the Science Page.
Comparable Products
Before you buy the Whirlpool WRT111SFAW, take a look at these other refrigerators.
Conclusion
We'd buy it.
The Whirlpool WRT111SFAW is a steal at the MSRP of $550, and even if you spring for the faux stainless finish for $100 extra, you're still making a wise financial decision. This is, of course, assuming your lifestyle can handle roughly half the food storage of a modern full-sized fridge, and you can deal with imperfect produce storage.
If you've got a small space and a small budget, this fridge is a great choice. And we think it would make a good second fridge or a garage fridge, too. It isn't perfect, but for 1/8th the price of high-end apartment-sized models, this Whirlpool will do the trick.
Our editors review and recommend products to help you buy the stuff you need. If you make a purchase by clicking one of our links, we may earn a small share of the revenue. Our picks and opinions are independent from any business incentives.