refrigerators
Whirlpool WRT111SFAW Apartment Refrigerator Review
Small fridge, big value.
$549.00 MSRP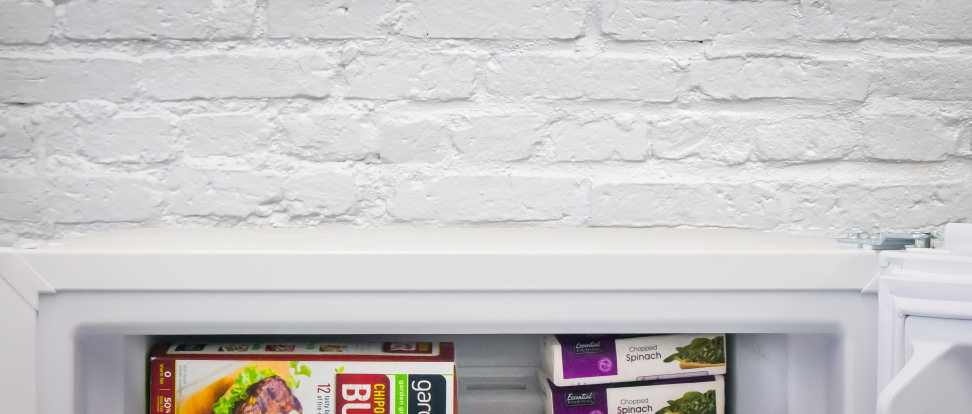 The Cold Hard Facts
Even if you don't have a ton of cash, you should still care about how performance can make or break a big purchase. With that said, this Whirlpool proves you don't have to spend a lot to get a decent, small fridge. It's terrible at keeping produce fresh, but it proved perfectly adequate in every other test we put it through.
Temperature Performance
In our temperature consistency tests, we measured spot on accuracy in the fridge compartment: a near perfect 37°F average, with a variance of only 1°F. That's amazing for this price range, or any price range. Freezer consistency was less impressive. There, the temperatures could swing by as much as 5°F over time. But hey, it's a cheap fridge.
The freezer ran warm at about 4°F on average, so perfectionists should use the control dial to get that down to 0°F.
Moisture Retention
Moisture retention? There isn't any. The "Humidity Control" (yeah, right) drawer lost an average of 0.38 grams of moisture per hour. That's ten times as much moisture as the best fridges we've tested. Expect fruits and veggies to lose their freshness much quicker than they would in a more expensive refrigerator.
Comparable Products
Before you buy the Whirlpool WRT111SFAW, take a look at these other refrigerators.
Freezing & Thawing
The WRT111SFAW needed only 1 hour and 33 minutes to freeze our room-temperature test materials. That's an average result for many expensive refrigerators, and downright impressive for this budget model. The faster your foods are frozen, the better off they'll be in terms of taste, texture, and—some say—nutritional value.
On the other side of the coin, the freezer's insulation was able to keep food frozen for long periods of time. Even when starved of power for 36 hours, the closest our test materials came to room temperature was 26.19°F, so it passed this test with flying colors.
Storage Space & Energy Efficiency
It's a small fridge, but the simple design ensures space is used well. Whirlpool claims the total interior storage space is 11 cu. ft. (between both the freezer and the fridge), and our measurements of usable storage space weren't too far off. By our calculations, the fridge offers 6.26 cu. ft. of storage, while the freezer offers 2.58, for a total of 8.84 cu. ft. of usable storage.
Our editors review and recommend products to help you buy the stuff you need. If you make a purchase by clicking one of our links, we may earn a small share of the revenue. Our picks and opinions are independent from any business incentives.