refrigerators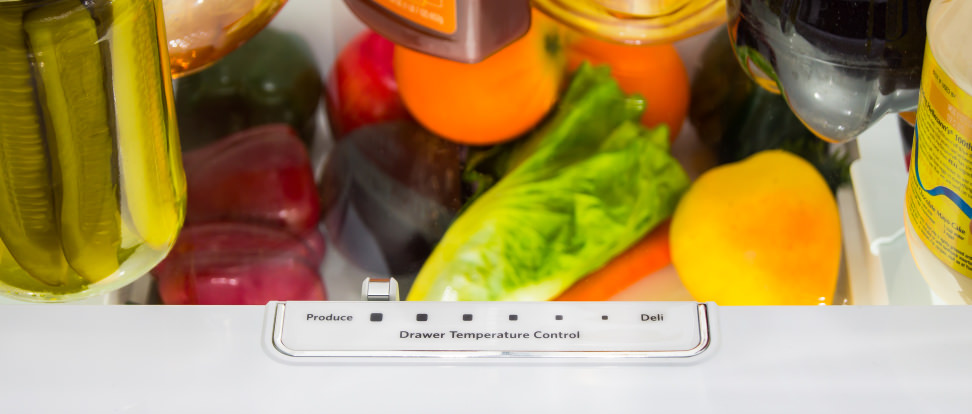 The Whirlpool WRX735SDBM (MSRP $2,299) is a rather unusual fridge. It's a four-door stainless French door model that frequently goes on sale for under $1,800. Its performance is good, and its design is an unexpected mix of high- and low-end elements.
Sure, it isn't perfect. The icemaker is intrusive, and the lack of a dedicated crisper drawer is a glaring omission. But for half the price of some of its competitors, this fridge is an exceptional bargain.
Design & Usability
Make your friends jealous
This Whirlpool looks much more expensive than it actually is. Normally you wouldn't find a stand-alone middle drawer on a sub-$2,000 fridge, for instance.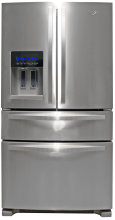 LED lighting inside the fresh food compartment brightens all the white plastic shelving effectively, and the see-through bottom shelf that lets you look into that middle drawer is a nice touch—like a glass-bottomed boat that lets you gaze at your perishables.
Unfortunately, it's downhill from there. The interior icemaker is huge, and as a result, the shelves on the left-hand fridge door are almost impractically small. Also, there's no dedicated crisper drawer anywhere in this fridge, although the middle drawer does have a "Produce" setting.
The freezer looks more like what you'd expect for a fridge in this price bracket, too. Wire shelves are dimly lit by an incandescent bulb set so far back that I pity anyone who has to try and change it. Overall, the freezer is also very cramped, despite the fridge's impressive external dimensions.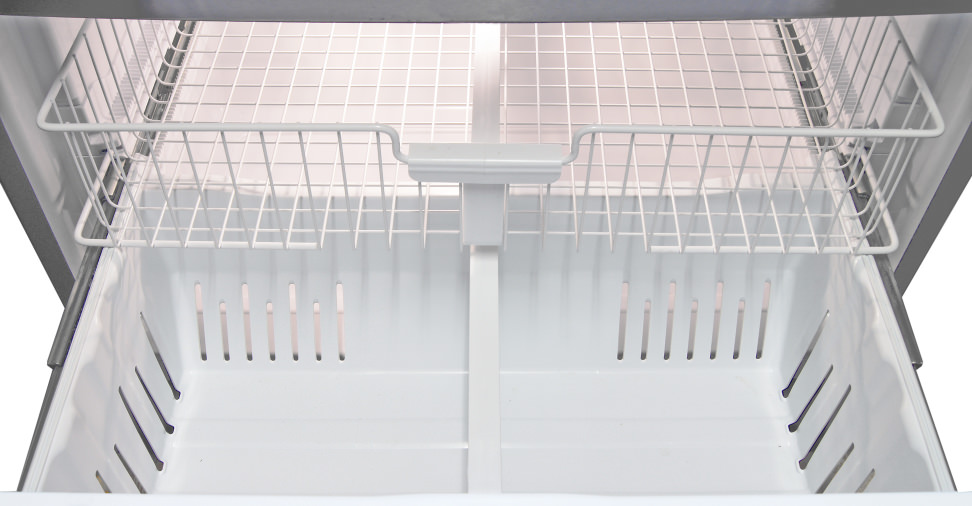 At least the external controls are attractive and easy to read, with bright blue LED lights that glow when active. The two separate paddles for ice and water are a nice touch, as well—you'll always know what you're about to dispense, which should minimize the risk of spills.
Performance & Features
A bit too warm
The biggest surprise about this fridge's performance was that both the fresh and frozen storage compartments ran a bit warm when we set them to the manufacturer's recommended settings—roughly one to two degrees in each section. Fortunately, both sections also turned out to be impressively consistent. Just turn down the temperature a little and you'll be fine.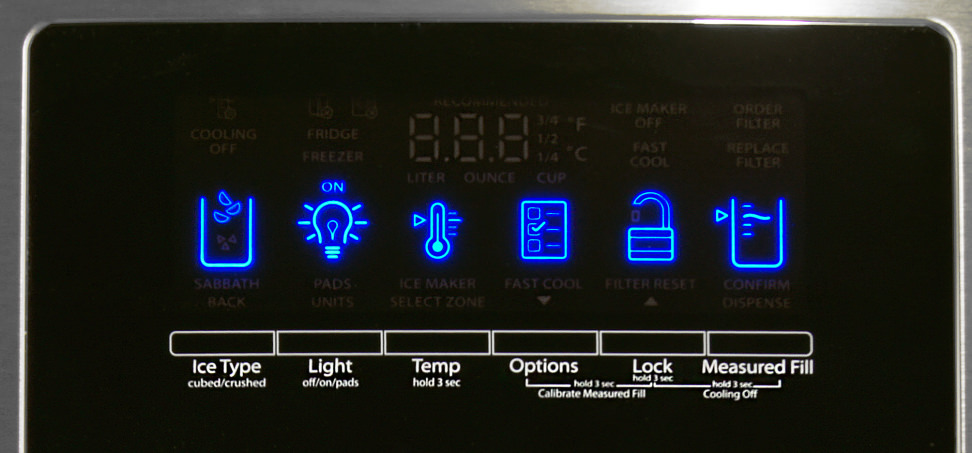 As we mentioned, the wide middle drawer has a "Produce" setting at one end of its control dial. It didn't seem to do much good, however, as our test materials lost lots of moisture each hour. While the extra space—and the adjustable and removable plastic dividers that are included—is quite nice, the drawer itself proved to be ineffective as a crisper.

For in-depth performance information, please visit the Science Page.
Comparable Products
Before you buy the Whirlpool WRX735SDBM, take a look at these other refrigerators.
Budget Friendly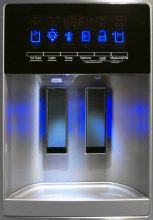 Not bad, for the right price
Compared to some of the more expensive French door fridges, the Whirlpool WRX735SDBM lags behind. That said, at about $1,780 in most stores, it's also roughly half the cost of those high-end, extremely expensive machines.
If you're looking for an attractive, relatively high-capacity French door fridge but don't want to spend a fortune on it, give this Whirlpool a whirl.
If you want something with more features, roomier storage spaces, or superior performance… look elsewhere. Just be prepared to spend a lot more.
Our editors review and recommend products to help you buy the stuff you need. If you make a purchase by clicking one of our links, we may earn a small share of the revenue. Our picks and opinions are independent from any business incentives.