There's a problem with smart appliances, and it has nothing to do with innovation or even demand, but rather the specific machine-to-machine technologies that allow devices to communicate with computers, other appliances, and power grids.
According to a recent report from Pike Research, the annual value of the smart appliance market is expected to grow from $613 million in 2012 to $34.9 billion in 2020. But despite this growth trend, analysts seem aware of the fact that consumer education and interest are lacking—and for that reason, the market will stall for a few years before truly taking off.
There's a problem with smart appliances, and it has nothing to do with innovation or even demand.
"In order for this market to flourish, there needs to be a wider selection of appliances by type, by brand, and by price range," said Bob Lockhart, senior research analyst at Pike, in a press release. "In addition, it will take time and education to bring smart appliance awareness and interest to the forefront of consumers' minds."
A similar problem has emerged in the mobile payments space: Consumers have been slow to adopt these services because the industry hasn't quite worked out a path forward. There are simply too many possibilities for making a mobile payment, the effect of which has retailers and handset manufacturers battling over which medium to adopt.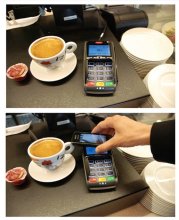 Near field communications (NFC), radio-frequency identification (RFID), quick response codes (QR Codes), and near sound data transfer (NSDT) are just a few of the intimidating initialisms that denote methods of transferring data from a phone to another device—usually a payment terminal. This lack of consensus has stalled the market and, ironically, contributed to poor communication with consumers.
In the world of appliances, a similar, if less-esoteric debate has emerged over how to establish autonomous communications between washing machines, fridges, thermostats, phones, and other devices. Right now, it seems like NFC is leading the pack. Lisa Arrowsmith, an associate director at research firm IHS Electronics & Media, says the fact that consumers don't need to pair devices or set up a new network with NFC is a major draw.
"Instead, they can simply tap their NFC-enabled smartphone or tablet against the NFC tag on the appliance, and be updated with information, such as whether compartments are open, how various sensors are operating, and much more," she explains.
Last month, Korean electronics manufacturer Dongbu Daewoo unveiled an NFC-enabled fridge called the Classe Cube, which can collect energy and temperature data from the fridge and send it to the owner's mobile device. Mobile controls allow the user to adjust efficiency, performance, and notifications—such as whether the door has been left open.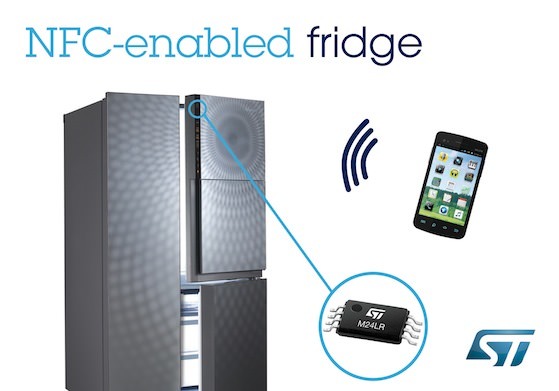 Currently, the Class Cube is only available in South Korea. But its success there may not be a reliable indicator of how well it would do elsewhere. According to the GSM Association, roughly 20 percent of South Koreans already own an NFC-equipped handset. Compare that to the U.S., where less than 10 percent of phones have NFC.
"The adoption of NFC in appliances is to some extent dependent on the technology's penetration into devices such as tablets and smartphones," says Arrowsmith.
"The adoption of NFC in appliances is to some extent dependent on the technology's penetration into devices such as tablets and smartphones."
And that means getting all of the major manufacturers on board. But Apple—whose iPhone constitutes nearly one-sixth of the market share, according to Gartner—is almost devoutly anti-NFC. In fact, the company has outright refused to incorporate the technology. Furthermore, NFC payment terminals—the real gauge of the technology's success—are pretty difficult to find in the U.S., and while that's mainly due to the lack of consensus among handset manufacturers, the slow pace of growth has done little to entice consumers.
The frustrating thing is that even though NFC has struggled to gain a footing, it's further along than most competing standards like RFID or NSDT. But whatever the technology, the appliance market will continue to play second fiddle to the mobile sector—at least when it comes to smart technology. So if NFC dies off completely, you should only expect delays in the much anticipated smart appliance revolution—as cool as it sounds to receive mobile notifications telling you your freezer is open.
Our editors review and recommend products to help you buy the stuff you need. If you make a purchase by clicking one of our links, we may earn a small share of the revenue. However, our picks and opinions are independent from any business incentives.
Be in the know! Get Reviewed.com news and reviews straight to your inbox.
Thanks for signing up!