We tend to think of a refrigerator as a magic box that keeps beer cold and popsicles frozen. But we don't usually think about the real job of the fridge—keeping food at the appropriate temperature to inhibit spoilage.
So, how do you know how cold it is inside your refrigerator? If you have a newer fridge, you can refer to the digital display on the front panel or inside the door, though it may not be accurate. If you have an older fridge, you may have no idea what temperature it is.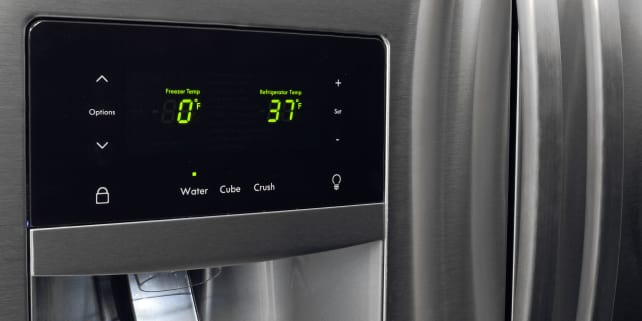 How cold is cold enough?
Here's why knowing the temperature is important: to keep food out of what the USDA calls "the danger zone", it needs to remain at or below 40°. The freezer should to be 0° to keep freezer burn at bay. If your fridge and freezer are regularly warmer than those temperatures, you're risking faster spoilage.
Here at Reviewed, we've tested more than 200 refrigerators to find out which ones do the best job keeping your food safe. When we run our tests, we're not only looking for a refrigerator to reach an appropriate temperature—which will take 24 hours or more—we're also looking for its ability to remain at the right temperature.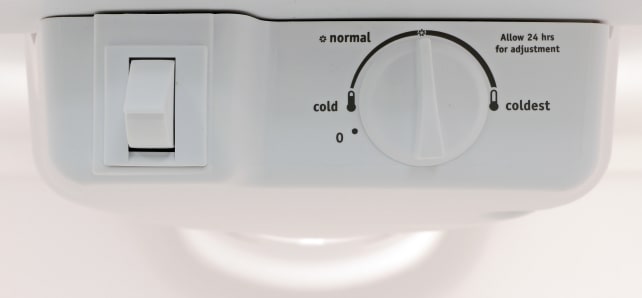 Temperatures always vary somewhat, because of the way a refrigerator works. The motor is not always running, and defrost cycles bring the temperature up. But if the temperature extremes are excessive, food in the fridge may not always be cold enough to stay fresh, and food in the freezer may be vulnerable to freezer burn.
Here in our labs, we recently tested two nearly identical refrigerators, the Frigidaire Gallery FGTR1837TF and the Frigidaire FFTR1821TD. We expected them to be running at the same temperature, but actually, they were not.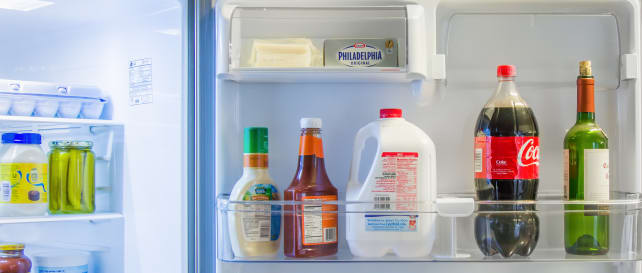 The Frigidaire Gallery model's freezer ran consistently at 3°, which could easily be fixed by nudging the slider toward the "coldest" setting. The Frigidaire FFTR1821TD averaged around 4°, which we could adjust it to a chillier setting. But the temperature in that freezer was also very inconsistent, bouncing up to 8° at one point. Freezer burn is a likely result with food stored there.
The refrigerator sides had similar issues.
Testing the temperature
To ensure that your current refrigerator is running at the right temperature, we recommend that you purchase a refrigerator thermometer. It's a small investment, and although it's not quite as accurate as the thermocouples we use in our labs, it's close enough.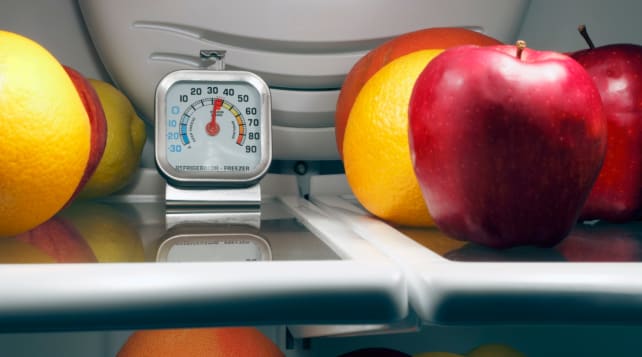 So, place the thermometer in a cup of water. Your refrigerator measures the temperature of the air around your food, and you you want to simulate the temperature inside your foods. Check it in 24 hours. Do this for the fridge and the freezer. Then, adjust the temperature, based on the results.
Next, use the thermometer to find out where the cold spots are in the refrigerator and freezer. Although there may be dedicated space in the door for a gallon of milk, unless your kids drink a gallon every few days (and I know families like that), the door is the warmest spot in your fridge, and milk won't stay as fresh as long there as it would on a shelf toward the back.
Tips for keeping a cool fridge
Once you've set your refrigerator to the right temperature, here are a few tips for keeping it there.
• Don't open the door more often than necessary. As a mom, I know this is a losing battle.
• Don't open the fridge during a power failure, if you can help it. Every freezer we've ever tested will hold a safe temperature for 36 hours as long as you don't open the door.
• Check to make sure the gasket is in good shape, and seals well. If you can open the door with one finger, your seal isn't tight enough. A leaky seal is an energy waster, and may be a risk to your food.
• If your refrigerator has visible coils, dust them from time to time, using a long, skinny brush made for this purpose.
• Cover your food. For example, leave eggs in their carton, not in the door.
• Keep a full fridge to retain the cold, but leave enough room for air to circulate.
For more details, read about how to make your refrigerator run more efficiently. And to find out more about storing food safely, check out the U.S. Food and Drug Administration website.
Our editors review and recommend products to help you buy the stuff you need. If you make a purchase by clicking one of our links, we may earn a small share of the revenue. Our picks and opinions are independent from any business incentives.