French door refrigerators are popular because they put fresh food at eye level, and their wide shelves fit everything from baking sheets to pizzas. They come in all different shapes and sizes, and the higher-end models offer features like temperature-controlled drawers and hot water dispensers. Prices range from $1,000 for a basic model to upwards of $4,000 for a fully loaded fridge.
We've tested all the most popular French door refrigerators on the market today, examining everything from how fresh they keep produce to how well they freeze meat. Our exhaustive tests account for capacity, ease of use, and energy efficiency, too. That's how we can assure you that our picks are the best you can buy right now.
Updated January 05, 2018
Advertisement - Continue Reading Below
There are many reasons why we love this GE Café French door refrigerator. Its 28.6 cu. ft. interior is easy to organize, it has an adjustable-temperature deli drawer, and it did a great job preserving fresh and frozen food in our lab tests. It can even dispense hot water! Whether you've got a big family or just want the best fridge out there, the American-made CFE28TSHSS has everything you're looking for—and more.
2
On sale, the Samsung RF260BEAESR can drop as low as $1,200. Even though it's affordable, this 25.5 cu. ft. French door fridge impressed us with a superb fit and finish, stellar food preservation, and a handful of useful features–including an internal ice maker. Our tests show it's also a great fridge, which is why we think it's one of the best values you can buy. If you're looking to remodel, check out this Samsung.
Where To Buy
$995.00
AppliancesConnection
Buy
$998.00
Home Depot
Buy
$999.99
Best Buy
Buy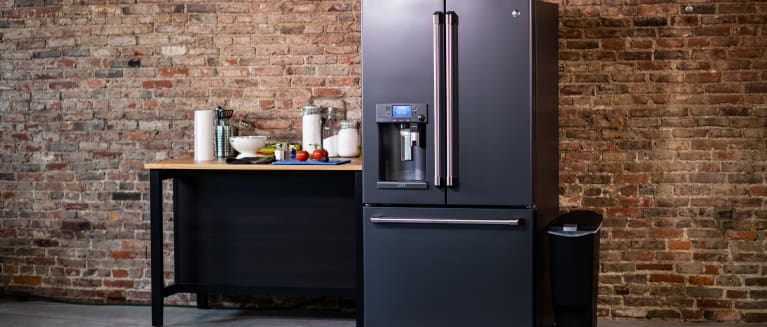 3
Imagine a refrigerator so versatile it will allow you to pop in a K-cup and brew your morning coffee, or will dispense hot water for cooking. Along with a designer look, and every contemporary refrigerator feature, the GE Cafe French door refrigerator is counter depth, so it looks built-in. It's WiFi enabled, you can use an app to control it, and it takes directions from Alexa.
Where To Buy
$3,499.00
Home Depot
Buy
$3,149.99
Best Buy
Buy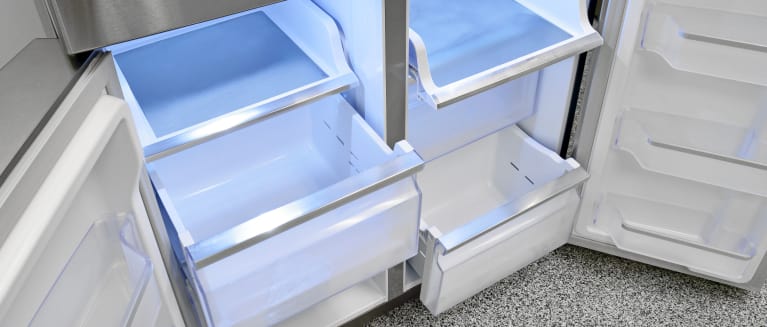 4
The Samsung RF23J9011SR is part of a growing number of four-door fridges. This one features a freezer compartment that converts to a fridge if you need extra space for chilling wine or fresh food, so it's perfect for folks who like to entertain. We also like the counter depth design. Despite a shallower depth, the RF23J9011SR still fits 23 cu. ft. of fresh and frozen food—and does a great job preserving it over time.
Where To Buy
$2,495.30
AppliancesConnection
Buy
$2,498.00
Home Depot
Buy
$2,499.99
Best Buy
Buy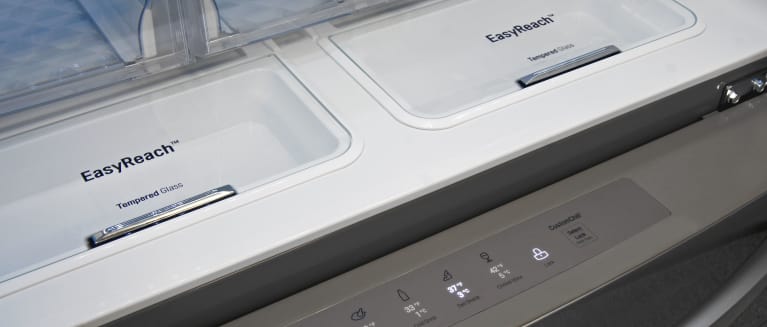 5
With 30 cu. ft. space for storing fresh and frozen food, the massive LG LMXS30776S is perfect for big families. In addition to its four-door French door layout and the option of a smudge-resistant black stainless exterior, we also liked its slide-away shelves and temperature-controlled drawer. Door-in-door storage makes it easier to reach condiments and drinks, and EasyReach bins are perfect for storing kids' snacks.
Where To Buy
$2,695.10
AppliancesConnection
Buy
$2,398.00
Home Depot
Buy
$2,399.99
Best Buy
Buy
Advertisement - Continue Reading Below