Whirlpool's Smart French Door Fridge is a 32-cu.-ft. pantry-style unit that claims to be one of the most family-friendly appliances on the market. The standard-depth refrigerator comes into two formats: $3,599 for a non-smart model or $3,799 for the Connected Suite option (sale prices will likely mean significant discounts).
Either way, the Pantry Fridge is one cool appliance.
Excellent Shelf Life
The beauty of Pantry Fridge's interior design is in its shelves, bins, and cooling controls. When you first open the doors, you'll notice the Infinity Slide Shelves. They act like normal plastic shelves with a silver metal bar in the middle–until you need to store something tall, that is.
Then, the area marked off by the metal bar can be pushed back. Slide the shelf all the way back and you create a U-shaped open space that can handle a bottle of wine standing up.
The Infinity Slide Shelves are a genius move. Think of all the events your fridge has to cater to, from quiet family meals to crazy parties. We were able to adjust the shelves with a single finger, meaning it's dead simple to customize the fridge's configuration on the fly. More shelf space for groceries today and room for soda bottles tomorrow.
For everyday storage, this Whirlpool has the most gallon-sized door bins on the market. They're wide, but you can add a "stadium step" which raises up items in the back so they don't get lost. In addition to the large bins, we loved the Treasure Bins–small compartments at child height. There are plenty of foods and drinks you don't want your kids touching, but they should still be able to feed themselves. The Treasure Bins could keep them from climbing on chairs to get their snacks.
Storage is all well and good, but it's nothing if the fridge can't keep things cold. To that end, the Smart French Door Fridge features the Whirlpool Storeright System. We've already tested some high-ranking fridges that have the same dual-cooling technology. In short, Storeright measures temperature and humidity and adjusts the fridge in real time to preserve food.
Conditions like the ambient temperature of your home can affect the temperature inside your fridge, so it's pretty smart for to have an appliance that adjusts automatically.
Pantry App or Party App
If you spring for the more expensive connected Pantry Fridge, you're going to get some serious bang for your buck. At first, the app shows you standard info, like the internal temperature, but scroll down and you'll see a tab for "Party Mode." Activate this mode, and the Pantry Fridge blasts cold air–both to accelerate the cooling of drinks and to ensure the fridge maintains a constant temperature when it's being opened every few seconds by thirsty guests.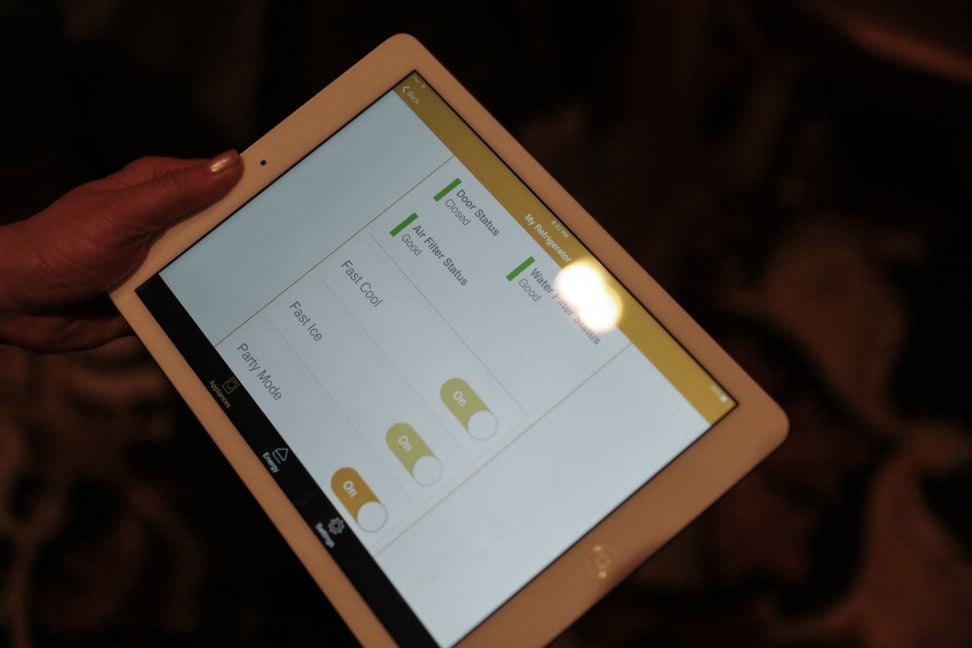 The app can also help with regular maintenance. Fire it up and it'll tell you when you need new filters, and help you get them delivered right to your door. If your fridge ever breaks down, the app will give you the error code, so the technicians can make sure they have the right part when they arrive.
The Whirlpool Pantry Fridge will be available for purchase this May.
Related Video
Our editors review and recommend products to help you buy the stuff you need. If you make a purchase by clicking one of our links, we may earn a small share of the revenue. Our picks and opinions are independent from any business incentives.