There's a trend in European design that would be the envy of any American design guru: handle-free kitchens. It creates a unified seamlessness unlike anything we've seen before, even compared to dishwashers or fridges with recessed handles. While we took a look at a handle-free dishwasher made by Miele yesterday, Liebherr chose to showcase a handle-free refrigerator instead which sported some rather interesting aspects. It's known as the UWT 1620 TipOpen wine cabinet, and it's one of the few really interesting appliances at IFA that's actually going to make it to America.
TipOpen Tech
The really big draw for this new fridge is the TipOpen technology found in the door. Rather than using extruding or recessed handles, this Liebherr fridge simply has to be tapped in order to open. This is how it fits in with the European handle-free kitchen design. You can open it with your palm or finger tip, or if your hands are full, simply tap it with your knee, hip, or the side of your foot. We tried every which way, and it worked flawlessly every time.
It's important to differentiate between the TipOpen technology and what's best described as a push door. You know what I mean: those glass doors on TV stands, for instance, or old-fashioned cabinets that you push in with a click and then they pop open at you. Push doors require a bit of force to open, making them potentially awkward to deal with when your hands are full. The TipOpen door on Liebherr's fridge just requires a light tap; a small bit of pressure will get the door to respond. Fortunately, it takes more than the brushing of a pant leg or the swoosh of a passing dress to initiate the opening sequence; Liebherr seems to have struck just the right balance between ease of access and loose controls.
The big difference between it and the aforementioned Miele dishwasher is how the wine fridge deals with closing. A big concern that we brought up during our time with the product was what might happen if this were installed somewhere that a small child could accidentally bump into it. Whether you're storing a $10,000 vintage collection or just $100 worth of table wine, you still don't want it to spoil because your 4-year-old son got a little rambunctious pretending to be a race car driver on a Sunday afternoon. The key point is that this fridge, when tapped, only opens a few inches. If you don't open it any further, the door will gently close itself. That said, the auto-close function doesn't initiate if the door is all the way open.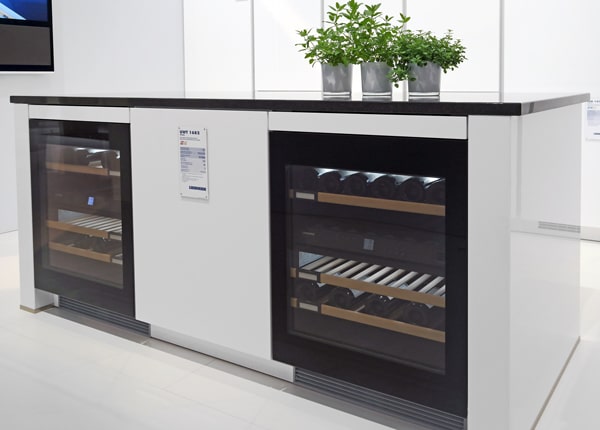 Functional Style
As attention-grabbing as the TipOpen tech is, it doesn't amount to much if the fridge is impractical in its design. Fortunately, it didn't disappoint: The interior is broken into upper and lower sections that can be controlled independently of each other. Liebherr reps said the temperature range is about 5-20ºC (about 41-68ºF). That's perfect for wine storage, though we can't comment on accuracy of performance without testing the product ourselves. Both sections also have independent LED lighting that cast an attractive glow over the slide-out wooden shelves. The whole unit is quite eye-catching, giving you an incentive to install the fridge somewhere visually prominent in your kitchen. The model we saw was quite compact, as well, despite an impressive 34-bottle capacity.
Old World Practices with New Age Technology
Wine storage has developed from a practice to an art form over the many centuries that humanity has been fermenting beverages for recreational consumption. Liebherr's newest wine cabinet is set to take the bar one step higher for individual consumers and households. This attractive showcase piece blends the style that consumers have come to expect from high-end manufacturers and combines it with innovative technology to improve user experience.
Though it's set to release in Europe early in 2014, American's shouldn't have to wait too much longer; reps said this fridge will hit our markets some time during the following autumn. It won't be cheap, though. We don't have an estimate for the US model, but European consumers can expect a price tag of about €2,499, or roughly $3,277 as of today's exchange rates.
Our editors review and recommend products to help you buy the stuff you need. If you make a purchase by clicking one of our links, we may earn a small share of the revenue. Our picks and opinions are independent from any business incentives.