If you've ever taken meat out of the freezer only to discover a gray, dry, unappetizing mess, you know just how frustrating freezer burn can be. You'd planned on cooking a delicious steak for dinner, but now those plans are ruined.
Luckily, there are ways to defeat freezer burn, and they don't necessarily cost a fortune.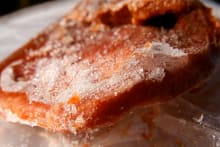 Freezer burn occurs when frozen foods lose water. That can happen when a freezer's temperature fluctuates over time, causing small amounts of water to sublimate—when a substance turns directly from a solid (ice) to a gas (water vapor).
"Any freezer that allows the temperature to rise above 0 F does a suboptimal job of preventing freezer burn and food preservation," said Dr. Timur Senguen, VP of Science and Testing at Reviewed.com.
That's why ice crystals are a telltale sign of freezer burn: The water that's sublimated from meats, vegetables, and even ice cream often refreezes on the exterior of the food.
You can still eat freezer-burnt foods. However, since they've lost so much moisture, they'll end up tasting pretty awful. They'll also have a leathery texture, and they won't look very appetizing, either. If only some of the food is freezer burnt, it's safe to cut that part away and eat the rest.
What can be done? If you're in the market for a refrigerator, make sure you check how well its freezer compartment performs. If temperatures constantly rise about 0ºF, or never get that low in the first place, steer clear.
You can still eat freezer-burnt foods, but they'll taste pretty awful.
Tweet It
If you buy in bulk, dedicated chest or upright freezers can be a good way to keep frozen foods safe over a longer time period. Again, look for a freezer that's capable of sustaining very low temperatures over long periods of time. The more time a freezer spends above 0ºF—which often happens during an automatic defrost cycle—the more likely your food will get freezer burn.
If you're stuck with the fridge or freezer you already have, consider investing in plastic freezer bags. They are specially designed to help keep moisture in, and are a lot cheaper to buy than meat, vegetables, or even a gallon of ice cream. Also, don't leave the door open! That's when temperatures drop and moisture escapes.
If money is no object, consider a blast chiller. It'll freeze food in mere minutes, which helps lock in moisture. The fanciest models can vacuum seal food in plastic bags, and drop as low as -10ºF for the ultimate in long-term frozen food storage. The downside? They can cost as much as $10,000.
---
Hero image: Flickr user "saucysalad" (CC BY 2.0)
Our editors review and recommend products to help you buy the stuff you need. If you make a purchase by clicking one of our links, we may earn a small share of the revenue. Our picks and opinions are independent from any business incentives.