refrigerators
GE Café CFE28TSHSS Refrigerator Review
GE's newest French door flagship is still the best standalone refrigerator you can buy.
$2,789.10 at Home Depot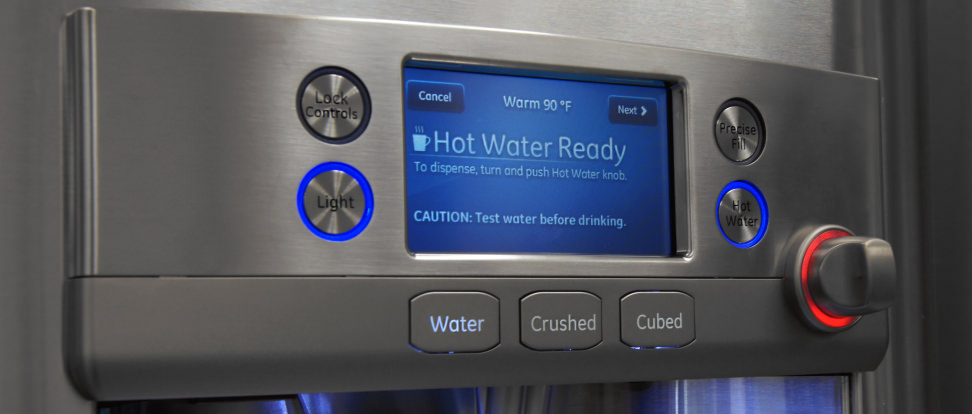 The new GE Café CFE28TSHSS (MSRP $3,100) is version 2.0 of GE's original hot-water-dispensing French door. Updated to meet Energy Star's new refrigerator requirements, our tests show that it's even better than the model it replaces.
This sizable fridge, with its hot water dispenser, animated touch screen controls and Precise Fill feature, is—without question—one of the best fridges on the market today.
In our lab tests, the Louisville, KY-built GE Café proved to be nearly perfect: It's consistent, efficient, spacious, attractive, and practical. Whether you've got a big family or just want the best fridge out there, the CFE28TSHSS has everything you're looking for and more.
Design & Usability
Big and sturdy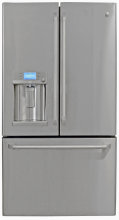 Design-wise, this GE Café is mostly unchanged from its previous iteration.
The exterior dispenser features a base that slides out about an inch to accommodate larger items. It's also one of the taller niches we've seen, making it easier to fill jugs or other oddly shaped containers.
A matching control panel blends in well with the stainless finish. When active, the responsive touch screen initially displays animated icons based on which dispenser setting is active—water, crushed ice, or cubed ice. Even with the added animations, prompts are intuitive, and settings require minimal effort to locate.
The doors themselves have a definite sense of weight to them, and require some force to open. Our only design quibble actually came down to the handles. Unlike most handles, which feel smooth, the GE's had a coarse, grainy texture. They're not rough or sandpapery, but multiple reviewers thought they felt unfinished.
Open the doors and you'll see bright LED lighting illuminate the spacious fridge interior. It's replete with adjustable shelves, two crispers, and a full-width drawer with independently adjustable temperature.
The two larger buckets on the right door come with removable rubber bottoms to help with spill containment and to prevent your food from sliding around. There's also a drop-down tray built into the dairy bin for short items like tubs of spreadable cheese, yogurt, or hummus.
Inside the pull-out freezer, you've got upper and lower drawers with sliding dividers for improved organization. There's also a small shelf just inside the door for storing small, loose items that might sink to the bottom of the larger drawers.
Performance & Features
Nearly flawless
This GE's performance is as close to perfect as we've ever seen. Temperatures were cool and consistent, and the standard crispers rivaled any other drawer we've tested. This fridge is exceptionally energy efficient, too, despite its size.
The only quibble we had was with the freezer. While consistent over time, sections of the lower drawer didn't quite make it down to 0°F or below. An average of 0.9°F isn't all that much warmer than ideal, but anything stored for an exceptionally long period of time above 0ºF may start to develop some traces of freezer burn. Turn the freezer temperature down a degree or two, and you should be fine.
In terms of features, GE has pretty much pulled out all the stops. You've got basic fridge functions, like Turbo Cool and Turbo Freezer, as well as a door-mounted icemaker in the fridge. The Temperature Adjust Drawer in the fridge offers four distinct settings: Meat (32°F), Beverage (34°F), Deli (36°F), and Neutral if you just want to use it as a drawer.
You also get some high-tech options like Precise Fill, which removes the need for a measuring cup, as well as a USB port on the underside of the controls, for transferring photos to create a personalized slide show on fridge's screen. Since magnets don't work on actual stainless steel, this could be a great way to display your kid's latest artistic creation.
Perhaps most exciting is GE's continued use of the hot water dispenser. With four preset temperature modes, customizable settings with a range of 90-185°F, a tutorial video, and built-in safeguards, this fridge could erase the need to own a standalone kettle.
For in-depth performance information, please visit the Science Page.
Comparable Products
Before you buy the GE Café CFE28TSHSS, take a look at these other refrigerators.
An Exceptional Fridge
There's a lot to love about this GE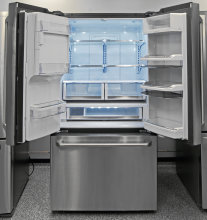 The GE Café CFE28TSHSS has some pretty big shoes to fill. After all, the fridge it replaces was one of the best we've ever tested, and our runner up for Best Fridge of 2013.
Luckily, all the features we loved about the older model—including Precise Fill and the hot water dispenser—are back. Our tests also proved this fridge has no problems preserving fresh and frozen foods.
Even among French door fridges, the GE Café CFE28TSHSS isn't cheap—it rarely drops below $3,099. Still, if you're willing and able to pay that much for a refrigerator, this one is worth the expense—especially if you can find it on sale.
Our editors review and recommend products to help you buy the stuff you need. If you make a purchase by clicking one of our links, we may earn a small share of the revenue. Our picks and opinions are independent from any business incentives.